Otherlevels Holdings Ltd
ASX:OLV ISIN:AU000000OLV7

OtherLevels Holdings Ltd (ASX:OLV) (FRA:7OL) is a leading second-generation digital marketing platform with offices in Europe, the US and Australia.
The OtherLevels platform enables clients to acquire sooner, engage smarter and retain longer across desktop, mobile web and apps audiences. The OtherLevels platform offers both Intelligent Messaging for Conversion, and Intelligent Messaging for Marketing Clouds and CRM, hence delivering both acquisition and engagement capabilities for digital marketers. OtherLevels leading clients include Camelot (UK), Tatts, Coles, Flight Centre, IHG, LadbrokesCoral, Betfred, Doubledown and Playstudios.

Latest Headlines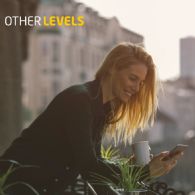 OtherLevels Holdings Limited (ASX:OLV) today releases its results for the year ended 30 June 2018.
News
###
21,218 COMPANY PROFILE VIEWS
Company Data
Headquarters
Level 11, Central Plaza Two
66 Eagle Street
Brisbane QLD 4000
Australia
Telephone
+1-415-697-2130
Principal Sector
E-Commerce and Mobile
Principal Industry
Mobile Commerce&nbsp
Homepage