---
Australian Bauxite Limited Síntesis de la Empresa

Australian Bauxite Limited (ABx) (ASX:ABZ) is an exploration company that holds the core of the Eastern Australian Bauxite Province with 29 tenements in Queensland, NSW, Victoria and Tasmania covering over 7,000 km2.

ABx bauxite is high quality and can be processed into alumina at low temperature – the type that is in short supply globally. At the company's first drilling prospect in Inverell, northern NSW, a maiden resource of 22 million tonnes has been reported from drilling less than 10% of the identified bauxite deposit. Australian Bauxite Limited aspires to identify bauxite resources in excess of 200 million tonnes in one of the world's best bauxite provinces.

ABx has the potential to create three state-significant bauxite processing projects, one each in Queensland, New South Wales and Tasmania and has several bauxite deposits that are favourably located for direct shipping of bauxite to export customers. Our business plan is to prove up the largest tonnage of high quality bauxite resources of any comparable company and to market premium-priced bauxite products into both the rapidly growing Asia-Pacific region (especially China) and the large eastern Australian aluminium industry.
DATOS DE LA EMPRESA
Sede
Level 2, Hudson House
131 Macquarie Street
Sydney, NSW 2000
Australia
Teléfono
+61-2-9251-7177
Fax
+61-2-9251-7500
Principal Sector
Materials
Principal Industria
Mining & Metals
Página Principal
www.australianbauxite.com.au
---
Key Developments: Australian Bauxite Limited
89,087 Visitas al Perfil de la Empresa
Número de visitas: (Últimos 7 Días: 30) (Últimos 30 Días: 272) (Desde su Publicación: 6438)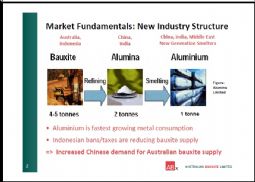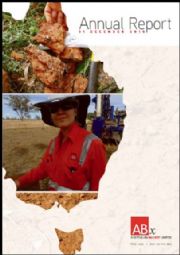 Búsqueda
ESPAÑOL Todos los Idiomas
Las Empresas en las Noticias
ABN Newswire desde su iPhone/iPad
Móvil Video TV
Canal de video de ABN Newswire para telefonía móvil