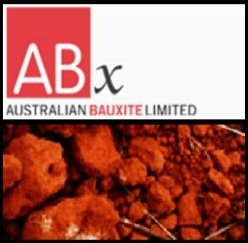 AUDIO: Australian Bauxite (ASX:ABZ) CEO Ian Levy on Transfer of Bauxite Tenements from Hudson Resources
Sydney, Jan 20, 2010 (ABN Newswire) - AUDIO: Australian Bauxite Limited (

ASX:ABZ
) was incorporated late in 2009 specifically for the purpose of acquiring the bauxite interests of Hudson Resources Limited.
The proposal was to increase the portfolio through a staged development program in each of three bauxite provinces which will include exploration, sampling, drill testing and analysis from a wider range of targets on all exploration tenements.
Just last week Australian Bauxite Limited received advice from Queensland Mines and Energy that title in all the Queensland ABx project tenements had been transferred from Hudson Resources to ABx3 Pty Ltd, a wholly owned subsidiary of ABx.
Audio Multimedia link:
http://www.abnnewswire/press/en/62107/Bauxite-Resources
Highlights:
- Transfer of Title for the Queensland bauxite tenements - 17 tenements covering 5000 square kilometers
- Target of 200 Million Tonnes of Bauxite
- Successful listing of the company on the last trading day of the year prior to Summer break
- Shallow material targeted for early extraction
- Reduction of key costs with proximity to major infrastructure
- No Native Title Complications
- Increased Bauxite demand curve with growth of new China/Asian markets for Aluminium
- Global demand for Aluminium has increased tenfold in recent years
- Australia has 60% of global Bauxite exports
- Chinese Parties in concurrent negotiation
- DSO for NSW tenements
About Australian Bauxite Ltd

Australian Bauxite Limited (ABx) (ASX:ABX) has started its first bauxite mine in Tasmania and holds the core of the Eastern Australian Bauxite Province. ABx's 37 bauxite tenements in Queensland, New South Wales and Tasmania exceed 5,000 km2 and were rigorously selected for (1) good quality bauxite; (2) near infrastructure connected to export ports; and (3) free of socio-environmental constraints. All tenements are 100% owned, unencumbered & free of third-party royalties.
ABx's discovery rate is increasing as knowledge, technology and expertise grows.
The Company's bauxite is high quality gibbsite trihydrate (THA) bauxite and can be processed into alumina at low temperature.
ABx has declared large Mineral Resources at Inverell and Guyra in northern NSW, Taralga in southern NSW, Binjour in central QLD and in Tasmania confirming that ABx has discovered significant bauxite deposits including some of outstandingly high quality.
In Tasmania, at Bald Hill, the Company's first bauxite mine commenced operations on schedule on 9 December 2014 – the first new Australian bauxite mine for more than 35 years.
ABx aspires to identify large bauxite resources in the Eastern Australian Bauxite Province, which is emerging as a globally significant bauxite province. ABx has created significant bauxite developments in 3 states - Queensland, New South Wales and Tasmania. Its bauxite deposits are favourably located for direct shipping of bauxite to both local and export customers.
ABx endorses best practices on agricultural land, strives to leave land and environment better than we find it. We only operate where welcomed.

Investor Relations
Henry Kinstlinger
Australian Bauxite Limited
Telephone: +61-2-9251-7177
Related CompaniesHudson Resources Limited







Australian Bauxite Ltd