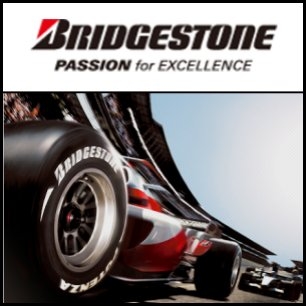 Sydney, Mar 31, 2010 AEST (ABN Newswire) - Wall Street Tuesday posted modest gains following the report on the upbeat consumer confidence and home prices data. Technology stocks were also supported by news that Apple Inc. (

NASDAQ:AAPL
) was developing a new iPhone. Yesterday Asian markets closed mostly higher. This week investors are also looking to the US nonfarm payroll data and expecting an improving labour market. Japanese stocks broadly gained led by steel makers. Nikkei rose 1 per cent. Hong Kong's Hang Seng Index was up 0.7 per cent while China's Shanghai Composite added 0.2 per cent. South Korea's Kospi increased 0.5 per cent.
Company News
Bridgestone Corp. (

TYO:5108
), Japan's largest maker of tyres, said it will invest about 50 billion yen to build its second tire-making plant in western India to cope with growing demand in the emerging market. The new plant will start operations in 2013, with daily production capacity seen reaching 10,000 passenger car radial tyres and 3,000 truck and bus radial tyres at the end of 2020. Bridgestone's first tyre plant in central India has the capacity to roll out 13,000 passenger car tyres a day and will also have capacity to make 400 truck and bus tyres daily by the second half of 2012, the company said.
Hitachi Construction Machinery Co. (

TYO:6305
), Japan's second largest earth-moving equipment maker, said it would spend 22.6 billion yen to make an Indian construction machinery company a unit as it aims to boost sales in the fast-growing market. The company would raise its stake in its joint venture with Tata Motors Ltd (

BOM:500570
), to 60 percent from 40 percent.
Chinese lender Bank of Communications Co. (

SHA:601328
) (

HKG:3328
) on Tuesday reported a 5.6 per cent rise in 2009 net profit to 30.12 billion yuan. This is largely due to a 29 per cent increase in net fee income from its credit-card business, and insurance and wealth-management products. The bank expects the net interest margins will continue to recover from low level in 2009. Bank of Communications plans to slash lending growth to 20 per cent this year and to raise up to 42 billion yuan through a rights issue in Shanghai and Hong Kong. HSBC Holdings PLC (

LON:HSBA
), which owns a 19 per cent stake in the Chinese bank, will fully subscribe to the right issue.
South Korea's POSCO (

SEO:005490
) has agreed with its major suppliers to pay US$200 per tonne for its April-June hard coking coal imports, in line with the price Japanese mills concluded earlier this month. The quarterly-based deal prices meant a 55-percent hike from last year's benchmark prices, POSCO said in a statement.
Michelle Liang
Asia Business News Asia Bureau
Tel: +61-2-9247-4344
Email: michelle.liang@abnnewswire.net
Related CompaniesTata Motors Limited






POSCO










HSBC Holdings Plc






Hitachi Construction Machinery Co., Ltd.






Bridgestone Corporation






Bank of Communications Co Ltd






Apple Inc