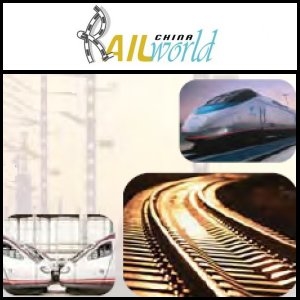 Railworld Summit 2011 To Be Held In Beijing, China On 21-23 Sept 2011
Shanghai, July 29, 2011 AEST (ABN Newswire) - CDMC will be presenting the RAILWORLD SUMMIT 2011 to be held in Beijing, China on 21-23 Sept 2011. It will be a one-stop platform to discuss the future of emerging rail market, including planning, expansion, execution, project funding, day-to-day operations, round-the-clock maintenance, civil & construction works, power & electrification, track modernization, cutting-edge technologies of signaling, rolling stocks and other pertinent case studies in High Speed railway and Metro.
Staying on top of rapid developments in High Speed Rail, 'RAILWORLD SUMMIT' features an exclusive High Speed Rail Day on the first day - 22nd Sept 2011 to examine the new project, Operation and maintenance and new business opportunities to make High Speed Rail a reality.
You will hear from:
- YANG Zhongmin, Director-General of Development and planning, Ministry of Railways China
- LI Guoyong, Deputy Director-General of Department of Basic Industries, National Development and Reform Commission, PRC
- Robert Wihtol, Country Director, Asian Development Bank PRC
- Alex Toursky, First Deputy General Director, JSC High-Speed Rail Lines
- Ou Chin-Der, Chairman and Chief Executive Officer, Taiwan High Speed Rail Corporation
- Jean-Michel Dancoisne, Permanent Representative, SNCF, Belgium
- David Kerr, Chief Executive Officer, Toll Royal Railway
- Hilmi Hasan, GM - Finance, KTMB
- Sim Wee Meng, Group Director, Rail, Land Transport Authority, Singapore
- Shahid Ahmed, General Manager, Manufacturing and Services, Pakistan Railways
- Julison Arifin, Director of Business Development, Indonesian Railways
- Gopal R, Vice President, Asia Pacific Transportation & Logistics Practice, Frost & Sullivan
- Lam Soi Hoi, Technical Consultant, Transportation Infrastructure Office (GIT), the Government of Macau S.A.R.
- Ulrich Koegler, Vice President, Booz & Company
- Bhupinder Singh Bedi, PPP Expert, ASIAN DEVELOPMENT BANK
And more
This event is proudly supported by Ministry of Railways PRC, Indian Railways, American Railway Engineering and Maintenance-of-Way Association, Asia Infrastructure and The Project Management Institute Malaysia Chapter.
For more information, please visit
http://www.cdmc.org.cn/railworld
About China Decision Makers Consultancy (CDMC)
China Decision Makers Consultancy (CDMC) is devoted to delivering business intelligence by creating opportunities for knowledge sharing and business networking. We endeavor to be the premier platform for acquiring business opportunities and strive to be part of your decision making.

Ms. Elsa Shi
Marketing Executive
CDMC
T: +86-21-6840-7631
E: elsash@cdmc.org.cn
Related CompaniesChina Decision Makers Consultancy (CDMC)