loading.........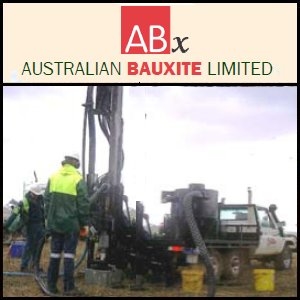 Sydney, Aug 15, 2011 AEST (ABN Newswire) - Emerging bauxite exploration and development company, Australian Bauxite (

ASX:ABZ
) has discovered a thick layer of bauxite at its Guyra project in northern NSW. The bauxite lies near surface beneath a thin clay horizon. Results from 71 holes into the bauxite include some exceptionally high grade, thick gibbsite bauxite, ideal as a "sweetener" to any bauxite refinery.
ABx refers to such high grade bauxite as "Brown Sugar" which commands a large price premium.
The deposit lies at surface, commonly on topographic high points which have been cleared for grazing but left uncultivated because of the poor soil that develops on bauxite.
The bauxite is relatively consistent in quality as demonstrated by the fact that 87% of the 71 bauxite intercepts are "Brown Sugar" bauxite, being a superior quality, low silica, gibbsite bauxite suitable for sweetening circuits in refineries.
Logistical Setting and Relationship with Inverell Bauxite Project
The Guyra bauxite is adjacent the standard gauge rail line connecting Guyra to Armidale, Werris Creek and thence to the heavy-duty rail to Newcastle minerals export port. Operations of the Guyra-Armidale rail leg has recently been decommissioned after being used for logging transport.
Guyra is located near the company's Inverell and Pindaroi bauxite deposits and may provide sufficient tonnages to justify a major bauxite project in northern NSW.
Review of Environmental Factors
A Review of Environmental Factors (REF) has been approved by the Department of Industry and Investment so that more intensive exploration drilling can be undertaken.
Further Work Planned
The bauxite deposit is open in many locations and many other deposits have been identified. Followup drilling of the Guyra discovery is being scheduled over the coming months in line with the REF.
New Exploration Lease Application
The bauxite deposit is concealed beneath a shallow surface clay layer but the company's exploration technology indicates that this high quality bauxite layer extends over a considerable distance. A new exploration lease application has been made to secure the extension areas for ABx. Once approved, exploration drilling will accelerate in the Guyra district.
RESOURCE ESTIMATE METHOD
During reconnaissance exploration drilling on a semi-random pattern governed by site availability across Guyra EL 7361 to test several of the many bauxite targets; 71 holes intersected a consistently good quality bauxite layer concealed beneath a surface clay layer.
Drill samples were collected at 1 metre intervals from the aircore drillholes and analysed at ALS Laboratories in Brisbane including trihydrate (THA) available alumina ("Al2O3 Avl") and reactive silica ("Rx SiO2") measurements. Leach conditions to measure available alumina "Al2O3 Avl" and reactive silica "Rx SiO2" were 1g leached in 10ml of 90gpl NaOH at 143 degrees C for 30 minutes.
Estimation was done by geostatistical block modelling of bauxite intercepts, constrained within geological boundaries using Gemcom resource estimation software. The drill spacing within the bauxite zones was typically at 100 metres spacings but data interpolation of up to 340 metres was done to ensure that all 25m x 25m blocks were estimated. Blocks with less than 3 datapoints were excluded from this maiden estimate - these will be targets for later infill drilling.
Bauxite density was conservatively assumed at 1.8 dry tonnes per cubic metre in situ.
GROWTH IN TOTAL BAUXITE RESOURCE OVER TIME
In the 19 months since listing on 24 December 2009, Australian Bauxite Limited has discovered drilled and declared bauxite resources totalling 68 million tonnes 1,2, mainly of high-quality, low silica gibbsite rich bauxite. The resource growth shows no sign of slowing across the 37 tenements in QLD, NSW & Tasmania.
For the complete Australian Bauxite announcement including figures, please view:
http://media.abnnewswire.net/media/en/docs/ASX-ABZ-644211.pdf
About Australian Bauxite Limited
Australian Bauxite Limited (ABx) (ASX:ABZ) holds the core of the newly discovered Eastern Australian Bauxite Province. Its 37 bauxite tenements in Queensland, NSW and Tasmania covering 8,500 km2 were rigorously selected on 3 principles: 1. good quality bauxite; 2. proximity to infrastructure connected to export ports; and, 3. free of socio-environmental or native title land constraints.
All tenements are 100% owned and free of obligations for processing and third-party royalties. ABx has already discovered many bauxite deposits and new discoveries are still being made as knowledge and expertise grows.
The company's bauxite is high quality and can be processed into alumina at low temperature – the type that is in short-supply globally. Global resources declared to date are 68 million tonnes. At the company's first drilling prospect in Inverell, northern NSW, an interim resource of 35 million tonnes has been reported from drilling 15% to 20% of the area prospective for bauxite and a resource of 25 million tonnes of bauxite has been reported at the Taralga project in southern NSW. 6 million tonnes maiden resource was declared at Guyra. Results from the Binjour Plateau in central QLD confirm that ABx has discovered a significant bauxite deposit including some bauxite of outstandingly high quality. Australian Bauxite Limited aspires to identify large bauxite resources in the Eastern Australian Bauxite Province which is emerging as one of the world's best bauxite provinces.
ABx has the potential to create significant bauxite developments in three states - Queensland, New South Wales and Tasmania. Its bauxite deposits are favourably located for direct shipping of bauxite to both local and export customers.
Related CompaniesAustralian Bauxite Limited