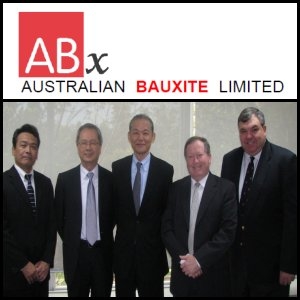 Australian Bauxite Limited (ASX:ABZ) Concludes Memorandum of Understanding with Marubeni Corporation (TYO:8002) for Goulburn-Taralga Bauxite Project Pre-Feasibility Study
Sydney, Oct 6, 2011 AEST (ABN Newswire) - Australian Bauxite Limited (

ASX:ABZ
) (ABx) and Marubeni Corporation (

TYO:8002
) (Marubeni) have concluded a Memorandum of Understanding to jointly conduct a pre-feasibility study in relation to the Goulburn-Taralga bauxite project located in New South Wales, Australia.
A 25 million tonne bauxite resource has been declared at Taralga and Marubeni will contribute 35% toward the Pre-feasibility funding, estimated to be $1.5 million.
ABx will conduct the pre-feasibility study with participation by Marubeni, which will investigate the market for bauxite and other credits produced from the Goulburn-Taralga bauxite project.
At the completion of the pre-feasibility study Marubeni can elect to acquire a 35% joint venture interest in the Goulburn-Taralga bauxite project and to contribute 35% of the bankable feasibility and development costs. Marubeni will help arrange the finance for the first bauxite project.
Ian Levy, ABx CEO welcomed Marubeni's participation; "We welcome the confidence shown in Australian Bauxite by one of the world's leading metals and resources companies. Marubeni has the global trading network and skills to find the ideal customers for our speciality bauxite products. This relationship will decrease market risk and expedite the funding and development of our first bauxite production."
About Marubeni Group
- One of the largest General Trading Companies in Japan by turnover, founded in 1858
- Publicly listed on the Tokyo, Nagoya and Osaka Stock exchanges (8002.T), with a market capitalisation of US$ 12.5 Billion at 31 March 2011.
- Global trader of a wide range of commodities, it conducts business investment, development and management on a global basis with 119 offices in 69 countries
- In the field of industrial services, Marubeni combines engineering functions and risk management capabilities in various fields such as Renewable Energy, Power and Water Projects, Oil and Gas, Metals and Mineral Resources, Pulp & Paper, Transportation Infrastructure, and Food materials & products.
- Marubeni is a 22.5% owner of Portland Aluminium Smelter, located in Portland in South West Victoria and also owns 8% interest in Boyne Smelters (Line 3), which is located in Boyne Island in Queensland, Australia's largest aluminium smelter. In addition, Marubeni is also a 6.67% owner of Alouette Aluminium Smelter, located in Canada, North America's largest aluminium smelter.
About Australian Bauxite Ltd

Australian Bauxite Limited (ABx) (ASX:ABX) has started its first bauxite mine in Tasmania and holds the core of the Eastern Australian Bauxite Province. ABx's 37 bauxite tenements in Queensland, New South Wales and Tasmania exceed 5,000 km2 and were rigorously selected for (1) good quality bauxite; (2) near infrastructure connected to export ports; and (3) free of socio-environmental constraints. All tenements are 100% owned, unencumbered & free of third-party royalties.
ABx's discovery rate is increasing as knowledge, technology and expertise grows.
The Company's bauxite is high quality gibbsite trihydrate (THA) bauxite and can be processed into alumina at low temperature.
ABx has declared large Mineral Resources at Inverell and Guyra in northern NSW, Taralga in southern NSW, Binjour in central QLD and in Tasmania confirming that ABx has discovered significant bauxite deposits including some of outstandingly high quality.
In Tasmania, at Bald Hill, the Company's first bauxite mine commenced operations on schedule on 9 December 2014 – the first new Australian bauxite mine for more than 35 years.
ABx aspires to identify large bauxite resources in the Eastern Australian Bauxite Province, which is emerging as a globally significant bauxite province. ABx has created significant bauxite developments in 3 states - Queensland, New South Wales and Tasmania. Its bauxite deposits are favourably located for direct shipping of bauxite to both local and export customers.
ABx endorses best practices on agricultural land, strives to leave land and environment better than we find it. We only operate where welcomed.

Related CompaniesMarubeni Corporation







Australian Bauxite Ltd