loading.........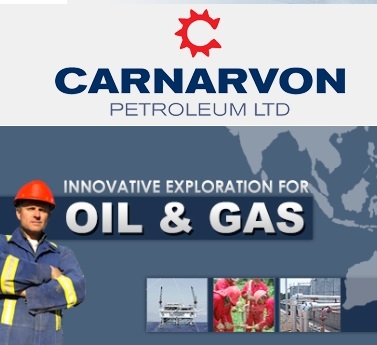 Perth, Aug 22, 2014 AEST (ABN Newswire) - Carnarvon Petroleum (

ASX:CVN
) (

OTCMKTS:CVONF
) recently announced the Phoenix South-1 well on Western Australia's Northwest Shelf had made the largest and most significant oil discovery in Australia in the past 30 years. The operator of the well, Apache Energy, have estimated the oil in place could be between 30-300 million barrels of oil, however Carnarvon Petroleum CEO Adrian Cook believes the most significant result of the discovery is the opening up of an entirely new oil province on the North West Shelf.
Mr Cook said, "The Phoenix South-1 well has demonstrated the potential for a new oil province within the Offshore Canning Basin, positioned between the Browse and Carnarvon Basins, both of which are world class oil and gas provinces."
Originally targeting gas, the oil discovery at Phoenix South-1 well came as a pleasant surprise to Carnarvon. Even more pleasant is the news that the quality of the oil at Phoenix South is exceptionally good and is likely to attract premium prices at market if it can be commercialised.
The discovery has also triggered some very pleasing corporate activity, including its Joint Venture partners Apache Energy and JX Nippon committing to drilling the next well in the program at the Roc prospect in 2015, and Apache exercising its option to increase its equity in two adjoining permit areas in the Offshore Canning Basin.
Carnarvon is an oil producer with a 20% interest in oil production assets in Thailand which are currently generating 4,000 barrels of oil per day, but Mr Cook says these assets could be used to help fund Carnarvon's future exploration commitments. "We have the ability if required to monetise the value of these assets and redeploy our capital wherever it creates the most value for our shareholders."
Carnarvon anticipates it will have a clear understanding of the size of the discovery at Phoenix South-1 well within the next 3 months, as its scientists conduct testing to determine the recoverability of the oil. Whatever the results, the discovery of oil at Phoenix South-1 well has established a new oil province in Australia, and reignited interest in the Offshore Canning Basin.
To view the video interview, please visit:
http://www.abnnewswire.net/press/en/77912/carnarvon
About Carnarvon Petroleum Limited

Carnarvon Petroleum Limited is an oil and gas exploration company, listed on the Australian stock exchange (ASX:CVN).
Carnarvon has an extensive acreage position in the North West Shelf of Western Australia, with equity positions in 12 blocks covering a total area of 36,000 km2 at varying interest levels. Carnarvon has discovered oil, gas and condensate at the Roc and Phoenix South structures and is working with partner Quadrant Energy on bring those to commercialisation.

Carnarvon Petroleum Limited
T: +61 8 9321 2665
F: +61 8 9321 8867
WWW: www.carnarvonpetroleum.com
Related CompaniesProfessional Public Relations (PPR)
Carnarvon Petroleum Limited