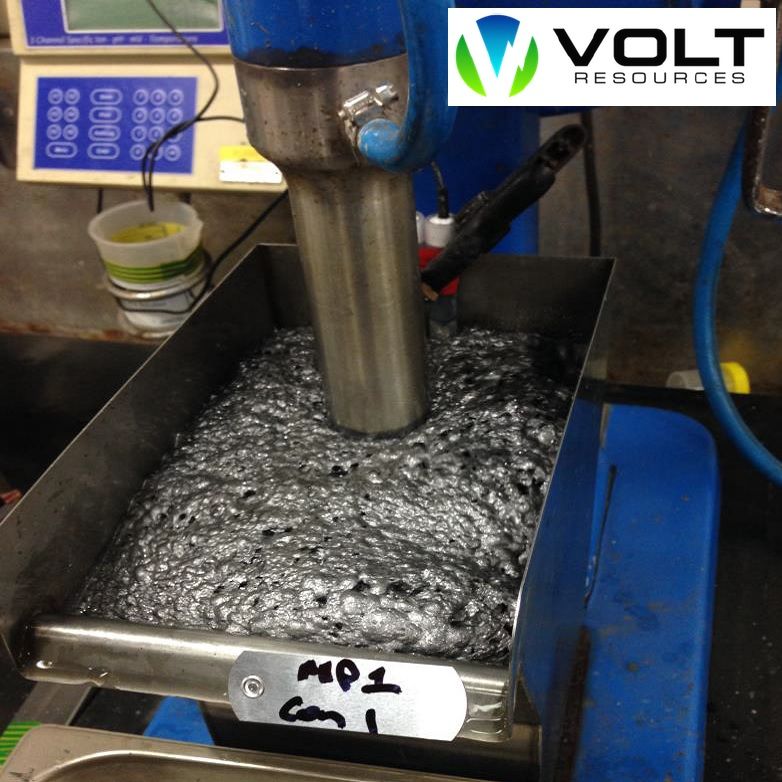 Unprecedented Graphite Flake Size Confirmed
Melbourne, July 29, 2016 AEST (ABN Newswire) - Volt Resources Limited (

ASX:VRC
) ("Volt", the "Company") is pleased to announce the latest optimised results (July 2016) from its metallurgical test-work program confirm it has the highest Super Jumbo and Jumbo graphite flake distribution amongst its East African peers.
HIGHLIGHTS
- Up to 81.3% in the super jumbo, jumbo and large flake size categories
- Notably, at surface test pits return outstanding graphite flake distribution with up to 21.4% in the Super Jumbo +500 micron category and 35.8% in the Jumbo +300 micron category
- The results confirm the highest Super Jumbo and Jumbo graphite flake distribution among East African peers
- Volt is confident Namangale can deliver exceptional product to the stringent demands imposed by top-tier lithium-ion battery manufacturers.
- Confirms Volt is in an excellent position to command highest basket price from tier one customers in the battery sector
- Bulk samples from test pits are now being processed to provide concentrates to current and prospective off-take partners
These show exceptional flake size distributions with up to 81.3% in the Super Jumbo, Jumbo and Large flake size categories compared with 67.7% previously reported in June 2016, which were achieved from diamond core composites. Drilling down, the result for the +500 micron category was outstanding at up to 21.4% versus 10.3% previously. The Total Graphite Carbon ("TGC") returned from previous and new samples were up to 99.3% and 99.0% respectively.
The concentrates were produced from bulk samples obtained from at surface test pits at the Namangale Project and produced using a conventional circuit of milling and flotation that was carried out at ALS in Perth. No industrial chemicals were used to achieve these results.
SUBSTANTIAL IMPROVEMENT IN FLAKE SIZE DISTRIBUTION
From the latest test-work undertaken during July 2016 on bulk samples from test pits, Volt continued to see excellent results further improving the flake size distribution recorded in June 2016. Now it has up to 81.3% in the Super Jumbo, Jumbo and Large flake size categories compared to 67.7% last month (Figure 1 in link below).
These materially improved results provide Volt with an even clearer point of difference from its East African peers (Figure 2 in link below).
With a flake distribution skewed towards "in-demand" Super Jumbo, Jumbo and Large flake size categories from the thriving lithium-ion battery sector, Volt is expected to command a higher blended basket price than rivals.
Furthermore, it is important to reiterate that concentrate graphite from Namangale has not been chemically treated to remove impurities. In fact, only a simple crushing then flotation process has been used to separate out the graphite. This potentially delivers a comparative cost advantage over rivals that may have to deploy costly methods to extract impurities that compromise product quality.
Collectively, at this juncture, Volt is on track to achieve management's core objective of generating the highest revenue and margins relative to peers.
RESULTS SUMMARY
Reviewing the combined test-work from June and July 2016 holistically, the graphite concentrates produced from Namangale returned grades of up to 99.3% TGC within the +500 micron category (refer Figure 3 in link below). Fresh graphite mineralisation continues to show TGC up to 99.3%.
Overall, the test-work results continue to demonstrate to the market that the Namangale deposit is first rate and can deliver product - suitable for commercial applications - that meets the lithium-ion battery sectors' strict quality requirements.
Executive Chairman, Stephen Hunt commented: "Being able to deliver these unprecedented results in the Super Jumbo, Jumbo and Large flake size distribution categories, from an at surface test pit is tremendous. The Board of Volt Resources is acutely aware how important flake size is to end user customers in the lithium-ion battery market and to now deliver the best distribution in the market is a great outcome for all stakeholders."
CONCLUSION
The Board of Volt Resources believes these results to date will aid gaining further traction with end-users in the lithium-ion battery sector, whilst they demonstrate the Namangale project is shaping up faster than expected to be a world-class graphite deposit.
To view tables and figures, please visit:
http://abnnewswire.net/lnk/6PZNZ80D
About Volt Resources Ltd

Volt Resources Ltd (ASX:VRC) is a graphite exploration company listed on the Australian Stock Exchange under the ASX code VRC. The Company is focused on the exploration and development of the Jumbo Flake Namangale graphite project in Tanzania which has the potential to add to value for shareholders.
The Namangale Project is one of the largest graphite deposit in Tanzania containing a JORC compliant Inferred Resource of 179Mt @ 5.1% TGC. The project is exceptionally well located in South Eastern Tanzania being 140km from a deep-water port and 10km from sealed roads. Mineralisation at the three drilled deposits, occurs from surface and remains open in all directions. After the completion of this the recent capital raising the Company is now fully funded to complete the Pre-Feasibility Study into commencing production of high quality flake graphite targeting the rapidly expanding lithium-ion battery market. Volt has established a dominant tenement position in this extremely well located graphite rich part of Tanzania.
Volt Resources Ltd
TEL: +61-8-9481-0389
FAX: +61-8-9463-6103
EMAIL : info@voltresources.com
WEB : www.voltresources.com
Related CompaniesVolt Resources Ltd