loading.........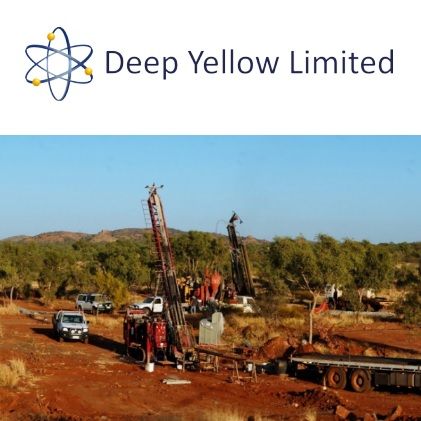 Perth, Sep 16, 2016 AEST (ABN Newswire) - FINANCE VIDEO: Deep Yellow Limited (

ASX:DYL
) (

OTCMKTS:DYLLF
) is pleased to provide an Executive Interview with Managing Director Greg Cochran and ABN Newswire CEO Tim McKinnon.
Tumas (Palaeochannel) Project
The Tumas (Palaeochannel) Project (and its extension into the Tubas Palaeochannel) straddles EPLs 3496 and 3497 as per Project Locality Map. It contains secondary uranium mineralisation (carnotite in calcretes and gypcretes) hosted in some areas by shallow fluviatile sheetwash sands and gravels and in other areas, more deeply incised channels.
These shallow resources will likely be amenable to free dig mining with some drill and blast sections. Alternatively, surface miners could be used although the nature of the shallow resources implies relatively low cost mining for either mining option. Ore sourced from these deposits can effectively be upgraded, either by relatively simple scrubbing and attritioning followed by screening, or more elaborately with processes such as Marenica Energy's U-pgrade(TM) technology. The product from such beneficiation processes could be transported to an in-country existing uranium mine to be used as satellite feed. For the more basic beneficiation approach the product would require an existing alkali leach processing plant (such as the nearby Langer Heinrich uranium mine) however it is believed that the more sophisticated U-pgrade(TM) process offers the potential for acid leach processing (such as at the Rossing Uranium Mine or the soon to be commissioned Husab Mine) either offsite or importantly, even a standalone operation producing a saleable yellowcake product.
A standalone operation would require the addition of a comparatively small acid leach circuit and a conventional refining circuit to produce a saleable yellowcake product.
About Greg Cochran
Greg has almost 30 years' experience in international mining in commodities including gold, coal, base metals and uranium. He has held senior positions in various functions including projects, operations, finance and business development. Most recently he was CEO of Terramin Australia Limited and prior to that he was Executive Vice President: Australia & Asia for TSX listed Uranium One.
At Uranium One he led the establishment of a strong corporate and project team in South Australia, guided the Honeymoon mine through its permitting process and successfully established the Mitsui Uranium One Australia Joint Venture. In Asia he led the due diligence on Uranium One's C$3.8 billion acquisition of UrAsia Ltd in 2007, was responsible for UrAsia's integration into Uranium One and managed the company's Kazakh joint venture interests.
Greg also worked for Mitsubishi Development whilst the earlier part of his career was spent with BHP Billiton and its predecessor companies in the Billiton stable.
Greg is a professional engineer and holds a MSc. in Mining Engineering and Mineral Economics from the University of the Witwatersrand in Johannesburg and an MBA from Cranfield University in the UK. He also holds South African mine manager's certificates of competency for metalliferous and coal mines. He is a Graduate Member of the Australian Institute Company Directors and a Fellow of the Australian Institute of Mining & Metallurgy.
Mr Cochran joined the Deep Yellow Board in January 2011.
To view the video, please visit:
http://www.abnnewswire.net/press/en/84851/DYL
About Deep Yellow Limited

Deep Yellow Limited (ASX:DYL) (OTCMKTS:DYLLF) Namibian-focussed advanced stage uranium exploration company. It also has a listing on the Namibian Stock Exchange (NSX.DYL). Deep Yellow's operations in Namibia are conducted by its 100% owned subsidiary Reptile Uranium Namibia (Pty) Ltd.
The Company recently completed metallurgical testwork and is evaluating fast track development options for its Tumas Project which consists of surficial calcrete palaeochannel deposits which are amenable to physical beneficiation and upgrading techniques.
Deep Yellow also holds the Omahola Open Pit Alaskite Heap Leach Project on which value engineering studies are being conducted to supplement the recently completed preliminary economic analysis.
Greg Cochran
Managing Director
Phone: +61-8-9286-6999
Email: info@deepyellow.com.au
www.deepyellow.com.au
Related CompaniesDeep Yellow Limited