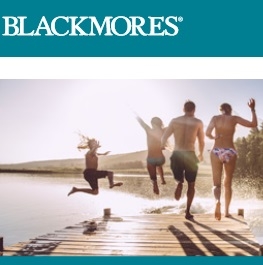 2016 AGM Presentation
Sydney, Oct 27, 2016 AEST (ABN Newswire) - Blackmores Limited (

ASX:BKL
) (

OTCMKTS:BLMMF
) is pleased to provide its 2016 AGM Presentation.
F16 COMMITMENT TO SHAREHOLDERS
"We remain focused on our strategic priorities. Demand for our products continues to grow and we are taking this opportunity to invest in our existing business and to establish new platforms and partnerships to extend our brand and expertise. We are committed to growing this business delivering improved shareholder returns in the coming year."
AN EXCEPTIONAL YEAR
- Group Sales of $717m, up 52%
- Record NPAT of $100.0m, up 115%
- EBIT margin improvement from 15% to 20%
- Operating cash flow of $84m, up 18%
- Cash conversion ratio of 81%
- Net debt $17m post acquisition of Global Therapeutics
- Earning per share of 581 cents, up 115%
- Dividends were 410 cents, up 102%
F16 HIGHLIGHTS
- Every region and brand delivered strong growth
- Recognised as one of Australia's best employers by AON Hewitt
- 117 new products launched across the Group
- Significantly invested in infrastructure and new businesses to build future pipeline
- Secured supply in a constrained environment, building reserves of scarce materials
- Acquired Global Therapeutics in May 2016 - Australian market leader in Chinese herbal medicine category
- Entered ASX 100
- Record payouts to key stakeholders - shareholders, staff and Australian Government
OPERATIONAL EFFECTIVENESS
- Total current assets have increased by 57% commensurate with business growth
- Inventory increased to $116m to ensure stock is held to meet demand, secured scarce raw materials, plus integration of Global Therapeutics.
- Invested in robotics and quadruple head counters, expanded our facilities footprint and our staff to increase capacity and improve productivity
- High staff engagement
F16 SUMMARY
- Exceptional year of performance
- Strong progress on delivering our strategic priorities
- Blackmores now the largest Asia Pacific natural health company
- Asia is increasingly important to our future
- Exited the year with a more diversified business, with a strong balance sheet and built new platforms for growth
- Key stakeholders rewarded
YEAR END SUMMARY AND AUGUST OUTLOOK
- Pleased with progress delivering strategic priorities
- Advised shareholders that first quarter financial results would be impacted by challenges in Australia
-- Major retailers destocking -- Changes in how exporters acquire products
- Encouraged by strong consumer demand, growing momentum in Asia and BioCeuticals
- Need to develop our business model, build new channels, adapt our cost base and accelerate our transition to support our changing retail landscape
FIRST QUARTER UPDATE
- Blackmores Australia sales down 40% to $68 million
-- Destocking impact circa $17m
-- Changes in how Chinese exporters buy, impact circa $28m
-- 20% of Australian sales influenced by Chinese shoppers
-- Australian consumer demand strong - Blackmores remains leader
- Asia sales contributed $51m, up 75% - Record Quarter
-- China in-country sales contributed $14m, up 135%
-- New China export division contributed $17m, up 356%
-- Total China direct sales $31m, up 222%
- BioCeuticals at $19m, up 17% - Record Quarter
- Global Therapeutics contributed $6m - Record Quarter
- Launched in Indonesia
- Lower volumes resulted in higher recovery costs
- Took immediate action to contain costs
OUTLOOK
- Australian market improving but remains challenged
-- Sales trajectory improved in the quarter
-- Impact of excess stock in Australia has eased
- Progress made in building new channels
- Blackmores Asia, BioCeuticals and Global Therapeutics all continuing to perform
- Embarked on cost structure review to enable continued investment and build profits
- Unlikely to match exceptional F16 full year profit
- Expect second quarter to be stronger than the first quarter
- Board remains confident in the Group's strategic focus and long-term growth prospects
To view the presentation, please visit:
http://abnnewswire.net/lnk/4QT99WO4
About Blackmores Limited

Blackmores Limited (ASX:BKL) (OTCMKTS:BLMMF) is Australia's leading natural health brand. Its quality range of vitamin, minerals, herbal and nutritional supplements, and continued support of the community and environment, are among the many reasons Blackmores is the most trusted name in natural health.
MEDIA CONTACT:
Sally Townsend
Head of Communications
M: +61-419-225-781

INVESTOR CONTACT:
Christine Holgate
Chief Executive Officer
T: +61-2-9910-5186
Related CompaniesBlackmores Limited