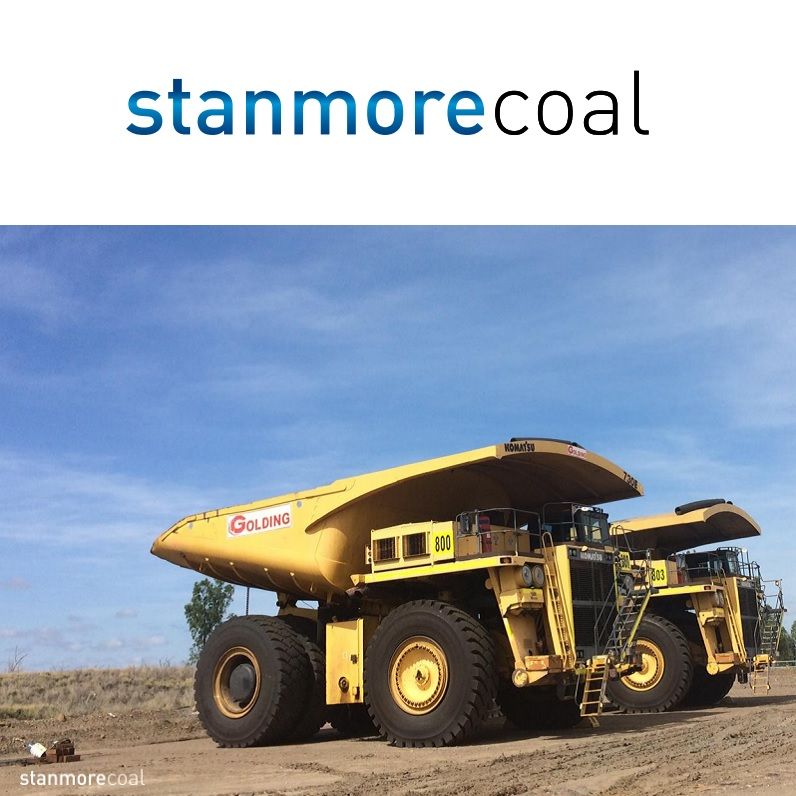 Managing Director Report
Brisbane, Nov 30, 2016 AEST (ABN Newswire) - Stanmore Coal Limited (

ASX:SMR
) is pleased to provide the company's Managing Director Report.
YEAR IN REVIEW
Company Highlights since 2015 AGM
Continuation of our strong safety record
- No lost time injuries across Isaac Plains operations and drilling programs conducted during the year
Isaac Plains operational with ramp-up achieved in short period
- Completion of Isaac Plains acquisition1 in November 2015 in parallel with finance facility provided by Taurus
- Commenced mining in February 2016, first coal shipped to customer in May 2016
- Rehabilitation of 82ha completed - strong commitment to environmental legal obligations and responsibility associated with mine ownership
Isaac Plains mine life extension underway
- Environmental Authority amendment and Mining Lease Applications submitted in October 2016. Key approval stage gates in next 6 months
- Further drilling campaign commencing December 2016, providing closer points of observation to be utilised for feasibility assessment
ISAAC PLAINS REVIEW - Operations to date
- Accelerated recommencement of mining from transaction close to first product coal in 6 months
- Dragline overhaul pre-commencement of mining has contributed to +16mbcm annualised total movement rate. Minor additional capex required for propel gearing failures
- CHPP teething issues requiring additional capex to improve reliability and performance. Recent results are encouraging an in-line with steady state expectations
- Stanmore and Golding knowledge of site has improved.
- Stanmore is currently in discussion with Golding on a revised mining schedule to account for changes to mining path and also consider accelerated pre-strip activities in FY17 to improve working areas and dragline system efficiency over the remaining life of the contract
THE BUSINESS AT A GLANCE
- Independent coal company with focus on coking coal
- Isaac Plains operational with ramp-up achieved
-- 1-2Mtpa sales opportunity (FY17 1.25Mt)
-- December 2016 quarter SSCC settled at USD 130 per tonne
-- Mining, port and rail contracts in place
-- Mid-range of international coking coal cost curve
- Isaac Plains represents the Company's platform asset
-- Circa $350m of replacement-cost assets
-- Dragline, CHPP, conveyors, train load out and other infrastructure 100% owned
-- Approvals in place for up to 4.0Mtpa ROM
-- Primarily coking coal with secondary thermal coal for export
- Multiple acquisition targets and internal projects for Stanmore to capitalise on
-- Grow internal production and operational capability
-- Focus on coal quality, reliability and creating value where others can't or won't
STRATEGIC OBJECTIVES - FY17 AND FORWARD
Time horizon - Short
Internal: Establish reliability and repeatability of production from Isaac Plains
External: Assess potential assets in proximity to IP Complex
Time horizon - Medium
Internal:
- Develop Isaac Plains East and complete assessment of Isaac Plains Underground
- Rationalise our portfolio based on highest value to shareholders
External: Pursing realistically attainable assets with premium coal quality
Time horizon - Long
Internal: Development of portfolio assets
External: Assessment of product mix strategy
To view the presentation, please visit:
http://abnnewswire.net/lnk/347984C2
About Stanmore Coal Limited

Stanmore Coal (ASX:SMR) is an operating coal mining company with a number of additional prospective coal projects and mining assets within Queensland's Bowen and Surat Basins. Stanmore Coal owns 100% of the Isaac Plains Coal Mine and the adjoining Isaac Plains East Project and is focused on the creation of shareholder value via the efficient operation of Isaac Plains and identification of further local development opportunities. Stanmore continues to progress its prospective high quality thermal coal assets in the Northern Surat Basin which will prove to be valuable as the demand for high quality, low impurity thermal coal grows at a global level. Stanmore's focus is on the prime coal bearing regions of the east coast of Australia.
Mr Dan Clifford
Managing Director
T: +61-7-3238-1000

Mr Andrew Roach
Chief Financial Officer & Company Secretary
T: +61-7-3238-1000
Related CompaniesStanmore Coal Limited