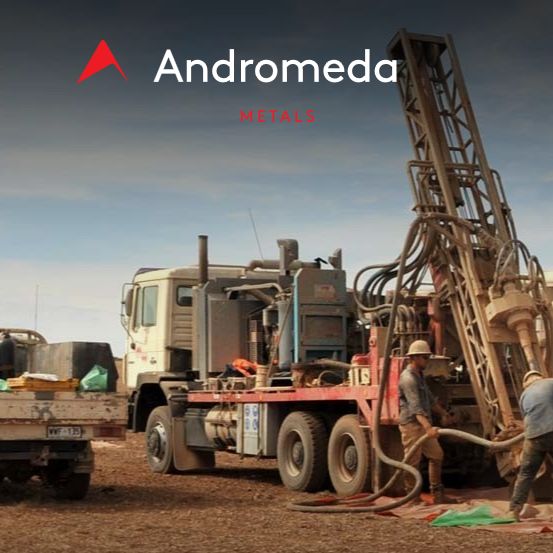 Financial Report for the Half-Year Ended 31 December 2016
Adelaide, Mar 15, 2017 AEST (ABN Newswire) - The Directors of Andromeda Metals Ltd (

ASX:ADN
) are pleased to provide the Company's Financial Report for the half-year ended 31 December, 2016.
Strategy
To achieve the goal of growing shareholder wealth, Andromeda Metals' directors have implemented a company strategy comprising the following key principles:
- The Company will maintain a primary focus on gold exploration, with copper a secondary target commodity. Directors consider the outlook for these metals remains positive, and believe these are commodities well suited to Andromeda Metals' skill base. The principle focus for the 2016/17 financial year will be to advance the Eyre Peninsula Gold Project towards mine development.
- The Company's Board believes it is in shareholders' best interests to retain maximum equity in its tier one projects unless third party relationships provide a combination of increased project certainty and a reduction in financial risk and shareholder dilution.
- The Company will pursue opportunities which have potential to unlock value in its other mineral assets, and will maintain an active lookout for quality new projects in Australia and overseas.
- The Company's objective is to build shareholder wealth while adhering to principles of good corporate governance, caring for its employees, conducting its operations in an environmentally sensitive manner, and maintaining respect for other stakeholders and for the communities in which it operates.
Review of Operations
In the half year ended 31 December 2016 Andromeda Metals' exploration effort focused on advancing the Eyre Peninsula Gold Project (including the Wudinna Gold Camp). The Company announced the formation of the Rover Farm-in and Joint Venture agreement with Emmerson Resources Limited, while activity continued on the Thurlga Joint Venture with Investigator Resources Limited. Activity on the Moonta Copper Gold Project was directed towards attracting third party investment. Tenement rationalisation was accelerated.
Outlook and Future Developments
The planned exploration programme for the second half of the 2016/17 financial year includes:
- Economic modelling using the increased Mineral Resources and deposit models of the Wudinna Gold Camp, and incorporating the positive Barns metallurgical results and indicative processing flow sheet.;
- Metallurgical testwork for Baggy Green using mineralised drill samples retained after the recent drill programme;
- Step-out exploration drilling at Baggy Green and other Wudinna Gold Camp targets to further grow the local resource base;
- At Drummond, drill testing of Bunyip and one or more of Poppi's Roo Tail and East Central
Limey Dam;
- Low cost surface prospecting, rock chip sampling and FPXRF soil geochemistry on the two new tenements in the Drummond Basin granted in late 2016;
- On ground exploration is also anticipated on the Thurlga and Rover joint ventures.
Programmes funded by Andromeda Metals are contingent on the Company having adequate financial capacity to initiate and complete them.
To view the full report, please visit:
http://abnnewswire.net/lnk/WRIB21DM
About Andromeda Metals Ltd

Andromeda Metals Ltd (ASX:ADN) is an Australian Securities Exchange listed company focusing on mineral exploration for gold, copper and lithium deposits. The company has built a highly prospective exploration portfolio of projects covering 7,969 sq kms within 21 exploration licences located in South Australia, Queensland, Western Australia and the Northern Territory. Andromeda Metals was incorporated on 23 December 1993 and subsequently listed on the ASX on 11 September 1996. The company's head office is in Adelaide, South Australia.
Andromeda Metals' vision is to be a sustainable minerals exploration company providing shareholders with risk managed discovery, development and mining opportunities.

Chris Drown
Managing Director

Nick Harding
Executive Director, Company Secretary

Tel: +61-8-8271-0600
Email: admin@andromet.com.au
www.andromet.com.au
Related CompaniesAndromeda Metals Ltd