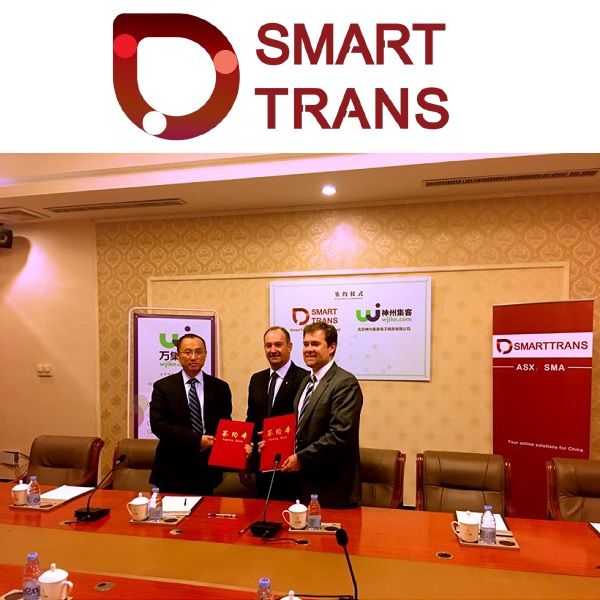 Signs Agreement with Leading e-Commerce Provider Wjike to Open Specialist e-Commerce Store in China
Sydney, Mar 28, 2017 AEST (ABN Newswire) - SmartTrans Holdings Limited (

ASX:SMA
) (SmartTrans or the Company) is pleased to announce it has taken another major step in expanding its e-commerce operations in China by signing a major partnership agreement with leading Chinese ecommerce company Wjike (
http://www.wjike.com
).
- SmartTrans partners with leading Chinese e-commerce company Wjike to establish a specialist online retail store to sell Australian products to consumers in China
- Online store selling Australian products to be established on Wjike's ecommerce platform, as well as established outlets on Tmall.com and JD.com
- Second major e-commerce partnership established with others being pursued
- SmartTrans continues to evaluate additional distribution points in the Chinese market
- New brands to be added to Dodoca RooLife platform very shortly
Wjike is a privately-held online retailer in China and sells products to consumers both through its highly-regarded Wjike.com e-commerce platform (www.wjike.com), as well as through leading Chinese online marketplaces Tmall.com and JD.com.
Under the agreement, Wjike will add a new online specialist store selling Australian products to its customer base via its well-established online shopping platform with profits to be shared between the two companies.
Wjike will source all products from SmartTrans' portfolio and meet all costs associated with marketing these products through its store. Both parties will share in profits from sales generated.
The new Australian products store will be similar to SmartTrans' recently-launched WeChat-based 'Dodoca RooLife' marketplace, which is run in conjunction with Shanghai Stock Exchange-listed Shanghai Information Technology Co., Ltd (Dodoca) (Refer ASX Announcement 27 March).
This latest agreement extends SmartTrans' e-commerce strategy to build multiple channels into the Chinese on-line market for the Australian brands we represent.
Each online channel appeals to a slightly different consumer segment and when coupled with the Smartpay financial gateway, provides the additional value of allowing purchases in Chinese Yuan by consumers and payment to suppliers in Australian Dollars. This benefits both Chinese consumers and Australian brand owners.
Wjike's focus on selling high-quality mother and baby products, cosmetics, food, home and household items provides significant overlap and opportunity for growth leveraging SmartTrans' growing reach via partnerships with leading Australian brands for the RooLife marketplace.
Wjike has a track record of successfully selling Korean and Japanese brands through its online platforms and has been actively searching for an Australian partner to fill growing consumer demand. SmartTrans delivers this.
Australian-made products have a well-earned reputation for quality in the Chinese market and the new store will allow Wjike to meet growing demand for premium-quality goods from discerning consumers in China's rapidly-growing middle class.
The partnership with Wjike is expected to add to SmartTrans' revenue base for minimal additional investment, strengthening the Company's position in the Chinese e-commerce market by further leveraging its established e-commerce infrastructure and relationships.
For Wjike, the partnership represents a significant opportunity to sell and distribute leading Australian brands.
The agreement sees SmartTrans deliver on its strategy of securing additional leading online retail distribution partners in China to help it fast track sales growth and access large, established consumer databases.
SmartTrans Managing Director Bryan Carr said: "We are honoured to enter into a partnership with a highly regarded e-commerce industry leader like Wjike."
"This agreement demonstrates the confidence of another established and successful online business in China to partner with SmartTrans. The partnership adds another revenue channel for SmartTrans as we expand our range of e-commerce platforms and distribution points in China. After Dodoca, this represents our second partnership and we are on the hunt for more."
Following the official launch of the Dodoca RooLife platform late last week, SmartTrans expects to very shortly provide an update on a pending major category distribution agreement on the platform.
About SmartTrans Holdings Limited

SmartTrans Holdings Limited (ASX:SMA) is a leading Australian technology and software provider that has developed a mobile and online billing and payment platform for the China market The company has agreements in place with China Mobile, China Unicorn, China Telecom CMPay, UnionPay and Alipay. With the growing use of the smartphone as a billing device in China, the company is experiencing significant uptake of its technology in that market. SmartTrans has also developed cutting-edge proprietary logistics software which is used by some of Australia's leading blue-chip organisations who have long term contracts in place with the company. SmartTrans is assessing growth opportunities for its logistic offering in China to complement its mobile and online payments platform.
Bryan Carr
Managing Director
AUST: +61-412-111-968
CHINA: +86-138-1188-8401
www.smarttransholdings.com.au
Related CompaniesSmartTrans Holdings Limited