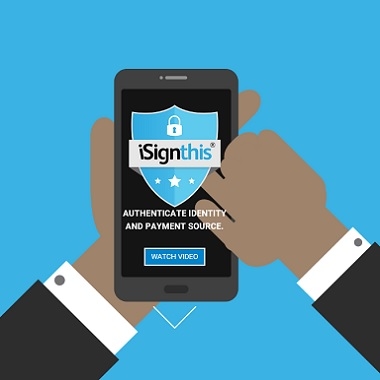 XM.co.uk - Paydentit(TM) Live
London, April 25, 2017 AEST (ABN Newswire) - iSignthis Ltd (

ASX:ISX
) ['the Company'] is pleased to announce that it has commercially deployed its Paydentity(TM) solution to XM.co.uk. The Paydentity(TM) service is now live on XM's UK licensed operations, and is initially accessible to UK and EU residents.
Highlights:
- Paydentity service deployed to XM.co.uk on a commercial basis
- XM.com is an award winning, global leader in FX trading
About the Paydentity(TM) Service
The UK's Joint Money Laundering Steering Group (JMLSG) and the EU's 4th AML Directive (4AMLD) requires customers to be subject to on-going and continuous due diligence, with ongoing Know Your Customer (KYC) and transactional checks for unusual or suspicious activity required on active customer accounts.
The live Paydentity(TM) service includes:
- remote enhanced due diligence (EDD) to meet the KYC requirements of the EU's 3 & 4AMLD's, UK's JMLSG, Austrac Regulations and Cypriot CySec Directives, and
- payment instrument verification, including for future PSD2 Strong Customer Authentication, and
- Full, cloud based, elastic computing delivering a PCI DSS V3.2 Level 1 payment gateway, and
- Risk based transaction monitoring, to mitigate fraud and monitor AML/CFT, and
- integration & payment processing to multiple card acquiring institutions from one API
Paydentity(TM) is the world's most advanced automated identity and payments platform, incorporating real time remote verification of end users domiciled in any FATF or equivalent jurisdiction, leveraging verification of 'bank verified' payment instruments to establish identity.
The Paydentity(TM) platform allows XM to on-board their customers at a much faster rate, whilst also increasing their overall customer reach.
The iSignthis(R) solution incorporates cascading KYC, which supplements UK residents from independent and reliable databases including credit reference agencies, electoral roll and government public access data with Paydentity(TM) data. This approach minimises customer friction for UK residents, by augmenting partial "1+1 matches" with Paydentity to deliver enhanced due diligence to satisfy the JMLSG and 4AMLD.
For the rest of world, where independent and reliable databases are limited, Paydentity(TM) provides the XM group with global reach and access to over 3.5Bn 'bank verified' potential customers, optimising customer on-boarding and conversions from marketing campaigns.
Reporting Notes
In order to preserve our customer's confidentiality, transactional volumes and values will not at any time be released on a per customer/merchant basis, and will only be released by sector aggregate crossed reported by product. (eg FX, eWallets, PSP, Gaming sector broken down by service I to IV above). Several already contracted FX/Trading sector clients are anticipated to be on-boarded to the Paydentity(TM) platform this financial quarter Q3-2017, with 'ramp up' to full volumes for each merchant within 2-3 months of each merchant commencing with ISX services.
Quarterly Detailed reporting by segment and product will be provided once transaction volume increases and value can be attained by providing transactional reporting.
About XM.com
With over 1,000,000 clients since it was founded in 2009, XM has grown to a large and well established international investment firm and has become a true industry leader. XM's extensive experience combined with support for well over 30 languages, makes XM the broker of choice for traders of all levels, anywhere. We have the expertise and the resources to help everybody realize their investment goals, like only a big broker can.
- Over 1,000,000 clients from over 196 countries (client numbers up from 700,000 in 2016 and 500,000 in 2015)
- Over 150,000,000 trades executed
- XM has been awarded Best FX Service Provider for 2017 by the City of London Wealth Management Awards.
Read more about XM online at
http://www.xm.com/about
About iSignthis Ltd

iSignthis Ltd (ASX:ISX) (FRA:TA8) is the global RegTech leader in remote identity verification, payment authentication and payment processing. iSignthis provides an end-to-end on-boarding service for merchants, with a unified payment and identity service via our Paydentity(TM) and ISXPay(R) solutions.
By converging payments and identity, iSignthis delivers regulatory compliance to an enhanced customer due diligence standard, offering global reach to any of the world's 4.2Bn 'bank verified' card or account holders, that can be remotely on-boarded to regulated merchants in as little as 3 to 5 minutes.
iSignthis Paydentity service is the trusted back office solution for regulated entities, allowing merchants to stay ahead of the regulatory curve, and focus on growing their core business.
iSignthis' and its subsidiary, iSignthis eMoney Ltd, trade as ISXPay(R), and is an EEA authorised eMoney Monetary Financial Institution, offering card acquiring in the EEA, Australia and New Zealand. ISXPay is a principal member of Visa Inc, Mastercard International and JCB International.
Read more about the company at our website http://www.isignthis.com
Todd Richards; Company Secretary
investors@isignthis.com
t: +61 3 8640 0990
f: +61 3 8640 0953
Related CompaniesiSignthis Ltd