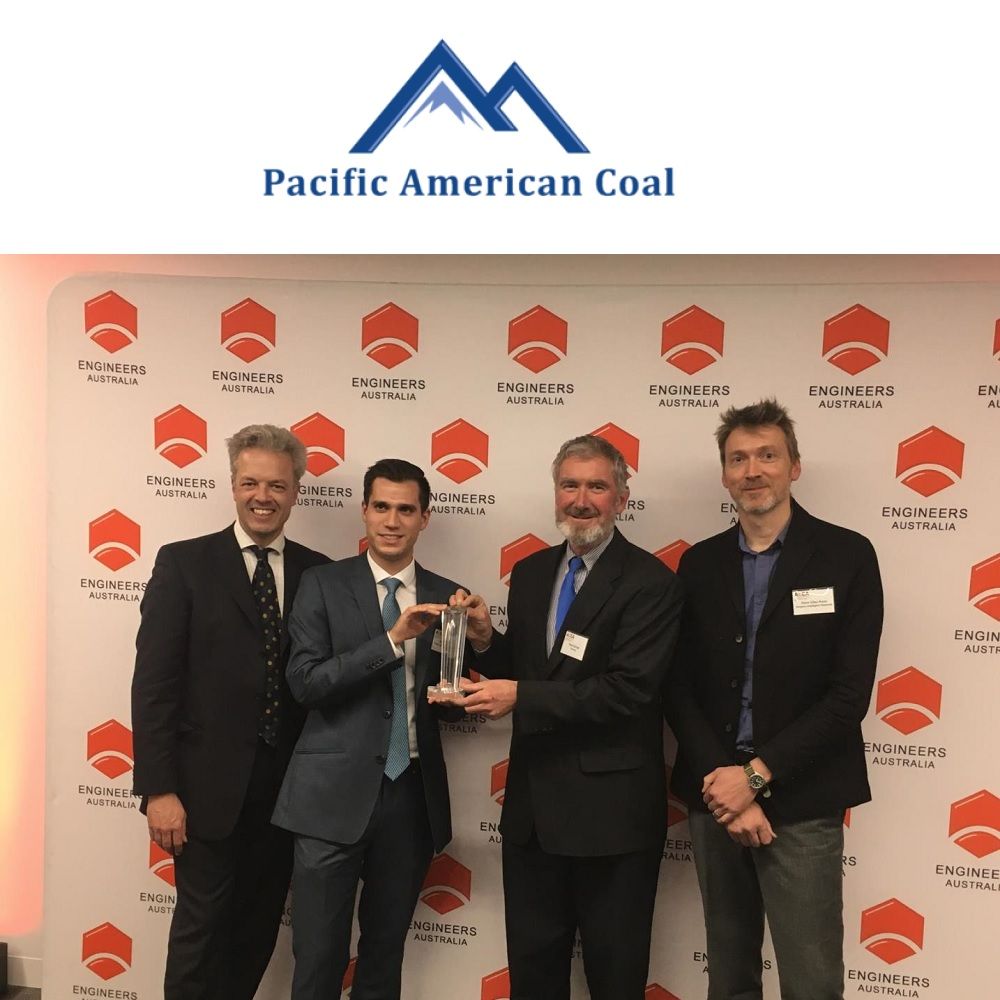 Quarterly Activities Report
Sydney, May 1, 2017 AEST (ABN Newswire) - Pacific American Coal Limited (

ASX:PAK
) is pleased to provide its Quarterly Activities Report for the three months ended 31st March 2017.
Key activities PAK engaged in during the Quarter include:
- Appointment of Mark Lochtenberg as Managing Director
- Completion of Successful Capital Raising
- Elko Coking Coal Project
o Commenced permitting process with BC Government
o Engaged key personnel for Elko
-- Appointed Local Project Manager
-- Engaged Nupqu Development Corporation to complete GAP analysis
- Oklahoma Assets
- Investments
o Imagine Intelligent Materials Updates
o GCI Progress Payments
Appointment of Mark Lochtenberg as Managing Director
During the Quarter the Company announced the appointment of Mr Mark Lochtenberg as Managing Director of Pacific American Coal Ltd. Mr Lochtenberg will focus on advancing PAK's flagship Elko Coking Coal Project, in British Columbia, Canada. He commenced on February 1, 2017.
Mr Lochtenberg has substantial global and Australian coal industry experience, including as former co-head of Glencore International AG's worldwide coal division overseeing its trading division and identifying and negotiating the acquisition and aggregation of a project portfolio that became Xstrata Coal. He was also Executive Chairman and founding Managing Director of ASX listed Cockatoo Coal Limited, taking that company from grass roots explorer to mainstream metallurgical coal producer.
He is the Chairman of ASX-listed Equus Limited and a Director of rail infrastructure group Australian Transport and Energy Corridor Pty Limited. Mr Lochtenberg has previously been a Director of ASX- listed Cumnock Coal Limited and privately held United Collieries Pty Limited.
Capital Raising
In addition to the successfully capital raising of $2,000,000 in the previous quarter through an Entitlement Offer and placement on the same terms as the Entitlement Offer, PAK raised a further $300,000 during the Quarter. The additional placement of $300,000 was on the same terms as the Entitlement Offer being at an issue price of $0.10 per new share, together with one attaching new option for every two new shares subscribed for and issued. The total capital raising through the Entitlement Offer and placements is $2,300,000. The funds are being used to advance the Elko Coking Coal Project.
Elko Coking Coal Project
Commenced Permitting Process with BC Government
PAK has further advanced the permitting process for the Company to undertake the planned 2017 exploration drilling program at Elko. During the Quarter, PAK applied for a 'Notice of Work' permit to enable exploration to take place at the Elko Project. The Company is working with the BC Government to ensure the Notice of Works meets the necessary requirements for approval.
As part of this process, PAK is working with local First Nations and consulting companies to support the activities once the Notice of Work has been approved. These activities include:
- Construction of access roads
- Site establishment
- Drilling supervision
- Drill core collection and sampling
- Environmental studies
- Archaeological studies
- Mapping of Riparian systems
- Site access agreements
The drilling program proposes to drill up to 14 core and rotary holes to collect coal core and to define the preliminary extent of mineable coal resources and geological structures.
Drilling will focus on the Company's Coal Licences in the North Western region of the project (Coal Licences 418648 and 418650) and will build on the Company's knowledge of the project. The figure below (see the link below) illustrates the location of the proposed drill holes in the upcoming program. Information gained through this drilling program will also assist in better defining the regional geological of the project.
Project Manager Appointment
PAK has appointed Alex McLeod from Silenius resources to be the project manager for the Elko Exploration. Mr. McLeod is the President of Silenus Resource Management Inc. in Cranbrook BC. He holds a bachelor degree in Forestry from the University of British Columbia, and is a registered professional forester in BC. Mr. McLeod has over 25 years' experience in environmental consulting and project management. He has extensive experience in permitting, monitoring, and managing exploration projects in coking coal, gas, and gold. With a strong background in environmental and economic issues he is able to ensure that all aspects of every project are well attended to. Mr. McLeod has a keen eye for safety and is proficient in development and implementation of solid safety programs and procedures. The Company is pleased to welcome Alex to the team.
Elko Environmental GAP Analysis Report
During the Quarter the Company engaged Nupqu Development Corporation (Nupqu) to complete a GAP analysis on the Elko project area. Nupqu brings local expertise to the Elko Project having been involved in numerous exploration projects in the Kootenay region. The Company is pleased to announce that the GAP analysis will focus on the following:
- Physical Environment
o Soils, air quality, topography, regional geology
- Aquatic Environment
o Quality, quantity, hydrology, habitats
- Terrestrial Environment
o Fauna and Flora
- Socio-Economics
- Heritage
- Project permitting
o Assessment reports, along with Provincial and Federal requirements
The Company will update the market once the GAP analysis has been completed.
As announced on 21 Nov 2016, the Company engaged Palaris to conduct a Scoping Study of the Elko Coking Coal Project. During the Quarter, Palaris provided the Company with a draft report that is currently being finalised.
Oklahoma Assets
The Company continues to retain tenements in application status within the Arkoma Basin of Oklahoma. The tenements cover the projects referred to as Howe, Bokoshe, Harford and Lafayette. These are detailed in the table below (see the link below).
Investments
Imagine Intelligent Materials
During the Quarter Imagine Intelligent Materials (Imagine) released updates on their activities. These can be found on the Imagine website
http://www.imgne.com
.
These updates, including highlights are:
- Imagine IM presented at world's biggest composites event in Paris (26 Feb 2017)
o Imagine IM announced as a finalist in JEC World Startup Booster competition
o Largest global composite materials conference
o Opportunity to present to world's leading advanced manufacturers
o Imagine IM showcased future industrial-scale sensing applications for pressure, moisture and temperature using graphene composites
- Imagine Intelligent Materials Raised $2m in Private Placement (16 Feb 2017)
o The new capital will enable Imagine IM to optimize its "Plant-In-A-Box" technology into a licensable "turnkey" product.
o Imagine IM will establish an internal Applications Group to develop communications protocols for sensing textiles that will enable data collection on changes in stress, temperature and moisture.
o This will enable the Company to develop high value products with multiple revenue streams.
GCI Progress Payments
During the Quarter, the Company received payments totalling US$85,570 (AU$112,000) from GCI. The payments are in accordance with the terms as announced on 19 May 2016. The Company will recover 100% of the funds invested in GCI over a 24 month period that commenced 15 Jan 2017.
Funds received from the divestment of GCI are also being used to advance the Elko Coking Coal Project.
Tenement Management Updates
During the Quarter, there was no change to the ownership in PAK's tenements.
To view the full report, please visit:
http://abnnewswire.net/lnk/B9RY98NP
About Pacific American Coal Ltd

Pacific American Coal Ltd (ASX:PAK) is focused on the production, development and exploration of metallurgical coal assets in North America. The Company's strategic focus is on the 100% owned Elko hard coking coal project in British Columbia and its investments in technological advanced opportunities. PAK has 100% ownership in a total of 6 Coal Leases in the East Kootenay Coal Field in British Columbia - Canada and tenements in application in low volatile bituminous region of the Arkoma coal basin in Oklahoma.

Mark Sykes
Chief Executive Officer
Australia

Dom Hill
Business Development Manager
North America

Pacific American Coal Limited
Tel: +61-2-9252-5300
Fax: +61-2-9252-8400
www.pamcoal.com
Related CompaniesPacific American Coal Ltd