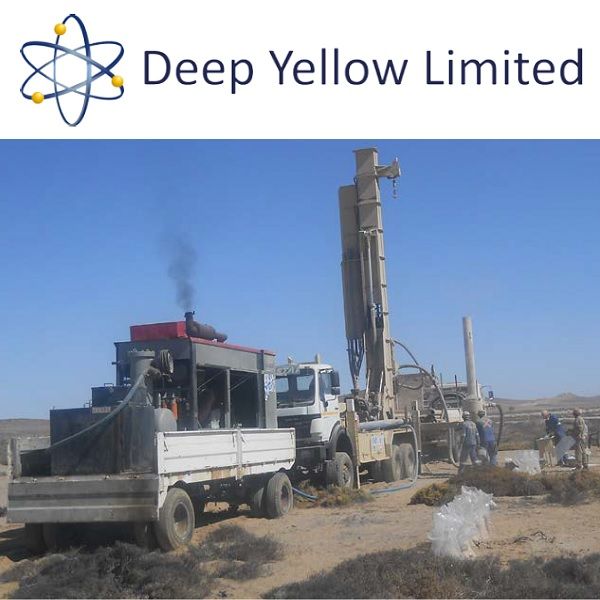 Entitlement Offer Notice Letter Despatched
Perth, May 9, 2017 AEST (ABN Newswire) - Deep Yellow Limited ('Deep Yellow' or the 'Company') (

ASX:DYL
) (

OTCMKTS:DYLLF
) advises the attached letter was sent to shareholders today, 9 May 2017 in accordance with the notice requirements for the recently announced non-renounceable entitlement offer (the Offer).
Through the Offer the Company is seeking to raise up to approximately $15,117,405 before expenses by issuing up to approximately 60,469,620 fully paid ordinary shares (Shares) at an issue price of $0.25 per Share on the basis of 7 Shares for every 15 Shares held on the record date and up to approximately 60,469,620 listed options on the basis of 1 free attaching option for every 1 Share issued. (Refer to the attached Notice Letter in the link below for full details of the Offer.)
As a reminder the following table sets out the key dates for the Offer.

-----------------------------------------------------------------------
Event                                                 Date
Announcement of Offer                                 5 May 2017
Lodgement of Appendix 3B with ASX                     5 May 2017
Prospectus lodged at ASIC and ASX                     5 May 2017
Notice sent to Shareholders                           9 May 2017
"Ex" Date (date Shares are quoted ex-rights)          10 May 2017
                                                      5.00pm (WST), 
Record Date to determine Entitlements                 11 May 2017
Prospectus (together with Entitlement and 
Acceptance Form) despatched to Shareholders           16 May 2017
Opening Date                                          16 May 2017
Closing Date                                          30 May 2017
Shares quoted on a deferred settlement basis          31 May 2017
Notification to ASX of under subscriptions            2 June 2017
Allotment date with respect to Shares and Options     6 June 2017
-----------------------------------------------------------------------

To view the Notice Letter, please visit:
http://abnnewswire.net/lnk/9H0426KH
About Deep Yellow Limited

Deep Yellow Limited (ASX:DYL) (OTCMKTS:DYLLF) (Namibian Stock Exchange:DYL) is a specialist differentiated uranium company implementing a new contrarian strategy to grow shareholder wealth. This strategy is founded upon growing the existing uranium resources across the Company's uranium projects in Namibia and the pursuit of accretive, counter-cyclical acquisitions to build a global, geographically diverse asset portfolio. The Company's cornerstone suite of projects in Namibia is situated within a top-ranked African mining destination in a jurisdiction that has a long, well regarded history of safely and effectively developing and regulating its considerable uranium mining industry.
John Borshoff
Managing Director/CEO
T: +61-8-9286-6999
F: +61-8-9286-6969
Email: john.borshoff@deepyellow.com.au
www.deepyellow.com.au
Related CompaniesDeep Yellow Limited