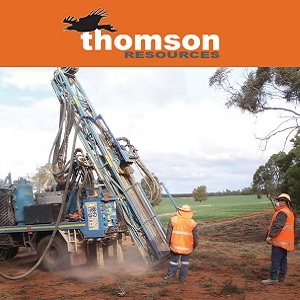 Bygoo Tin Update
Sydney, June 7, 2017 AEST (ABN Newswire) - Thomson Resources Ltd (

ASX:TMZ
) is pleased to confirm that further funding has been received as part of the Bygoo Farm In agreement signed with Canadian investors (see ASX announcements of 17 March 2017 and 21 November 2016). Under the agreement a Canadian listed company Rheingold Exploration (

CVE:RGE
) can invest $3 million by 31 January 2018 for exploration on three exploration licences - EL 8260 (Bygoo), EL 8163 (Gibsonvale) and EL 8531 (Frying Pan).
- Further funding received as part of the Bygoo Farm In agreement
- Drill results expected shortly
- Further drilling planned for early next quarter
The investor then has an option to contribute additional funds to earn a further 25% interest. The option will be exercisable until 1 October, 2018 at an exercise price of A$22,000,000, with an initial payment at commencement of A$4,000,000.
Thomson conducted drilling at Bygoo in December 2016, but results have been delayed due to funding and regulatory issues relating to the Bygoo farm in agreement. These results are now expected to be received shortly.
Drill planning is ongoing and drilling is planned to recommence in the next few weeks.
About Thomson Resources Ltd

Thomson Resources Ltd (ASX:TMZ) is an NSW active mineral explorer. Thomson has several tin projects (including an advanced project near Ardlethan), as well as gold, copper and zinc targets in a range of settings. Thomson has a good record of discovery, with multiple new Intrusion-Related Gold (gold with copper, lead, zinc, molybdenum, tungsten) systems discovered in the Thomson Fold Belt in the NW of the state.

Thomson Resources Ltd
T: +61-2-9906-6225
E: info@thomsonresources.com.au
WWW: www.thomsonresources.com.au

Related CompaniesThomson Resources Ltd



Rheingold Exploration Corp.