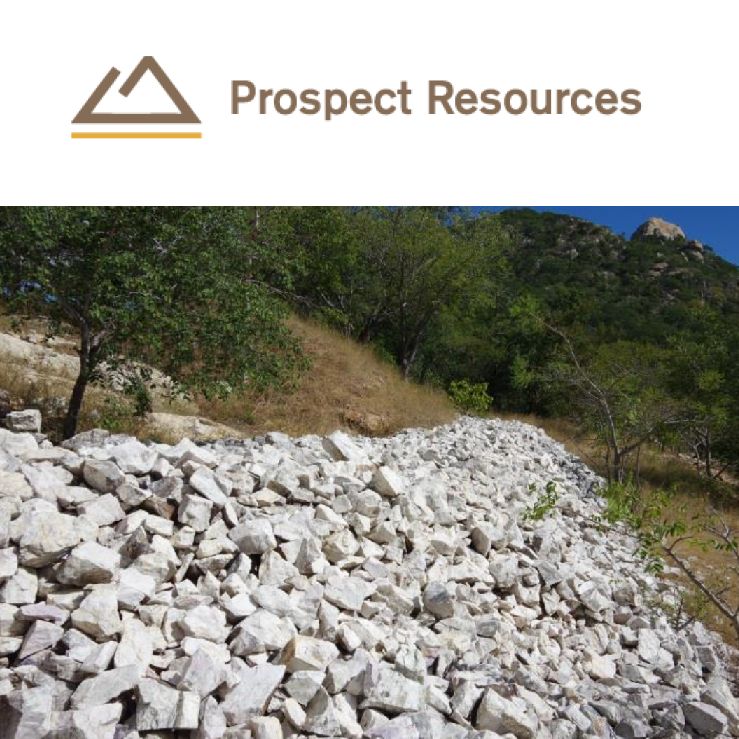 High Grade Spodumene Confirmed - Good Days Lithium Project
Perth, June 26, 2017 AEST (ABN Newswire) - Prospect Resources Ltd (

ASX:PSC
) (the "Company") is pleased to announce results from initial field mapping and sampling completed at the Good Days Lithium Project in Zimbabwe. The Company has a two month period in which to complete its evaluation (refer to ASX Announcement 12 June 2017) of the Good Days Lithium Project.
- Field mapping has confirmed a large zoned pegmatite with a strike length of at least 700m and widths up to 30m
- Rock grab sampling of dump material have returned a peak grade of 4.5% Li2O, and averaging 3% Li2O
- All samples contain spodumene as the primary lithium bearing mineral based on XRD results.
- 30m adit and surrounding open cast pit channel sampled, assays expected over the coming weeks.
- Reverse Circulation rig mobilised to site, with drilling underway.
- Regional geochemical surveys to be initiated to test strike and regional potential
Initial field mapping by Company geologists over the Good Days Pegmatite has identified an outcropping East-West striking zoned pegmatite that has a strike length of at least 700m and with observable widths of up to 30m. The pegmatite dips shallowly to the south with a slight plunge to the west.
Historic development work on the claims includes a single 30m adit and small open cast pit. There is also evidence of small scale hand cobbing of spodumene, lepidolite, quartz and feldspar.
A total of 13 grab samples were initially taken from old dumps containing visible spodumene with all samples returning anomalous lithium grades, with a peak grade of 4.5% Li2O and all grab samples averaging 3% Li2O (see Table 1 in the link below). Mineralogy of each sample was validated using XRD, where spodumene was identified as the primary lithium bearing mineral.
The 30m adit and small open cut areas have been channel sampled, and additional systematic outcrop sampling has been completed. Based on these encouraging results, the Company has mobilized a Reverse Circulation ("RC") rig that is expected to complete an initial 600m drilling program designed to test the downdip and validate the strike extents of the Good Days Pegmatite (see Figure 1 in the link below). In tandem with the drilling program, the Company plans to complete a surface soil sampling program to test strike extensions to the Good Days pegmatite and to support ongoing geological evaluation of the Project.
Chairman of Prospect, Mr Hugh Warner had the following to say following release of these initial results:
"Our geological team has done remarkably well to be able to quickly assess and confirm the potential at Good Days following these very encouraging results. As we speak a drilling rig is collaring at Good Days and I am looking forward to initial results from our field team as this short program continues. So far the results confirm the high quality spodumene present at Good Days, and this drilling program is expected to provide us with sufficient data to make a decision regarding the exercise of our option to acquire Good Days".
PROJECT OVERVIEW & GEOLOGY
The Good Days lithium project is located approximately 30km east of the town of Mutoka in north eastern Zimbabwe and some 160km from the capital city, Harare. The project area consists of a swarm of Lithium-Caesium-Tantalum ("LCT") type pegmatites that either intrude a regional granodiorite dome or are situated close to its contact, penetrating the mixed rocks of the Budjga Dome suite as well as the rocks of the Makaha Greenstone Belt. Numerous small historical workings and excavations are located along several pegmatites, most notably at the Good Days Mine and JordyWhytt Mines where spodumene, beryl, tantalite, columbite, cassiterite and lepidolite was produced (see Figure 2 in the link below).
To view tables and figures, please visit:
http://abnnewswire.net/lnk/BA4VKSKI
About Prospect Resources Ltd

Prospect Resources Limited (ASX:PSC) is based in Australasia with operations in Zimbabwe and is a publicly listed company. We are committed to creating value for Prospect's shareholders and the communities in which our company operates. Our vision is to build a Southern African based mining company of international scale.

Hugh Warner
Prospect Resources Ltd
Executive Chairman
T: +61-413-621-652

Harry Greaves
Prospect Resources Ltd
Executive Director
T: +263-772-144-669
WWW: www.prospectresources.com.au

Related CompaniesProspect Resources Ltd