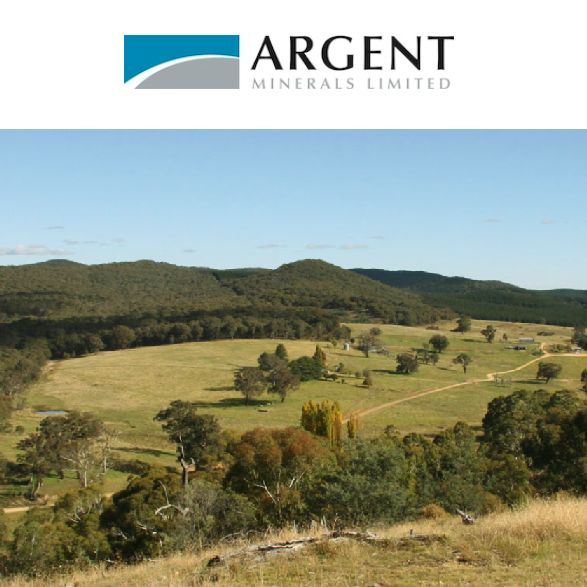 Copper and Gold in West Wyalong Porphyry - Final Assays
Sydney, July 27, 2017 AEST (ABN Newswire) - Argent Minerals Limited (

ASX:ARD
) (Argent, or the Company) is pleased to report final exploration results for holes AWT005 and AWN001 - continuing the successful milestones achieved by the recently completed West Wyalong diamond drilling programme.
Highlights:
- Continued evidence of near position to a copper-gold-molybdenum porphyry deposit.
- Recurring anomalous copper and gold in hole AWN001 featuring a significant copper grade at depth.
- Zones of massive magnetite skarn continuing to Narragudgil (20 metres from 248.0 metres in hole AWT005 and 9.9 metres from 265.0 metres in hole AWN001).
- Widespread strong alteration observed over a trend of 2.5 kilometres and a width of 1.5 kilometres common to porphyry copper-gold-molybdenum deposits with frequent quartz, quartzcarbonate and anhydrite veining.
- Extensive zones of pyrite-dominated sulphides intersected in all drillholes including disseminated and banded pyrite and chalcopyrite, and stringer molybdenite.
- Drilling results add further evidence analogous to the initial exploration results which led to the discovery of Ok Tedi (PNG) and Big Cadia.
DRILLING RESULTS
The assays for holes AWT005 and AWN001, together with drill core visual observations, reveal increased evidence of a near position to a main porphyry copper-gold-molybdenum deposit and consistent evidence of a fertile gold-copper-molybdenum system.
The assays indicate that copper, gold and molybdenum anomalism continues for 2.5 kilometres from AWT001 to AWT005. Copper, gold and molybdenum anomalism continues eastward for 1.5 kilometres towards AWN001 and now delineates a prospective area of 4 square kilometres. Narrow higher grade intervals and broad elevated intervals of copper and gold anomalism have the potential to continue towards AWN001 and may represent either a continuation of the Theia mineral system or an additional porphyry system.
Visual observations of the alteration and mineral assemblages in the drill core, along with voluminous brecciated magnetite skarn and concentrated vein molybdenite, chalcopyrite and gold, continue to indicate that the drilling programme holes are near to a main mineralised body or a series of mineralised bodies.
Multiple porphyritic intrusives have been intersected over a trend of 2.5 kilometres and a width of 1.5 kilometres, which are associated with elevated chalcopyrite, molybdenite and gold mineralisation, and extensive zones of sulphide mineralisation - together being signature features of porphyry copper-goldmolybdenum mineralised systems.
Assays for holes AWT005 and AWN001
The fifth and sixth holes drilled in the programme were designed to test the southern extent of the Theia anomaly (AWT005) and the central portion of the Narragudgil anomaly (AWN001).
The assay results and drill core observations for AWT005 indicate this position is more distal to the main mineral system than AWT004. The assay results for AWN001 together with the drill core visual observations, continue to be consistent with a near position to a porphyry copper-gold-molybdenum deposit.
The assay results include the following significant intersection by hole AWT005:
- 2.0 m at 0.03% Cu, 0.43 g/t Au and 3 ppm Mo from 268.0 m;
and the following significant intersections by hole AWN001:
- 11.0 m at 0.17% Cu, 0.15 g/t Au and 12 ppm Mo from 43.2 m;
including 7.0 m @ 0.17% Cu, 0.23 g/t Au and 14 ppm Mo from 47.2 m;
including 1.0 m @ 0.39% Cu, 0.45 g/t Au and 16 ppm Mo from 49.2 m;
- 1.0 m at 0.01% Cu, 0.62 g/t Au and 8 ppm Mo from 211.6 m;
- 1.0 m at 0.00 % Cu, 0.01 g/t Au and 180 ppm Mo from 231.0 m;
- 0.7 m at 3.27 % Cu, 0.06 g/t Au and 7 ppm Mo from 311.7 m.
Each of the above intervals are contained within broader anomalous copper (>0.01%) zones that surround narrow and broad dykes and sills of tonalite to monzonite composition, adding to the reported AWT001 to AWT004 results of being indicative of a complex, poly-phase, fertile system. The dykes and sills intrude through host volcanogenic units to the east, and a monzonite intrusive stock to the west (drill core petrology pending).
About the magnetite skarn
Widespread alteration ranges from hypabyssal calc-silicate (potassic/propylitic) alteration and magnetite skarn seen dominantly at Theia, to phyllic and argillic alteration typical of epithermal environments seen dominantly at Narragudgil. Extensive diffuse banded and disseminated pyrite has been observed in the overlying mafic volcanic package, along with disseminated pyrite throughout certain porphyritic intrusives.
Hole AWT005 intersected 20.0 metres of magnetite skarn from 248.0 metres and hole AWN001 intersected 9.9 metres of magnetite skarn from 265.0 metres - massive brecciated units characterised by magnetite matrix (up to 20%), with both AWT005 and AWN001 assays confirming the presence of chromium (>0.1%) and nickel (>0.1%).
A north-south strike length of 1.5 kilometres and east-west extent of 1.5 kilometres of magnetite skarn has been observed visually within the total 2.5 kilometre strike length of multiple porphyritic intrusives, adding further evidence of the West Wyalong porphyry system as being analogous to Ok Tedi in Papua New Guinea (PNG) and Big Cadia where magnetite skarns are located peripheral to the main deposit.
Together with the assays, visual observations of the alteration and mineral assemblages in the drill core, along with voluminous brecciated magnetite skarn and concentrated vein molybdenite and chalcopyrite, indicate that hole AWT005 is further from the main source than AWT004.
AWN001 is considered near to a main source in a position consistent with an epithermal environment. It is uncertain whether Narragudgil and Theia are part of the same larger porphyry system or are distinctly separate systems. Further analysis is required to determine the relationship between the prospect areas.
For additional information on porphyry copper-gold system exploration, investors may wish to read the article about the discovery process at Cadia by John Holliday, Colin McMillan and Ian Tedder:
http://www.argentminerals.com.au/investors/peer-discoveries
NEXT STEPS
All drillholes have been logged, sampled and assays reported. Drill core samples have also been submitted for petrographic assessment and LA-ICPMS analysis (see Note below). The petrographic analyses are being undertaken to specifically quantify the intersected rock types, and the implications for drill targeting.
The finalisation of assays and QAQC processes will now allow for the initiation of 3D modelling in order to assess the geometry of the area together with the detailed geochemistry provided by the completed assay dataset.
Further to this, hyperspectral logging (SWIR - short wave infrared) of all drill core will be undertaken to fully appreciate the extent and composition of alteration to aid planning a follow-up drill programme.
Report must be read in conjunction with JORC 2012 Table 1 provided in Appendix 4 (see the link below).
Note: Laser Ablation Inductively Coupled Plasma Mass Spectrometry
To view tables and figures, please visit:
http://abnnewswire.net/lnk/5B9V3CHY
About Argent Minerals Limited

Argent Minerals Limited (

ASX:ARD) is an Australian publicly listed company with a 100% interest in a silver/gold project at Kempfield NSW. Work is underway on the preparation of an EIS and a feasibility study for the first stage of the project which will involve heap leaching some 8.8 million tonnes of mainly oxide and transitional material to produce over 9.5 million ounces of silver and 15,000 ounces of gold over a 5 year mine life. Argent is also earning up to a 70% interest in two other NSW projects - gold at West Wyalong and base metals at Sunny Corner.

David Busch
Chief Executive Officer
Argent Minerals Limited
M: +61-415-613-800
E: david.busch@argentminerals.com.au
Related CompaniesArgent Minerals Limited