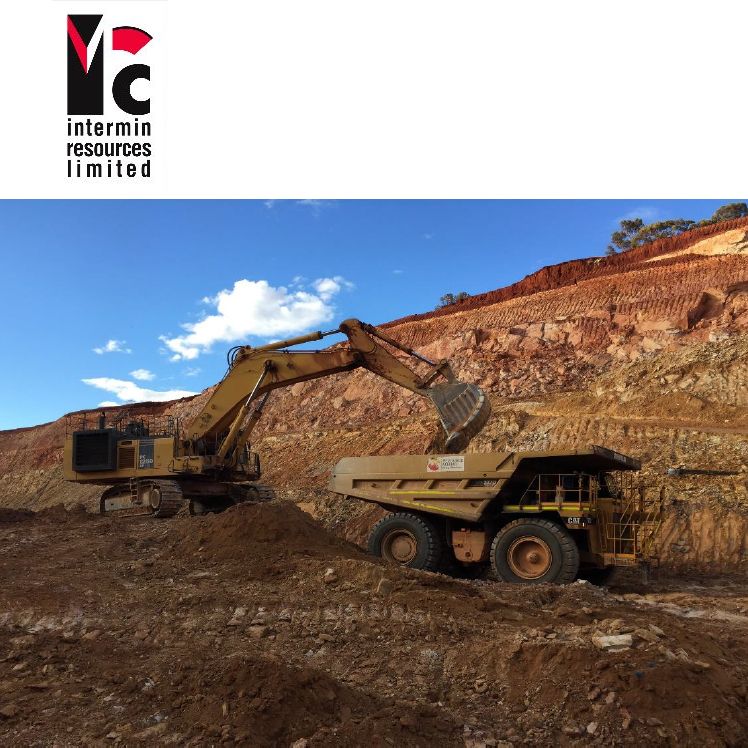 Teal Gold Mine Continues to Deliver
Perth, Sep 5, 2017 AEST (ABN Newswire) - Intermin Resources Limited (

ASX:IRC
) ("Intermin" or the "Company") provides the following operational update from Intermin's 100% owned Teal Gold Mine, located 11km north west of Kalgoorlie-Boulder in Western Australia (see Figure 2 in the link below).
HIGHLIGHTS
- Mining, ore haulage and processing continues successfully at the Teal open pit
- Ore mined to date totals 98,900t grading 3.20g/t for 10,160 ounces
- Gold recoveries remain at 94% for an estimated 9,550 ounces recovered to date (see Note 1 below)
- Repayment of Intermin's capital investment of $2.1m complete
- Return of Intermin's asset recovery charge of $2.15m expected this Quarter under the terms of the Mining Alliance (see Note 2 below)
- Teal on track to produce 15,000 - 16,000 ounces at All In Cost (AIC) of A$1,030 - A$1,090 per ounce generating total net cash flow to Intermin of $7m - $8m at a $1,600/oz gold price (see Note 3 below)
- Cash and investments to date (see Note 4 below) rise to more than $6m with mining completion of Stage 1 expected in the December Quarter 2017
Commenting on progress at Teal, Intermin's Managing Director, Mr Jon Price said:
"As Stage 1 at Teal continues to generate significant cash flow to the business, the Company is in an exciting growth phase as we complete Feasibility Studies on the Goongarrie Lady gold project and further stages at Teal to expand the production pipeline.
"The Company also expects ongoing drilling results from the self-funded 32,000m exploration program in coming months as we continue our Resource expansion efforts and the search for the next WA Goldfields discovery."
Overview
Mining continues in the southern section of the pit (see Figure 1 in the link below) with supergene oxide ore now exposed across the entire pit floor for load and haul through to completion in the December Quarter. The strip ratio for the remaining life of the project is 3:1 with total movement to date of 1.66MBCM. Ore mined to date from the project totals 98,900 dry tonne at an average grade to 3.20g/t, in line with Reserve model estimates.
Ore haulage to the third party mill for processing will occur at 10 - 15,000t per week with plant recoveries of 94% to date continuing to outperform the Feasibility Study estimates of 90% for the oxide ore component.
Contained metal mined to date totals 10,161 ounces and the project remains on track to meet guidance of 15,000 -16,000 ounces at an All in Cost (AIC) estimated at $1,030 - $1,090 per ounce (See Note 5 below).
Initial capital investment repayments of $2.1m have now been made to both RM Contracting and Intermin. The Company is expecting payment of the $2.15m asset recovery charge this Quarter prior to the profit share component in accordance with the Mining Alliance Contract (see Note 6 below).
Cash at bank (see Note 7 below) as of 5 September totals $4.9m and tradeable securities held total $1.14m.
Notes:
1 includes final and provisional data
2 as announced to the ASX on 19 July 2016
3 as announced to the ASX on 14 June 2017, see also Competent Persons Statement on page 3 and Forward Looking and Cautionary Statement on page 4.
4 includes actual and provisional amounts under the ore sales agreement announced to the ASX on 27 July 2017
5 as announced to the ASX on 14 June 2017, see also Competent Persons Statement on page 3 and Forward Looking and Cautionary Statements on page 4
6 as announced to the ASX on 19 July 2017.
7 includes final and provisional amounts under the Ores Sales Agreement as announced on 27 July 2017
To view tables and figures, please visit:
http://abnnewswire.net/lnk/2ZA6AI1U
About Intermin Resources Limited

Intermin Resources Limited (ASX:IRC) is a gold exploration and mining company focussed on the Kalgoorlie and Menzies areas of Western Australia which are host to some of Australia's richest gold deposits. The Company is developing a mining pipeline of projects to generate cash and self-fund aggressive exploration, mine developments and further acquisitions. The Teal gold mine has been recently completed.
Intermin is aiming to significantly grow its JORC-Compliant Mineral Resources, complete definitive feasibility studies on core high grade open cut and underground projects and build a sustainable development pipeline.
Intermin has a number of joint ventures in place across multiple commodities and regions of Australia providing exposure to Vanadium, Copper, PGE's, Gold and Nickel/Cobalt. Our quality joint venture partners are earning in to our project areas by spending over $20 million over 5 years enabling focus on the gold business while maintaining upside leverage.

Jon Price
Managing Director
Tel: +61-8-9386-9534
E: jon.price@intermin.com.au

Lorry Hughes
Director - Business Development
Tel: +61-8-9386-9534
E: lorry.hughes@intermin.com.au

Michael Vaughan
Media Relations - Fivemark Partners
Tel: +61-422-602-720
E: michael.vaughan@fivemark.com.au
Related CompaniesIntermin Resources Limited