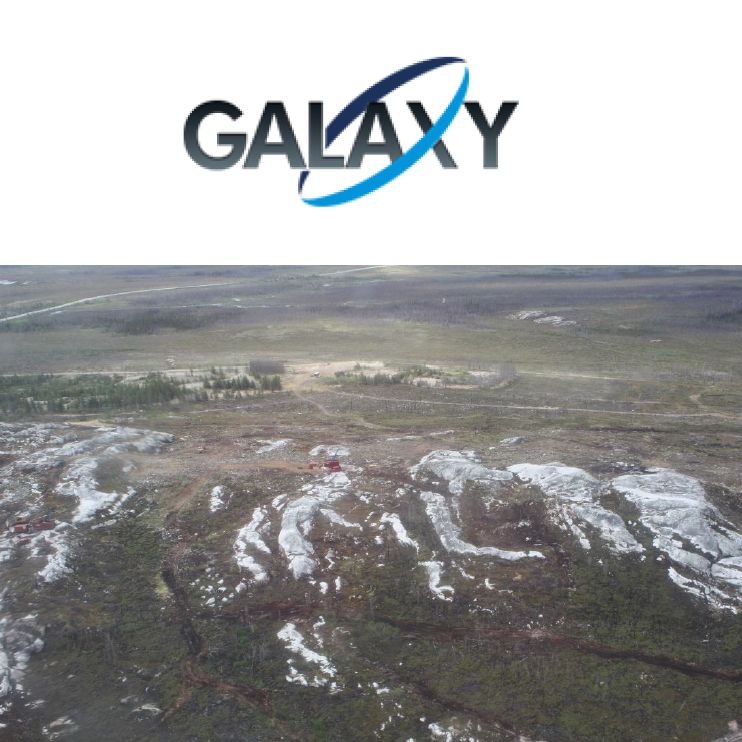 James Bay Drilling - Significant Mineralisation Extended
Perth, Sep 14, 2017 AEST (ABN Newswire) - Galaxy Resources Limited ("Galaxy" or the "Company") (

ASX:GXY
) (

OTCMKTS:GALXF
) is pleased to announce further assays from its 2017 drilling campaign at its James Bay Project ("James Bay "), Quebec, Canada.
In late March, the Galaxy James Bay team commenced a ~33,000m diamond drilling campaign to extend and develop the existing James Bay spodumene resource in Quebec, Canada - the program is now complete. All assays are expected to be finalized by the end of September 2017.
All intercepts below are reported downhole.
Highlights from this round of drilling and assay are:
- 56.6m at 1.61% Li2O from 89.3m to 145.9m (drill hole JBL17- 09)
- 49.6m at 1.60% Li2O from 17.0m to 66.6m (drill hole JBL17- 30)
- 34.5m at 1.63% Li2O from 68.8m to 103.3m (drill hole JBL17-104)
- 35.9m at 1.54 % Li2O from 2.0m to 37.9m (drill holeJBL17-105)
and 53.5m at 1.72 % Li2O from 68.5m to 122.0m
- 41.0m at 1.81 % Li2O from 25.8m to 66.8m (drill hole JBL17-106)
and 88.4m at 1.46 % Li2O from 204.1m to 292.5 m
- 34.2m at 1.29 at % Li2O from 86.0m to 120.2m (drill hole JBL17-60)
Assays (Tables 1 and 2, see the link below) have been received for a further 49 diamond holes for 10,111m of NQ drilling (collars, Table 1, see the link below). Drilling has been both resource infill and resource extensional in type. All drilling is diamond (core). Pegmatites outcrop at surface and the drill program has targeted approximately 1,850m of pegmatite outcrop westward of the James Bay Highway. The first three drill holes east of the highway returned economic grades in pegmatite. The resource remains open and largely untested east of the James Bay Highway.
Thicker pegmatites at the western extremity of the known mineralization remain open and untested below the limits of the current drilling. The now-completed drilling program will be used for a mineral resource re-estimate and upgrade, which is expected to be finalised by the end of October 2017.
Galaxy's Managing Director and CEO, Anthony Tse, commented "The results from this last set of assays are very good and reaffirm the potential of James Bay, as a long-life high grade spodumene project. We look forward to the outcome of the resource upgrade which will follow. The Project Notice, which outlines the scope of the project, is expected to be submitted shortly to the relevant departments in both the Quebec Government and the Federal Government of Canada. "
Further assay results will be released as they are received over the coming weeks.
All results are listed in Table 2, see the link below.
ABOUT THE JAMES BAY PROJECT
The James Bay Pegmatite swarm is located 10km south of the Eastmain River and 100 kilometers east of James Bay. The property is accessible by paved road from the James Bay Road which cuts through the property close to the 381km road marker on the highway Route/109 from Val d'Or, Quebec, Canada. Val d'Or is approximately 526km westward from Montreal, Quebec. A large, multi-service truck stop is located at marker 381. Discovered in the 1960's and then known as the Cyr property the site consists of a swarm of 33 pegmatite dykes that belong to the rare-element 'class', the LCT (Li-Cs- Ta) 'family' and the albite-spodumene 'type' per the classification by Cerny (1991). Two new major pegmatite dykes have been discovered in this current campaign as well as smaller swarms eastward of the known extent. The mineralised pegmatite is open at depth and to the east. The lithium bearing mineral contained in the pegmatites is spodumene LiAl(Si2O6), a member of the pyroxene group of minerals. A classified resource was reported at cut-off grade of 0.75% Li2O of 11.75Mt @ 1.30% Li2O (Indicated) and 10.47Mt @ 1.20% Li2O (Inferred) within a conceptual pit shell using a lithium carbonate price of USD 6,000/t, metallurgical and process recovery of 70%, mining and process costs of USD 64 per tonne and overall pit slope of 45 degrees. The current resource is based on 14,457m of diamond drilling and 201.3m of horizontal channel sampling. The pegmatite swarms have dip direction ~N 103 degrees E., dip steeply at ~60 degrees westward and forms a corridor of discontinuous dykes about ~4km in length and ~300m wide. This outcrop is to about 15-20m above the surrounding muskeg/swamp. This phase of drilling is complete.
To view tables and figures, please visit:
http://abnnewswire.net/lnk/KPVQY78H
About Galaxy Resources Limited

Galaxy Resources Limited (ASX:GXY) (OTCMKTS:GALXF) is an international S&P / ASX 200 Index company with lithium production facilities, hard rock mines and brine assets in Australia, Canada and Argentina. It wholly owns and operates the Mt Cattlin mine in Ravensthorpe Western Australia, which is currently producing spodumene and tantalum concentrate, and the James Bay lithium pegmatite project in Quebec, Canada.
Galaxy is advancing plans to develop the Sal de Vida lithium and potash brine project in Argentina situated in the lithium triangle (where Chile, Argentina and Bolivia meet), which is currently the source of 60% of global lithium production. Sal de Vida has excellent potential as a low cost brine-based lithium carbonate production facility.
Lithium compounds are used in the manufacture of ceramics, glass, and consumer electronics and are an essential cathode material for long life lithium-ion batteries used in hybrid and electric vehicles, as well as mass energy storage systems. Galaxy is bullish about the global lithium demand outlook and is aiming to become a major producer of lithium products.
Corporate
Nick Rowley
Director - Corporate Development
M: +61-455-466-476
T: +61-8-9215-1700
E: nick.rowley@galaxylithium.com

Media Enquiries (Australia)
John Gardner
Citadel-MAGNUS
M: +61-413-355-997 or
T: +61-8-6160-4901
E: jgardner@citadelmagnus.com

Media Enquiries (International)
Heidi So
Strategic Financial Relations Ltd
T: +85-2-2864-4826
E: heidi.so@sprg.com.hk
Related CompaniesGalaxy Resources Limited