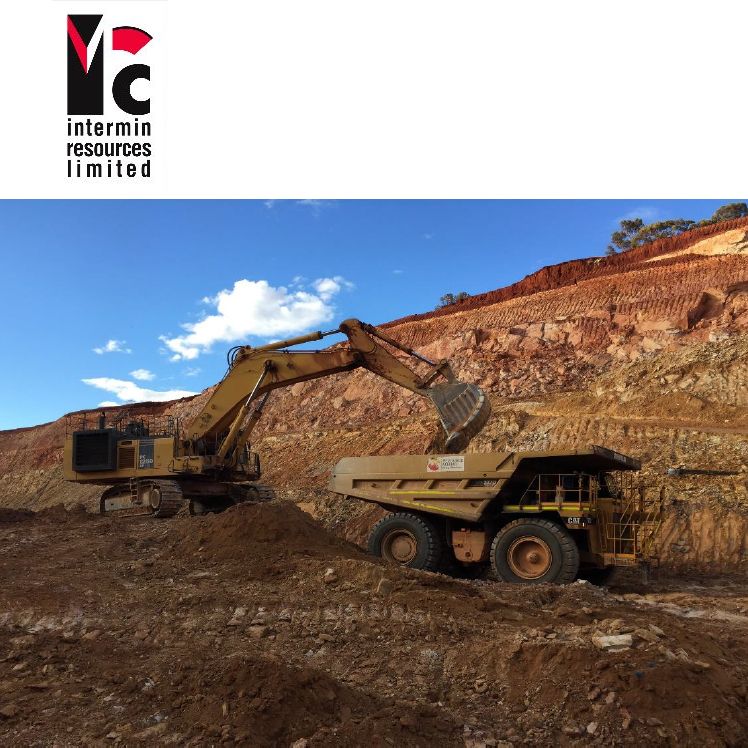 Spectacular Drilling Results from the Anthill Gold Project
Perth, Oct 24, 2017 AEST (ABN Newswire) - Intermin Resources Limited (

ASX:IRC
) ("Intermin" or the "Company") is pleased to announce reverse circulation ("RC") drilling results from the 100% owned Anthill gold project located 54km northwest of Kalgoorlie-Boulder in Western Australia. The project comprises granted Mining Lease M16/531 over Greenstone rocks situated within the highly prospective Zuleika Shear Zone, which hosts numerous high-grade gold deposits (see Figure 2 & 5 in link below).
HIGHLIGHTS
- Initial extensional and validation drilling program completed at the 100% owned Anthill gold project, located on the Zuleika shear zone in the Western Australian Goldfields
- Significant shallow downhole RC intercepts include (see Note 1 below):
o 41m @ 2.63 g/t Au from 69m (AHRC17027)
o 30m @ 2.98 g/t Au from 73m (AHRC17024)
o 11m @ 3.72 g/t Au from 46m (AHRC17039)
o 29m @ 1.84 g/t Au from 49m (AHRC17035)
o 15m @ 2.26g/t Au from 32m (AHRC17032)
o 7m @ 4.58g/t Au from 37m and 43m @ 1.46g/t Au from 54m (AHRC17028)
o 19m @ 2.22g/t Au from 39m and 27m @ 2.17g/t Au from 98m (AHRC17031)
o 19m @ 1.50g/t Au from 32m and 38m @ 1.48g/t Au from 86m (AHRC17029)
o 18m @ 2.80 g/t Au from 48m and 11m @ 4.91 g/t Au from 90m (AHRC17020)
- Significant deeper downhole RC intercepts include (see Note 1 below):
o 17m @ 5.37g/t Au from 137m (AHRC17043)
o 6m @ 11.15 g/t Au from 110m (AHRC17032)
o 11m @ 6.22g/t Au from 157m and 3m @ 6.48 g/t from 187m (AHRC17039)
- Maiden JORC 2012 Resource estimate expected early in the March Quarter 2018
- Accelerated and self-funded follow up drilling program in the advanced planning stage
Commenting on the drilling results, Intermin's Managing Director Mr Jon Price said:
"These outstanding high grade results at Anthill demonstrate large scale open cut and underground potential and we look forward to commencing the accelerated and fully funded drilling program to test extensions to the mineralisation along strike, at depth and on parallel structures.
Modern exploration on the Zuleika shear and in the WA Goldfields, particularly at depth, has resulted in a number of significant new discoveries and Anthill has now shown potential to become a significant stand-alone company making asset."
Overview
Forty five angled RC holes for 6,282m to downhole depths between 75-230m were completed and successfully confirmed Intermin's new geological and mineralisation interpretation (see Figure 3 & 4 in link below). Combined with diamond core data from AHD1701 (see Note 2 below), the new data will be used to compile a detailed Mineral Resource Estimate for initial engineering scoping studies.
The historic, JORC 2004 Resource of 5.2 million tonnes at 1g/t Au for 160,700 ounces (see Note 3 below) completed in 2011, is considered to have been overly simplified and did not have a well-defined structural interpretation thereby making it unsuitable for pit optimisation studies. The new structural interpretation is critical to understand deposit geometry in order to accurately estimate the location of the discrete high-grade quartz veins at depth below the upper quartz-stockwork zones.
The stockwork zone is interpreted to be roughly circular or funnel shaped in plan, dipping to the northeast and is about 100 to 150m in diameter. The primary mineralisation has intense sericite-albite-carbonate-pyrite alteration, is bounded by a contact with metasediments to the west and the basalt host rock is intruded by an irregular Archaean dolerite body.
The host rock is intensely weathered to 70 to 80m vertical depth and gold mineralisation is also present in laterite and supergene layers from 1 to 8m thick. Laterite mineralisation is at surface, overlying a 20m thick depleted zone then mineralisation is continuous to the limit of drilling at around 200m depth.
The recent drilling has confirmed four main types of mineralisation as follows:
- A 1-5m thick zone of laterite starting from surface with grades up to 3.5g/t Au
- A flat lying undulating supergene-oxide zone
- A variably east-dipping 5 - 35m thick fresh quartz-sulphide (pyrite) stockwork zone averaging 1-3g/t Au
- A narrow 1 - 5m thick high-grade quartz vein zone beneath the stockwork zone. The quartz typically contains free gold with accessory sulphides including pyrrhotite, arsenopyrite and pyrite.
The mineralisation comprises multiple shoots, is best developed in the centre of the currently known orebody and is interpreted to be influenced by a steep dipping east-west oriented cross structure. Towards the outer drilling grid mineralisation reverts to a moderate northeast dip.
Strong visible gold was panned in most holes (see Figure 1 in link below) during the drilling which can be broadly correlated to the 1m fire assay intervals. As is common practice the Company is undertaking additional sampling programs to determine the parameters of the nuggetty gold in order to conduct future grade modelling appropriately.
Next Steps
An accelerated larger scale follow-up RC program is in the advanced planning stages and will test priority oxide and primary targets adjacent to and beneath existing intercepts (see Figure 4 in link below). This program will follow the drilling at the exciting Blister Dam project to the northwest (see Figure 5 in link below), will be fully self-funded and will enable development options to be advanced forming part of an increased production pipeline.
Key targets will be strike extensions of new oxide mineralisation and parallel structures to the east, west and north toward the Fireant prospect (see Figure 2 in link below). In addition several holes will target deeper high-grade hits beneath AHRC17020 (11m @ 4.91g/t Au from 90m), AHRC17027 (41m @ 2.63g/t Au from 69m), AHRC17032 (6m @ 11.15g/t Au from 110m) and AHRC17039 (11m @ 6.22g/t Au from 157m).
All gold assay results from the program have been received with drill hole collar details and significant downhole intervals >1.00g/t Au included in Table 1 (see link below).
Notes:
1. See Table 1 on Page 5 and JORC Tables on Page 10
2. As announced to the ASX on 5 September 2017
3. As announced to the ASX on 8 March and 6 July 2017 and MKO announcement on the 29 April 2011.
To view tables and figures, please visit:
http://abnnewswire.net/lnk/99L51XTB
About Intermin Resources Limited

Intermin Resources Limited (ASX:IRC) is a gold exploration and mining company focussed on the Kalgoorlie and Menzies areas of Western Australia which are host to some of Australia's richest gold deposits. The Company is developing a mining pipeline of projects to generate cash and self-fund aggressive exploration, mine developments and further acquisitions. The Teal gold mine has been recently completed.
Intermin is aiming to significantly grow its JORC-Compliant Mineral Resources, complete definitive feasibility studies on core high grade open cut and underground projects and build a sustainable development pipeline.
Intermin has a number of joint ventures in place across multiple commodities and regions of Australia providing exposure to Vanadium, Copper, PGE's, Gold and Nickel/Cobalt. Our quality joint venture partners are earning in to our project areas by spending over $20 million over 5 years enabling focus on the gold business while maintaining upside leverage.

Jon Price
Managing Director
Tel: +61-8-9386-9534
E: jon.price@intermin.com.au

Lorry Hughes
Director - Business Development
Tel: +61-8-9386-9534
E: lorry.hughes@intermin.com.au

Michael Vaughan
Media Relations - Fivemark Partners
Tel: +61-422-602-720
E: michael.vaughan@fivemark.com.au
Related CompaniesIntermin Resources Limited