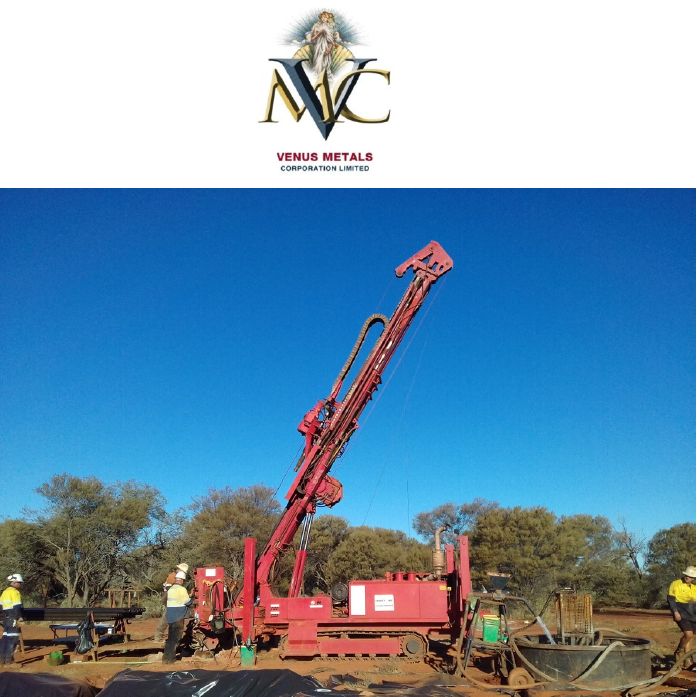 Prospectus Options Offer to Shareholders
Perth, Oct 25, 2017 AEST (ABN Newswire) - Venus Metals Corporation Limited (

ASX:VMC
) provides the Prospectus Options Offer to Shareholders.
For the offer of up to 25,588,231 New Options exercisable at $0.20 each on or before 30 November 2019 at an issue price of $0.02 per New Option on the basis of 1 New Option for every 3 fully paid ordinary Shares to raise up to approximately $512,000 before expenses.
Only Shareholders may apply for New Options under this Prospectus.
This Offer closes at 5.00pm WST on 13 November 2017. Valid acceptances must be received before that date.
Important Dates*
Event: Announcement of Offer and lodgement of Appendix 3B
Date:* 13 October 2017
Event: Prospectus lodged at ASIC and ASX
Date: 25 October 2017
Event: Notice sent to Securityholders
Date: 26 October 2017
Event: Record Date to determine entitlements
Date: 7.00pm (WST), 30 October 2017
Event: Despatch of Prospectus and Entitlement and Acceptance Form to Shareholders
Date: 2 November 2017
Event: Opening Date
Date: 2 November 2017
Event: Closing Date
Date: 13 November 2017
Event: Quotation of New Options on a deferred settlement basis
Date: 14 November 2017
Event: Notification to ASX of under subscriptions
Date: 16 November 2017
Event: Allotment date
Date: 20 November 2017
Event: Despatch of holding statements
Date: 21 November 2017
* These dates are indicative only. The Directors reserve the right to vary the key dates without prior notice, subject to the Listing Rules.
To view the full Prospectus, please visit:
http://abnnewswire.net/lnk/JAHDQ1PZ
About Venus Metals Corporation Limited

Venus Metals Corporation Limited (ASX:VMC) holds a significant and wide ranging portfolio of Australian base and precious metals exploration projects comprising lithium, cobalt, vanadium, copper, zinc, nickel, gold and platinum group of elements.
Key project areas in Western Australia include:
- Pincher Well Zinc-Copper Project (Youanmi): Over 5 km of under explored VMS trend with an Exploration Target of 15-20 Million Tonnes@ 2-8% Zinc,which also hosts a number of high grade lodes (>10% Zinc).
- Currans Well Cobalt-Nickel-Copper Project (Youanmi): Significant Cobalt mineralisation up to 1483 ppm Co in historical drilling. Extensive Lateritic Duricrust Co-Ni target areas identified.
- Curara Well Nickel-Copper-Gold Project (Doolgunna):10 km northeast of Sandfire Resources DeGrussa Copper Mine. Wide intercepts of disseminated Nickel Sulphides (Millerites) in Ultramafics.
- Southern Cross Vanadium Project (Youanmi): JORC 2012 Inferred Vanadium Mineral Resource of 167.7 Millions Tonnes @ 0.41% V2O5, 7.52% TiO2.
- Strategic Lithium-Tantalum Projects in WA.

Matthew Hogan
Non-Executive Chairman
T: +61-8-9321-7541

Kumar Arunachalam
Chief Executive Officer
T: +61-8-9321-7541
Fax: +61-8-9486-9587
E: info@venusmetals.com.au
Related CompaniesVenus Metals Corporation Limited