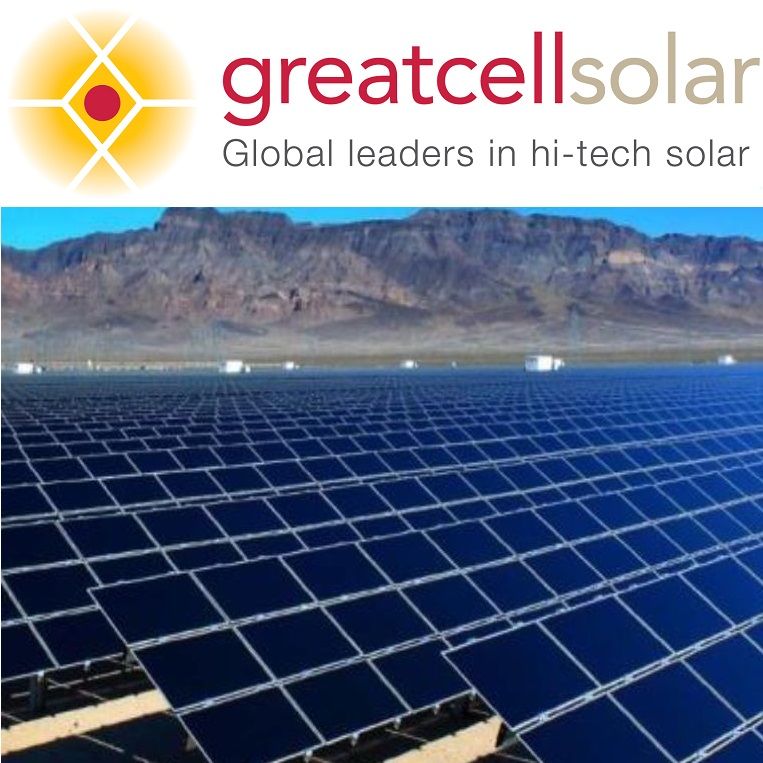 Awarded 700,000 Euro Horizon 2020 Grant
Queanbeyan, Nov 16, 2017 AEST (ABN Newswire) - Greatcell Solar Limited (

ASX:GSL
) (

OTCMKTS:DYSOY
), global leaders in hi-tech solar, is pleased to advise that it has been awarded EUR700,000 (approximately A$1.1 million) in a European Union Horizon 2020 project known as Apolo. The successful grant to Greatcell's application has occurred through its 100% Italian subsidiary, Greatcell Solar Italy located in Rome.
The H2020 project is for innovative development of Perovskite Solar Cell (PSC) technology on flexible substrates and aligns very closely with Greatcell's existing technology development plan, particularly that being conducted at Solliance in the Netherlands. Much of the work involved will investigate advanced technology for higher efficiencies, longer life and improved encapsulation of PSC enabled flexible substrates, such as metals and polymers.
Greatcell is leading the world in materials and process development for the commercialisation of PSC technology. These are all critical in the successful translation of the exciting 3rd generation PSC photovoltaic (PV) technology from the laboratory to the factory and satisfying PV industry accreditation (IEC 61215). Greatcell has a multi-generational technology development plan with the objective of producing PV technology that genrates electricity for as low as 3.5 US cents per kWh or 25 US cents per watt-peak (Wp). This is significantly lower than existing, competitive PV technologies.
The H2020 Apolo project also includes the partners: the Alternative Energies and Atomic Energy Commission of France (CEA), Ecole Polytechnique Federale De Lausanne (EPFL), University of Rome Tor Vergata and Fraunhofer of Germany.
Greatcell would like to express its gratitude to the European Union for its strong financial support of its international technology development activities.
About PEROVSKITE SOLAR CELL TECHNOLOGY
Perovskite Solar Cell (PSC) technology is a photovoltaic (PV) technology based on applying low cost materials in a series of ultrathin layers encapsulated by protective sealants. Greatcell Solar's technology has lower embodied energy in manufacture, produces stable electrical current, and has a strong competitive advantage in low light conditions relative to incumbent PV technologies. This technology can be directly integrated into the building envelope to achieve highly competitive building integrated photovoltaics (BIPV).
The key material layers include a hybrid organic-inorganic halide-based perovskite light absorber and nano-porous metal oxide of titanium oxide. Light striking the absorber promotes an electron into the excited state, followed by a rapid electron transfer and collection by the titania layer. Meanwhile, the remaining positive charge is transferred to the opposite electrode, thereby generating an electrical current.
To view figures, please visit:
http://abnnewswire.net/lnk/706G9032
About Greatcell Solar Limited

Greatcell Solar Limited (ASX:GSL) (OTCMKTS:DYSOY) is a global leader in the development and commercialisation of Perovskite Solar Cell (PSC) technology – 3rd Generation photovoltaic technology that can be applied to glass, metal, polymers or cement. Greatcell Solar Limited manufactures and supplies high performance materials and is focussed on the successful commercialisation of PSC photovoltaics. It is a publicly listed company: Australian Securities Exchange ASX (GSL) and German Open Market (D5I). Learn more at our website and subscribe to our mailing list in English and German.
GSL Headquarters:
Marine Andre
Investor Relations Manager
T: +61-2-6299-1592
E: mandre@greatcellsolar.com

Germany & Europe:
Eva Reuter
Dr Reuter Investor Relations
T: +49-177-605-8804
E: e.reuter@dr-reuter.eu
Related CompaniesGreatcell Solar Limited