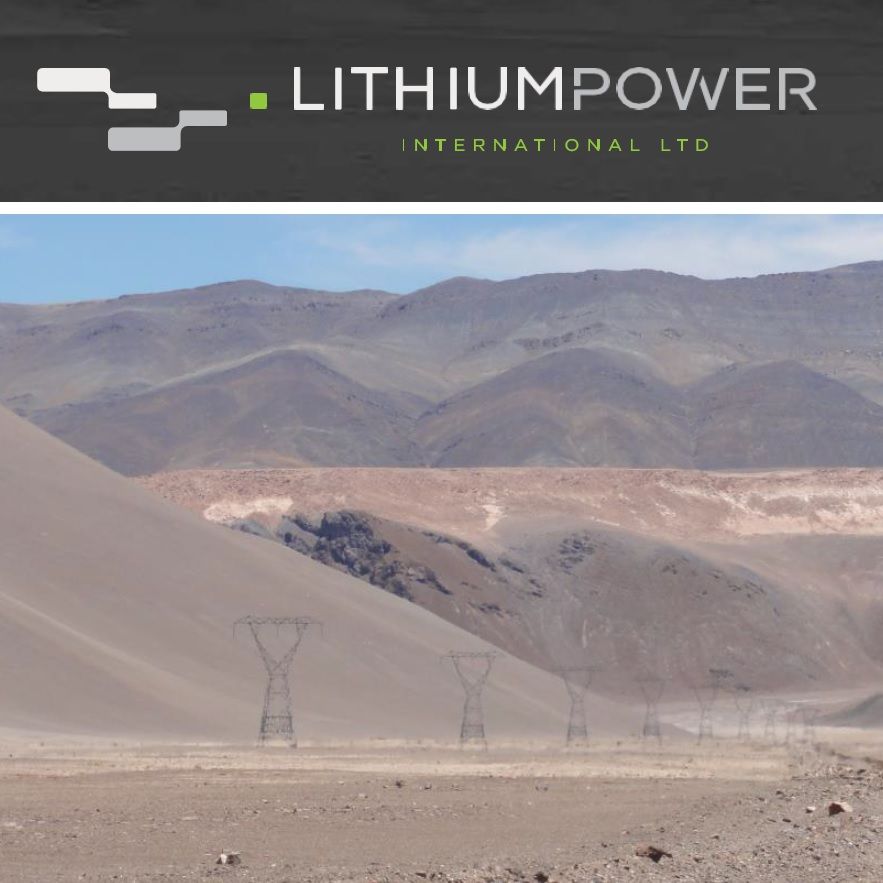 Positive Preliminary Economic Assessment Maricunga
Sydney, Dec 19, 2017 AEST (ABN Newswire) - Lithium Power International Limited (

ASX:LPI
) (

OTCMKTS:LTHHF
) ("LPI" or "the Company") is pleased to provide details of the Preliminary Economic Assessment (PEA) for its Maricunga lithium brine project in northern Chile by the Maricunga joint venture company, Minera Salar Blanco (MSB).
Highlights
- The Maricunga Lithium Brine project's Preliminary Economic Assessment (PEA) supports 20,000 tonnes per annum (t/a) production of lithium carbonate (LCE) and 74,000t/a potassium chloride fertilizer (KCl) over 20 years.
- Project NPV is estimated to be US$1.049B before tax at 8% discount rate, providing an IRR of 23.4%.
- Payback in 2 years and 11 months based on a 2-year ramp up period.
- Project operating cost places Maricunga among most efficient producers with lithium carbonate production cost of US$2,938 per tonne (/t) FOB in Chile, reducing to US$2,635/t with credits from KCl by-product.
- Project development cost estimated at US$366M (LPI's 50% share estimated at US$183M) excluding KCl (US$23M), plus indirect costs of 14.2% (US$55M) and 18.6% (US$83M) contingency.
- The project is progressing to a feasibility study, providing improved certainty regarding reserves, metallurgical design, equipment and operational risks.
- Conventional evaporation pond and process technology to minimise operational risks.
- PEA completed by Tier-1 engineering consultancy WorleyParsons to international standards. Accuracy of operating and capital cost estimates expected within a +/- 25% range.
For full access to the PEA document prepared by WorleyParsons please visit
http://lithiumpowerinternational.com
/
Lithium Power International's Chief Executive Officer, Martin Holland, commented:
"Release of the PEA is a very important step towards becoming a lithium producer. The study demonstrates a very positive and robust outcome that justifies completion of a full feasibility study. The operating expenditure estimate places Maricunga in the lower quartile on the cost curve, at US$2,938/t (excluding KCl). The project has a payback of less than three years. It's important to state that the high level of detail in this study meets international standards."
Executive Summary and Key Study Parameters
The project plan is to produce 20,000t/a of lithium carbonate (LCE), with production of 74,000t/a of potassium chloride (KCl) from year 3 of the project when potash salts have accumulated to a level where continuous processing can be carried out. Key operating and capital costs are summarised in Tables 1 to 3 (see link below).
The study was based on extraction of an average 222 litres per second (l/s) of brine throughout the project life of 20 years. The brine commences approximately 10cm below the salt lake surface and extends below the base of the proposed bore field at 200m below the surface. Brine will be extracted from a minimum of 13 individual wells, pumping via a central collection pond to the evaporation ponds.
In the evaporation ponds, the brine would be concentrated through evaporation and chemical saturation, with precipitation of different salts, such as halite, sylvinite and carnallite. All salts that precipitate would be periodically harvested from the ponds, and stored in designated stockpiles. The sylvinite and carnallite salts would be sent directly to the KCl processing plant, where through processes of size reduction and classification, flotation, leaching, drying and packaging, KCl fertilizer is obtained.
Concentrated lithium brine from the evaporation ponds would be pumped to the reservoir ponds, from which a Salt Removal Plant would be fed. This plant would remove calcium impurities as calcium chloride and tachyhydrite from the brine. This would be achieved through consecutive evaporation and crystallization steps. This process allows a higher concentration of lithium in the brine.
The concentrated lithium brine obtained from the Salt Removal Plant would then be fed to the lithium carbonate plant, where purification, solvent extraction and filtration remove remaining impurities including calcium, magnesium and boron. The concentrated lithium brine would then be fed to a carbonation stage, where through the addition of soda ash, the lithium carbonate precipitates. This precipitated lithium carbonate would then be fed to a centrifuge for water removal, and final drying, size reduction and packaging. The lithium and potash products would be exported from ports in the second region of Chile, near Antofagasta.
The project has excellent existing infrastructure. The project is located beside one of the international roads connecting Chile and Argentina. High capacity electricity infrastructure is also nearby, providing excellent power options for the project development.
Completion of a definitive feasibility study in the second half of 2018 and securing the project environmental and operating permits will take the Company to the point of final decision to proceed and financial investment.
To view the full release with tables and figures, please visit:
http://abnnewswire.net/lnk/CZQ65AW8
About Lithium Power International Ltd

Lithium Power International Limited (ASX:LPI) (FRA:24L) is a pure-play lithium explorer and developer, focusing on developing and fast-tracking to production the high-grade Maricunga lithium brine project in Chile.
LPI has a well known performing technical team with the experience to take the Maricunga project all the way through the development stages to production.
The regions that LPI is currently focussed on are:
1. Maricunga JV (Chile) – On 13th September 2016, Lithium Power announced the creation of a new JV to develop the world-class Maricunga lithium brine deposit in northern Chile.
2. Pilbara (Western Australia) – LPI has one granted exploration tenement and two pending exploration applications covering 203km2 in the Pilbara region of northern Western Australia. The largest granted exploration tenement is at Pilgangoora-Houston Creek is 2-3km west of the Pilbara Minerals (ASX:PLS) and Altura Mining (ASX:AJM) lithium deposits.
3. Greenbushes (Western Australia) – LPI has two granted exploration tenements covering 400km2 in the Greenbushes area of southern Western Australia. The tenements are adjacent to the world's largest hard rock lithium mine owned & operated by Tianqi/Talison.
4. Centenario (Argentina) –Through its Argentinian subsidiary, Lithium Power holds a total of 6 granted tenements in the Centenario lithium brine salar within the Salta province of the Puna Plateau. In total, the 6 granted tenements cover an area of 61.52km2. In addition, there is 1 further tenement in the grant review stage.
With the exception of the Maricunga JV, all tenements are 100% owned by LPI or LPSA (including rights to the Centenario tenement which is the subject of review by the Argentinian mining authorities).
Martin C Holland - CEO
Lithium Power International
E: info@lithiumpowerinternational.com
T: +61-2-9276-1245
www.lithiumpowerinternational.com
Twitter: @LithiumPowerLPI
Related CompaniesLithium Power International Ltd