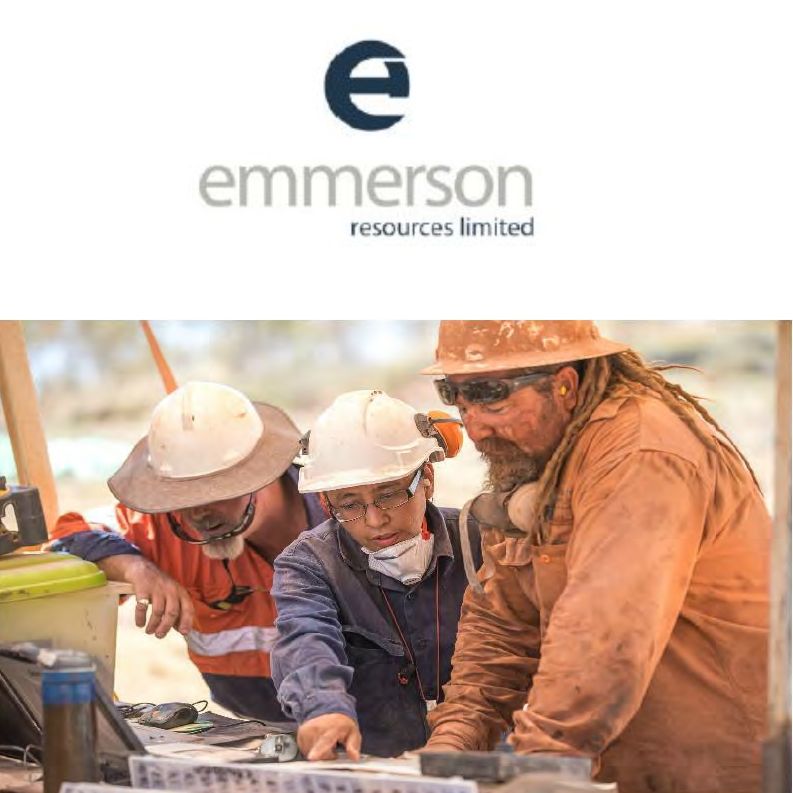 First Gold Pour from the Edna Beryl Gold Mine
Perth, Dec 20, 2017 AEST (ABN Newswire) - Emmerson Resources Limited ("Emmerson") (

ASX:ERM
) (

OTCMKTS:EMMRF
) is pleased to announce the first gold pour from the Edna Beryl Mine in the Northern Territory (see figures 1 & 2 in link below). The gold comes from the 90m Level development drive and is covered under a Tribute Mining Agreement with the Edna Beryl Mining Company (EBMC). EBMC, specialist small scale miners, are responsible for the mining and processing of ores only within the Tribute Area (anything outside of the Tribute Area remains 100% Emmerson).
Highlights
- First gold pour from the new high-grade Edna Beryl Gold Mine in the NT
- First 1200t of development ore averages +35g/t gold
- Mining and Production from Edna Beryl via a Tribute Agreement with the Edna Beryl
Mining Company
- Full scale mining within the designated Tribute area expected to commence in early 2018
- Three gold bars produced from recovery of gold at the Warrego Mill
The Tribute Agreement with the Edna Beryl Mining Company provides Emmerson with a number of advantages including:
- A risk-free income stream from non-core assets via a royalty agreement that is proportional to the final amount of extracted gold and Emmerson's equity in the Tennant Creek Mineral Field JV (which is currently 100%).
- Future access to underground workings enabling near mine exploration; and
- The opportunity to monetise other non-core assets within its extensive tenement holdings, subject to formal agreements being executed.
Assay results from underground sampling of the 90m Level development drive at Edna Beryl East correlates well with the grades of +35g/t gold from bulk sampling of the mined ores on the ROM pad. Providing these grades are representative of the overall head grade, Edna Beryl will become one of the highest-grade gold mines in Australia. Furthermore, recent drilling outside of the Tribute area suggests significant extensions to the high-grade gold that will be further investigated by underground drilling in 2018 (see Figure 3, 4 & 5 in link below).
Interim processing of the ore is being conducted by the EBMC at the Tennant Creek Battery and once fullscale mining commences in early 2018, through a portable mill.
Edna Beryl West and extensions represent the third discovery by Emmerson (and partners) of high grade, hematite-chlorite hosted gold and copper-gold mineralisation. It validates our science based approach to exploration through ushering in a new generation of deposits that have remained largely undetected by previous explorers.
In addition, Emmerson has commissioned the recovery of residual gold from its 100% owned Warrego Mill. To date this has yielded 230ozs of gold - with a further ~11kg of gold dore yet to be delivered to the Perth Mint. Emmerson is entitled to 25% of all the gold from this process.
Emmerson's Managing Director, Mr Rob Bills commented: "The commencement of production at Edna Beryl is a pivotal step since Emmerson began exploration in the Tennant Creek Mineral Field in 2008. It not only provides a revenue stream but establishes a template for unlocking value in many of our other projects contained within our extensive, 2,800km2 tenement package. We believe this "tribute style of agreement" maximises value and mitigates risk whilst providing great insights for our near mine and regional exploration programs. As we know, small mines can often grow into big mines!"
About Tennant Creek and Emmerson Resources
Emmerson is a leading gold and copper gold explorer with projects in the Northern Territory and New South Wales and is led by a board and management group of experienced Australian mining executives including former MIM and WMC mining executive Andrew McIlwain (non-executive chairman), and former senior BHP Billiton and WMC executive Rob Bills (Managing Director and CEO).
The Northern Territory projects are centred around the Tennant Creek Mineral Field (TCMF), which is one of Australia's highest grade gold and copper fields producing >5.5 Mozs of gold and >470,000 tonnes of copper from a variety of deposits including Gecko, Orlando, Warrego, White Devil, Chariot and Golden Forty, all of which are within Emmerson Resources' (

ASX:ERM
) exploration and joint venture portfolio. Emmerson's track record of discovery includes copper and gold mineralisation at Goanna, Monitor, Mauretania and more recently, the discovery of very high-grade gold at Edna Beryl - the first discoveries in the TCMF for over a decade.
Emmerson holds 2,800 km2 of ground in the TCMF, owns the only gold mill in the region and is in the process of monetising a pipeline of small high-grade exploration targets via a Tribute Agreement with a specialised small mines company. The first of these small mines, Edna Beryl, saw development completed in 2017.
Exploration in the TCMF is funded via a Farm-in agreement with Evolution Mining Limited (

ASX:EVN
), where Evolution is sole funding exploration expenditure of $15 million by 31 December 2017 to earn a 65% interest (Stage 1 Farm-in). Evolution can then sole fund a further $10 million over two years to earn an additional 10% (Stage 2 Farm-in). Emmerson is the operator and manager during the Stage 1 Farm-in.
Emmerson has recently commenced exploration on new gold-copper projects in NSW, identified (with our strategic alliance partner Kenex Limited - www.kenex.com.au/) from the application of "big multiple independent datasets" - aimed at increasing the probability of discovery through enhanced predictive capability (particularly important in covered terrains). The highly prospective Macquarie Arc hosts >80Mozs gold and >13Mt copper but with these resources heavily weighted to areas of outcrop or limited cover. Emmerson's five exploration projects cover some 1,500 km2 of Macquarie Arc rocks and contain many attributes of the known deposits but remain under explored due to historical impediments, including overlying cover (plus farm lands) and a lack of exploration focus. Kadungle is an option (and potential JV) with Aurelia Metals covering 43km2 adjacent to Emmerson's Fifield project.
To view tables and figures, please visit:
http://abnnewswire.net/lnk/PP557NU2
About Emmerson Resources Limited

Emmerson Resources Limited (ASX:ERM) (FRA:42E) is an ASX listed gold resource company that recently (July, 2014) secured a landmark Joint Venture agreement with Evolution Mining (ASX:EVN).
Has an aggressive exploration program and dominant position in the world class Tennant Creek Mineral Field.
Is applying new exploration concepts and technologies to unlock the next generation of gold and copper deposits.
Owns the only carbon-in-pulp gold plant in the region.
Has an experienced Board and Management team.
Investor Enquiries:
Mr. Rob Bills
Managing Director & Chief Executive Officer
T: +61-8-9381-7838
E: admin@emmersonresources.com.au
www.emmersonresources.com.au
Related CompaniesEvolution Mining Limited


Emmerson Resources Limited