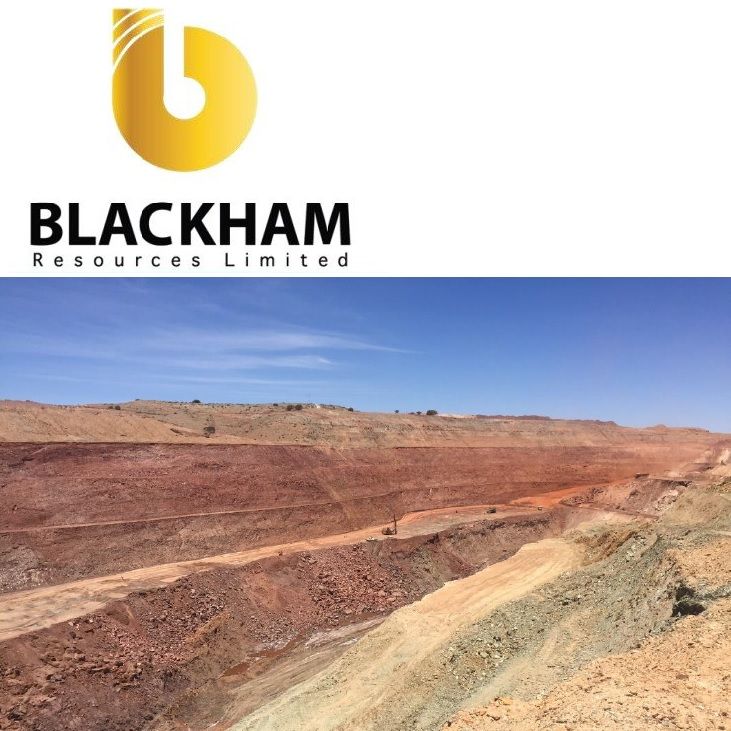 Matilda-Wiluna Production Update
Perth, Jan 5, 2018 AEST (ABN Newswire) - Blackham Resources Ltd (

ASX:BLK
) (

OTCMKTS:BKHRF
) ("Blackham" or "the Company") is pleased to provide the following operations and production update from its 6.5Moz Matilda-Wiluna Gold Operation for the quarter ended 31 December 2017 together with commentary on the strong operational outlook for 2018.
Highlights
- High grade ore zones accessed from November (M4 pit) and December (Galaxy pit) will continue to provide high grade feed during 2018, underpinning anticipated high grade production and positive cash flows
- 137kt of high grade ore @ 1.6g/t mined from M4 and Galaxy pits during December, with a total of 8,038oz of gold mined for the month being marginally less than the entire September quarter.
- Record milled tonnes of 443kt during the December quarter, with plant recovery increasing to 92.3% (379kt and 91.5% in September 2017 quarter). Current throughput levels are expected to be maintained going forward
- Record weekly gold production of 1,685oz achieved in last week of December at an average mill feed grade of 1.5g/t Au
- Commenced building high grade stockpiles with 51kt @ 1.6 g/t Au as at 31 December 2017, which is expected to continue to grow
- Significant reduction in waste material mined in the quarter, leading to reduced open pit mining costs. Strip ratio for remaining oxide reserves is expected to reduce to 7:1 (waste:ore) from 16.5:1 in first half FY18, providing a step change in project economics
- Both the Galaxy and M4 pits have been grade control drilled to the base of the design pits, supporting 76% of the next six month's gold production
- Current reserves and mine plan support 3.5 years of free milling ore operations targeting gold production of ~250koz, with further extensions and targets being pursued
- Drilling to focus on identifying additional oxide mineralisation as well as increasing the 1.2Moz of gold reserves (currently 15Mt @ 2.5g/t) by converting more of the Company's very large resource base (65Mt @ 3.1g/t for 6.5Moz) to reserves
Open Pit Mining
The extensive waste stripping that occurred during calendar year 2017 has now provided access to high grade zones in both the M4 and Galaxy pits, from November and December respectively, with consistent high grade ore expected to be mined from those two pits over the next six months. At M4, there is now 1km of strike being mined at widths of up to 40m. Mining at M4 and Galaxy is expected to underpin strong operational cashflows in 2018.
During December 2017, 137kt of high grade ore @ 1.6g/t was mined from the M4 and Galaxy pits, with the 8,038oz of gold mined from the open pits in December being just below the amount for the entire September quarter.
Commencement of mining of these high grade zones has enabled Blackham to build high grade stockpiles which amounted to 51kt @ 1.6g/t as at 31 December 2017. High grade stockpiles are expected to continue to grow, together with an expected increase in processed grades, as the M4 and Galaxy pits are mined. This is the first significant high grade stockpile build-up since March 2017.
Total material mined reduced significantly during the quarter to 1.80 million BCM (2.54 million BCM in September 2017 quarter) due to reduced waste stripping, which enabled a meaningful reduction in open pit mining costs. With almost all of M4 and Galaxy waste stripping now completed, lower open pit mining costs are expected to continue for the second half of FY18 and beyond.
Grade Control
Grade control drilling has now been completed for all of the M4 pit on 10m x 5m spacing, meaning that both the Galaxy and M4 pits have been grade control drilled to the base of the design pits and hence are significantly de-risked. Grade control drilling ore models have been reconciled within 2% of milled grade.
Recent M4 grade control drilling results confirm historical drilling (see Figure 2 and Figure 3 in link below) and highlight the continuous high grade nature of the M4 Main lode (see Figure 4 in link below). Most of the mining at M4 during the December quarter has concentrated on stripping the eastern side of the pit in order to reach the high grade M4 Main lode. As a result, most of the ore from M4 to date has been sourced from the low grade and discontinuous Eastern lodes which form only a minor component of the M4 resource (see Figure 3 in link below).
Further grade control drilling is in the process of being planned and will be undertaken over the next six months in relation to mining activities planned for July 2018 to December 2018 and beyond.
Chairman comment
Blackham's Chairman, Mr Milan Jerkovic, said:
"The recent mining and production levels support our belief that the delays in accessing high grade open pit ore are now behind us and that 2018 will be a transformational year for Blackham, during which we expect to deliver increased grades and gold production whilst reducing strip-ratios and mining costs, thereby generating strong operational cash flows. Our grade control drilling program is ongoing and will underpin our mine scheduling and allow us to continue to build our high grade stockpiles.
The recently announced recapitalisation strategy is progressing very well with the support of Blackham's secured lender (Orion) and key mining contractor (MACA), and I look forward to providing further updates in the near future."
Underground Mining
Golden Age underground mining was above budget in terms of tonnage and grade for the quarter and has now been cash flow positive for the past two quarters.
Blackham has now switched to an owner operator air leg mining method to mine the Golden Age orebody, which has resulted in a lower amount of ore being mined. Air leg mining is considered a lower risk mining method for Golden Age due to the pinching, swelling and nuggetty nature of the orebody.
Golden Age reserves of 60kt @ 6.4g/t for 12,000oz (as at 30 June 2017), are planned to be mined by June 2018. Significant high grade resources remain at Golden Age and the Company is currently evaluating the deposit from a geology and mining perspective to assess opportunities for extending the reserves into FY19.
Gold Production and Plant Performance
Record milled tonnes were achieved through the plant during the quarter with throughput increasing 17% from the September 2017 quarter and both the crushing and milling circuits achieving record throughput.
Mill feed head grade during the quarter was hampered by 49% of feed being sourced from low grade stockpiles. Access to high grade zones in the M4 and Galaxy pits was achieved late in the quarter, which resulted in record weekly gold production of 1,685oz being achieved in the last week of December, (average mill feed grade of 1.5g/t Au) together with the building of high grade stockpiles.
Gold production is expected to increase during the second half of FY18 and beyond due to high grade ore from the M4 and Galaxy open pits being available to feed the process plant on a continuous basis, followed by M1 and M2 coming into production.
The leach circuit is working very well and total plant recoveries have been strong at 92.3% during the quarter (91.5% in September 2017 quarter).
Exploration and Infill Drilling
Reserve Definition Drilling will continue this quarter as the Company seeks to increase its gold reserves (currently 15Mt @ 2.5g/t for 1.2Moz) by converting more of its ~6.5Moz of gold resources (65Mt @ 3.1g/t) to reserves. Funds raised from the planned Entitlements Issue will facilitate Blackham undertaking significant ongoing exploration drilling including the acceleration of this reserve conversion drilling as well as exploration drilling targeted at new oxide deposits to extend the current oxide mine life. Over the last 12 months, Blackham has successfully added reserves at less than $22/reserve ounce.
Corporate Matters
Cash & Bullion
As at 31 December 2017, the Company had $10 million in cash and bullion (30 September 2017 - $10 million).
Interest Bearing Liabilities
Interest bearing liabilities were $39 million as at 31 December 2017, comprising $38 million of debt facilities with Orion Fund JV Limited ("Orion") and $1 million finance lease liabilities. Following the proposed refinancing of the Orion non-amortising term loan ("Term Loan") (refer announcement dated 2 January 2018), remaining Orion debt facilities will be reduced to the $23 million project financing facility only.
Entitlements Issue
As previously announced, Blackham intends to undertake an entitlements issue to raise ~$36 million (before costs), to be launched in mid-January following the refinancing of the Orion Term Loan. This recapitalisation, along with what is anticipated to be a period of strong operational cashflow, will ensure Blackham is well funded to execute its forward plans that will include ongoing exploration drilling, as well as to position the Company for the Orion project financing facility to be repaid during calendar year 2018.
Executive and Management Team
In addition to Milan Jerkovic taking the role of Executive Chairman as part of the recapitalisation strategy, the Company is continuing to seek opportunities to further strengthen its Board and management team to focus on the successful implementation of the recapitalisation strategy and delivery of the near-term oxide mine plan.
Forward Plan Summary
Following the completion of the proposed recapitalisation strategy, Blackham will be well funded as it enters a significantly lower risk period of production, initially targeting 250oz of oxide gold production over the next 3.5 years with expected stripping ratio of less than half of recent levels (7:1 vs 16.5:1) providing a meaningful step change in project economics. This, in conjunction with continued access to high grade ore zones that are supported by extensive grade control drilling and which will provide ongoing mill supply and continued growth in high grade stockpiles, is expected to deliver a period of strong operational cash flows.
To view tables and figures, please visit:
http://abnnewswire.net/lnk/65UT9R5Z
About Blackham Resources Ltd

Blackham Resources Limited (ASX:BLK) (OTCMKTS:BKHRF) Wiluna-Matilda Gold Operation is located in Australia's largest gold belt which stretches from Norseman through Kalgoorlie to Wiluna. The Operation now includes resources of 96Mt @ 2.2g/t for 6.7Moz Au all within 20kms of the central processing facility. Blackham has consolidated the entire Wiluna Goldfield within a +1,440km2 tenure package which has historically produced in excess of 4.4 million ounces over a 120-year mining history.
Milan Jerkovic
Chairman
Blackham Resources Limited
Office: +61-8-9322-6418

Jim Malone
Investor Relations Manager
Blackham Resources Limited
Office: +61-419-537-714

John Gardner
Media Enquiries
Citadel Magnus
Office: +61-8-6160-4901
Related CompaniesBlackham Resources Ltd