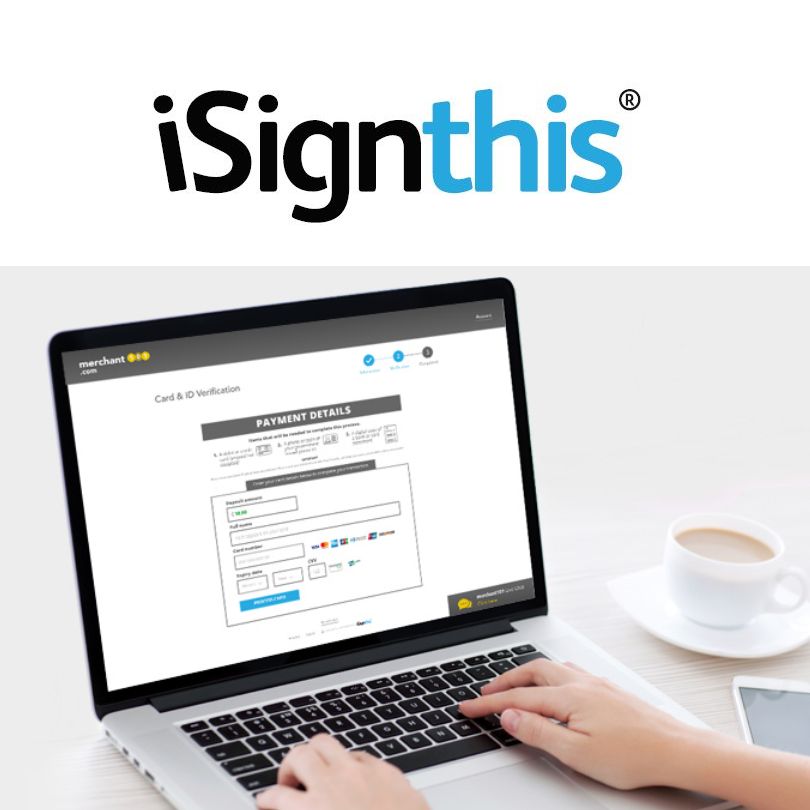 and Worldline Launch Paydentity Services in Europe
Brussels, Jan 19, 2018 AEST (ABN Newswire) - Australian Securities and Frankfurt Stock Exchange listed iSignthis Ltd (

ASX:ISX
) (

FRA:TA8
) is pleased to announce that its subsidiary iSignthis eMoney Ltd ("ISXPay") has completed technical integration with Worldline, allowing the parties to commence their partnership announced in July 2017.
Headlines:
- iSignthis eMoney Ltd, a subsidiary of the leading RegTech payment and identity verification provider iSignthis Ltd, enters into an agreement with Worldline to provide eCommerce merchants the advanced capabilities of Paydentity(TM) with the acquiring (see Note below) experience and strength of Worldline (

EPA:WLN
).
- Worldline is the largest pan European card acquirer and e-payment services company, with more than 45 years of experience.
- Merchants to benefit from access to Worldline large scale card acquiring coupled with iSignthis RegTech
- The service is now live across the European Economic Area
Worldline, a Euronext listed (

EPA:WLN
), multi-billion market capitalization company has over 45 years of experience in the industry and is Europe's leading payment and transactional payment service provider. Worldline is able to process billions of electronic transactions per year with their strong industrial processing capabilities and highly secure data centers.
European eCommerce merchants, including FinTech firms and qualified cryptocurrency exchanges, will now have access to an exciting new service that combines the RegTech capabilities of iSignthis, with the acquiring capabilities and expertise of Worldline, to be contracted and delivered via ISXPay.
Merchant's contracting directly to the ISXPay service via iSignthis will have access to the full Paydentity(TM) suite of AML/CFT compliance services. Paydentity(TM) services include customer due diligence, identity verification, payment acceptation and authentication solutions, transaction monitoring, and original credit transfers (OCT), coupled with the Worldline Visa and Mastercard acquiring, settlement and clearing services.
Paydentity(TM) addresses the critical aspects of due diligence, monitoring and authentication requirements of the 4th Anti Money Laundering Directive (4AMLD) and Payment Services Directive 2 (PSD2), and is currently being deployed to major FinTech services companies and ecommerce merchants in Europe. The Worldline agreement allows for a faster and more expansive go to market strategy, and allows iSignthis to leverage the balance sheet, cash settlement and clearing capabilities of Worldline to provide surety to even the largest merchants.
iSignthis eMoney Ltd ("ISXPay") will be operating under its own eMoney Monetary Financial Institution license to directly contract European merchants. It will offer merchants the end to end Paydentity(TM) service, including identity verification, authentication together with the strength and assurance of the Worldline card acquiring services delivered via ISXPay. ISXPay services include JCB card acceptance, and alternative payment methods within Europe and Australia, for Fintech and cryptocurrency exchanges.
iSignthis will now move to contract its pipeline of prospective EEA merchants, and seek to onboard them as quickly as possible. The ISXPay(R) Paydentity(TM) product offering allows merchants in the high risk categories to take advantage across the two key continents of Europe and Australia, the world's leading identity verification, customer due diligence, and payments platform, via a single integration.
About Worldline (

EPA:WLN
)
Worldline (

EPA:WLN
) is the European leader in the payments and transactional services industry. Worldline delivers new-generation services, enabling its customers to offer smooth and innovative solutions to the end consumer. Key actor for B2B2C industries, with nearly 45 years of experience, Worldline supports and contributes to the success of all businesses and administrative services in a perpetually evolving market. Worldline offers a unique and flexible business model built around a global and growing portfolio, thus enabling end-to-end support. Worldline activities are organized around three axes: Merchant Services, Mobility & e-Transactional Services, Financial Services including equensWorldline. Worldline employs more than 8,700 people worldwide, with an estimated pro forma revenue of more than 1.5 billion euros on a yearly basis. Worldline is an Atos company.
To view the release in German, please visit:
http://abnnewswire.net/lnk/325KG6R7
About iSignthis Ltd

Australian Securities and Frankfurt Stock Exchange listed iSignthis Ltd (ASX:ISX) (FRA:TA8) is the global RegTech leader in remote identity verification, payment authentication with deposit taking, transactional banking and payment processing capability. iSignthis provides an end-to-end on-boarding service for merchants, with a unified payment and identity service via our Paydentity(TM) and ISXPay(R) solutions.
By converging payments and identity, iSignthis delivers regulatory compliance to an enhanced customer due diligence standard, offering global reach to any of the world's 4.2Bn 'bank verified' card or account holders, that can be remotely on-boarded to meet the Customer Due Diligence requirements of AML regulated merchants in as little as 3 to 5 minutes. Paydentity(TM) has now onboarded and verified more than 1.5m persons to an AML KYC standard.
iSignthis Paydentity(TM) service is the trusted back office solution for regulated entities, allowing merchants to stay ahead of the regulatory curve, and focus on growing their core business. iSignthis' subsidiary, iSignthis eMoney Ltd, trades as ISXPay(R), and is an EEA authorised eMoney Monetary Financial Institution, offering card acquiring in the EEA, and Australia.
ISXPay(R) is a principal member of Visa Inc, Mastercard Inc, Diners, Discover, (China) Union Pay International and JCB International, an American Express aggregator, and provides merchants with access to payments via alternative methods including SEPA, Poli Payments, Sofort, Trustly, WeChat, AliPay and others.
UAB Baltic Banking Service, a wholly owned subsidiary of iSignthis Ltd, provides API based access to SEPA Core, SEPA Instant and SEPA business scheme, for neobanks, banks, credit unions and emoney institutions, and provides a bridge to the Central Bank of Lithuania's CENTROLink service.
Probanx Information Systems Ltd (Probanx(R)), a wholly owned subsidiary of iSignthis Ltd, is an international banking software company which has been serving the banking industry since the year 2000 by developing comprehensive banking software solutions to financial institutions around the globe. Probanx offers web-based banking solutions using the latest technology and international standard business rules. Our customers are located on five continents and supported from our technical centres in Europe and Australia.
iSignthis' Probanx delivers core banking software, including a fully comprehensive and versatile banking solution for retail, corporate and private banks, emoney and payment institutions, offering capabilities that up until now were affordable only by large commercial banks.
Read more about the company at our website www.isignthis.com and www.probanx.com
For investor information, please contact: investors@isignthis.com
Media: contact@isignthis.com

Investor Relations
Chris Northwood
Activ8Capital
T: +61-458-809-177
E: cnorthwood@activ8capital.com.au
Related CompaniesWorldline
iSignthis Ltd