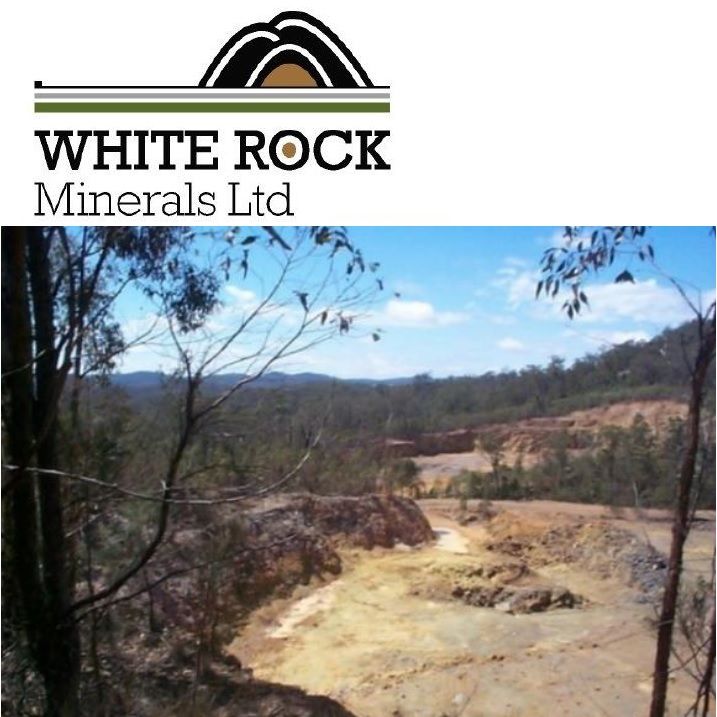 Quarterly Activities Report - for the Quarter Ended 31 December 2017
Ballarat, Jan 23, 2018 AEST (ABN Newswire) - White Rock Minerals Ltd (

ASX:WRM
) provides the Company's Quarterly Activities Report for the quarter ended 31 December, 2017.
Red Mountain Zinc VMS Project
During the Quarter the Company announced planned exploration activities for the 2018 field season at its 100% owned Red Mountain zinc - silver - lead - gold volcanogenic massive sulphide ("VMS") Project in Alaska.
The proposed exploration program highlights include:
- A targeted diamond drilling program aimed at in-fill and expanding the current globally significant maiden Resource,
- On-ground orientation electromagnetic (EM) geophysics and geochemistry exploration across the two already identified deposits,
- The regional application of the best geophysics and geochemistry exploration tools determined from the on-ground orientation work, and
- A follow-up diamond drilling program on the best of the more than 30 already identified exploration targets.
Mt Carrington Gold-Silver Development Project
During the Quarter the Company reported the key outcomes from the Pre-Feasibility Study (PFS) into the "Gold First" development of its 100% owned Mt Carrington gold and silver project, located in New South Wales.
The PFS confirmed the technical and financial viability of the initial project development and provides a very strong rationale to advance the project through a Definitive Feasibility Study (DFS) towards development. Highlights of the Gold First PFS include:
- Maiden Ore Reserve declared:- 3.47 million tonnes at 1.4g/t gold for 159,000 ounces gold,
- When compared to the 2016 Scoping Study (see Note below):-
o Gold First Stage mine life has been extended from an initial 3 years to 4 1/2 years,
o The production rate increases 25% to 1,000,000 tpa,
o Gold production increases 30% to 35,000 ounces per annum, and
o Total gold produced increases 59% to 148,000 oz gold over this initial 4 1/2 year Gold First Stage.
MD & CEO Matt Gill said "White Rock is now poised to get on the ground to test, expand and discover additional new mineralisation to build our Red Mountain project in Alaska into a world class zinc - silver - lead - gold VMS camp. Red Mountain is already a globally significant VMS project with two already identified deposits (Dry Creek and West Tundra Flats) providing White Rock with a Resource base of 16.7Mt at 8.9% ZnEq2 including a high-grade component of 9.1Mt @ 12.9% ZnEq2 (refer ASX announcement 26 April 2017 regarding the maiden Mineral Resource). Here we look to deliver real value for shareholders through this on-ground exploration program.
The Board is also pleased to approve the Mt Carrington PFS. Now that the PFS results are in we can see a modest capex and opex way to deliver real value from the project for our shareholders. This is likely to be the first of several stages to fully explore and exploit the valuable resources at Mt Carrington."
Note: Refer ASX Announcement "WRM Upside Mining Potential at Mt Carrington" dated 20 October 2016.
To view the full report, please visit:
http://abnnewswire.net/lnk/98OB9YPL
About White Rock Minerals Ltd

White Rock Minerals Ltd (ASX:WRM) is an Australian listed minerals exploration and development company with projects located in northern NSW (gold and silver) and central Alaska (zinc, silver, lead and gold). The White Rock vision is to explore and develop both precious and base metal projects.
White Rock's cornerstone asset is the Mt Carrington epithermal gold-silver project in northern NSW. The Mt Carrington project has great leverage to the Australian gold and silver prices with a positive scoping study providing a path towards feasibility studies and development in the near term.
White Rock is also exploring the Red Mountain project in Alaska. Red Mountain is a globally significant advanced VMS project with high grade zinc and silver in two deposits. White Rock is exploring for additional high grade deposits that will enhance the projects leverage to an upturn in the fortunes of zinc and silver.

Matt Gill (MD&CEO)
Phone: +61-3-5331-4644
E: info@whiterockminerals.com.au
WWW: www.whiterockminerals.com.au

Related CompaniesWhite Rock Minerals Ltd