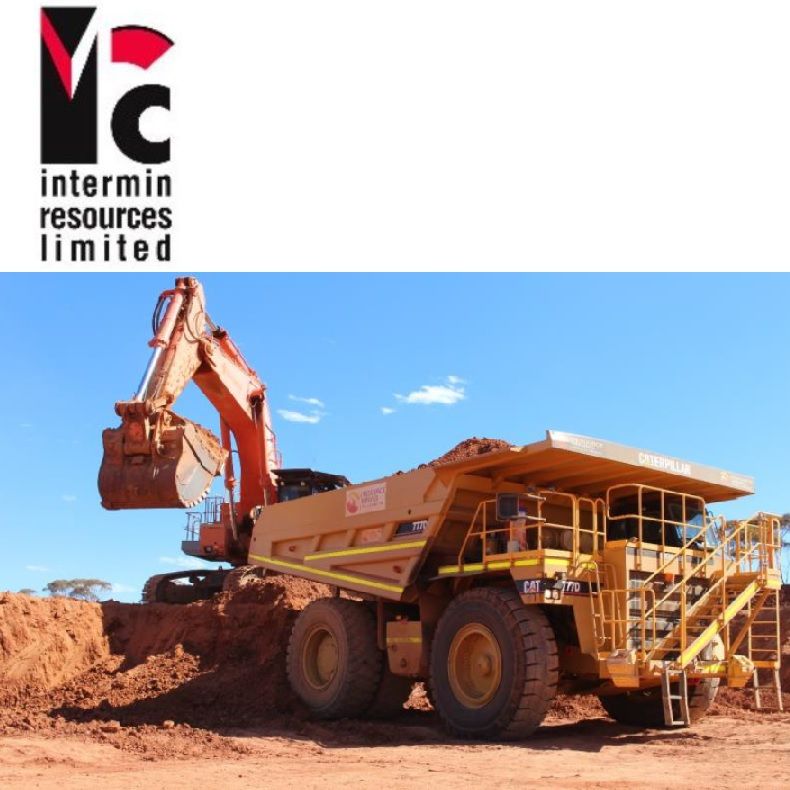 Anthill Gold Project Mineral Resource Update
Perth, Mar 13, 2018 AEST (ABN Newswire) - Intermin Resources Limited (

ASX:IRC
) ("Intermin" or the "Company") is pleased to announce an updated Mineral Resource Estimate for the 100% owned Anthill gold project area located 54km northwest of Kalgoorlie-Boulder in Western Australia (see Figures 1 and 2 in link below).
HIGHLIGHTS
- Over 6,500m of infill, validation and extensional drilling completed in 2017 (see Note 1 below)
- Maiden (JORC 2012) Mineral Resource Estimate stands at:
o 1.42Mt @ 1.72 g/t Au for 78,000 ounces at a 1.0g/t Au lower grade cut-off (see Note 2 below)
- 75% in the Indicated Category with mineralisation open in all directions (see Note 2 below)
- Intermin's Total Mineral Resource grows to 6.36Mt grading 2.12g/t Au for 434,000oz (see Note 2 below)
- Further resource drilling (7,000m) planned at Anthill to test extensions along strike and at depth outside of the current resource envelope
- New regional discovery drilling (7,000m) planned to test new targets at Fire Ant and to the north, east and west of the current Anthill resource
- RC and diamond drilling will commence in the June Quarter
- Initial scoping studies commenced to assess optimal mining and processing pathways for an open cut mine development
Commenting on Anthill resource, Intermin Managing Director Mr Jon Price said:
"The successful drilling at Anthill in 2017 has confirmed the Company's geological interpretation and the initial Mineral Resource is an excellent base on which to grow the project. Intermin takes a very conservative and economic approach to resource estimation and typically applies higher cut-off grades as we commence initial development studies."
"We now look forward to the upcoming extensional and new discovery drill program planned for the June Quarter and believe Anthill and new targets identified within the project area have the potential to be a significant part of our future production pipeline."
Overview
In the June and September Quarters 2017, the Company completed 45 angled RC holes for 6,282m to downhole depths between 75-230m and one diamond hole to 226m depth.
Diamond hole AHD1701 was drilled to validate the mineralisation model, examine the mineralisation and vein orientations and obtain samples for metallurgical and physical properties testing. An intercept of 105m at 1.38g/t Au from 48m (including 41m at 2.35g/t from 73m) (see Note 3 below) was returned as announced to the ASX on 30 August 2017. The hole successfully confirmed Intermin's geological model whereby mineralisation consists of a discrete steeply plunging quartz stock work zone developed within a folded and altered pillow basalt unit within the Zuleika Shear.
Significant shallow downhole RC intercepts included (see Note 3 below):
- 41m @ 2.63 g/t Au from 69m (AHRC17027)
- 30m @ 2.98 g/t Au from 73m (AHRC17024)
- 11m @ 3.72 g/t Au from 46m (AHRC17039)
- 29m @ 1.84 g/t Au from 49m (AHRC17035)
- 15m @ 2.26g/t Au from 32m (AHRC17032)
- 7m @ 4.58g/t Au from 37m and 43m @ 1.46g/t Au from 54m (AHRC17028)
- 19m @ 2.22g/t Au from 39m and 27m @ 2.17g/t Au from 98m (AHRC17031)
- 19m @ 1.50g/t Au from 32m and 38m @ 1.48g/t Au from 86m (AHRC17029)
- 18m @ 2.80 g/t Au from 48m and 11m @ 4.91 g/t Au from 90m (AHRC17020)
Significant deeper downhole RC intercepts included (see Note 3 below):
- 17m @ 5.37g/t Au from 137m (AHRC17043)
- 6m @ 11.15 g/t Au from 110m (AHRC17032)
- 11m @ 6.22g/t Au from 157m and 3m @ 6.48 g/t from 187m (AHRC17039)
The new data has been used to compile a detailed Mineral Resource Estimate compliant with the JORC 2012 Code.
The Mineral Resource for Anthill now stands at:
- 1.42 Mt at 1.72 g/t Au for 78,000oz (>1.0g/t Au lower grade cut-off)
The historic JORC 2004 Resource of 5.2 million tonnes at 1g/t Au for 160,700 ounces (see Note 4 below) completed in 2011 is considered to have been overly simplified and did not have a well-defined structural interpretation, thereby making it unsuitable for pit optimisation studies. The new structural interpretation has now more accurately estimated the location of the discrete high-grade quartz veins at depth below the upper quartz-stockwork zones.
The historic Resource applied a 0.5g/t Au lower cut-off grade and is considered inappropriate with a more conservative 1.0g/t Au cut-off grade applied which is more appropriate for mining development studies which have now begun.
Project Geology
Anthill is located in the Eastern Goldfields, adjacent to the highly endowed Zuleika Shear zone. The geology is dominated by a variolitic basalt with lesser amounts of porphyry and ultramafic rocks observed. At least two mineralised trends are evident and add to the geological complexity at Anthill. The gold mineralisation is pervasive and occurs in a number of settings, the most important being a quartz stock work or thin veins with carbonate-sericite-silica-sulphide alteration. Some of the gold is coarse and is easily visible in panned RC chips.
Next Steps
In the June Quarter 2018, resource extension and new discovery drilling will commence with an initial 14,000m being planned. The results will be added to the geological data base for resource model compilation with a further resource update expected in the September Quarter 2018. The new discovery drilling locations have been finalised, with four targets areas being identified including Fire Ant (see Figure 3 in link below).
In addition, initial in-house mining studies will commence to assess the optimal development pathways for the first stage of open cut development.
Notes:
1 As announced to the ASX on 30 August 2017 and 24 October 2017.
2 See Tables 1 and 2 and Competent Persons statement on pages 3 and 8. See also JORC tables on page 10.
3 As announced to the ASX on 30 August 2017 and 24 October 2017.
4 As announced to the ASX on 8 March and 6 July 2017 and MKO announcement on the 29 April 2011.
To view the release with tables and figures, please visit:
http://abnnewswire.net/lnk/5CDY72P0
About Intermin Resources Limited

Intermin Resources Limited (ASX:IRC) is a gold exploration and mining company focussed on the Kalgoorlie and Menzies areas of Western Australia which are host to some of Australia's richest gold deposits. The Company is developing a mining pipeline of projects to generate cash and self-fund aggressive exploration, mine developments and further acquisitions. The Teal gold mine has been recently completed.
Intermin is aiming to significantly grow its JORC-Compliant Mineral Resources, complete definitive feasibility studies on core high grade open cut and underground projects and build a sustainable development pipeline.
Intermin has a number of joint ventures in place across multiple commodities and regions of Australia providing exposure to Vanadium, Copper, PGE's, Gold and Nickel/Cobalt. Our quality joint venture partners are earning in to our project areas by spending over $20 million over 5 years enabling focus on the gold business while maintaining upside leverage.

Jon Price
Managing Director
Tel: +61-8-9386-9534
E: jon.price@intermin.com.au

Michael Vaughan
Media Relations - Fivemark Partners
Tel: +61-422-602-720
E: michael.vaughan@fivemark.com.au
Related CompaniesIntermin Resources Limited