Montepuez ruby strategy on track with another discovery and first sales in Thailand; Caula graphite project shows significant vanadium potential; First cashflow at Caula targeted for H1 2019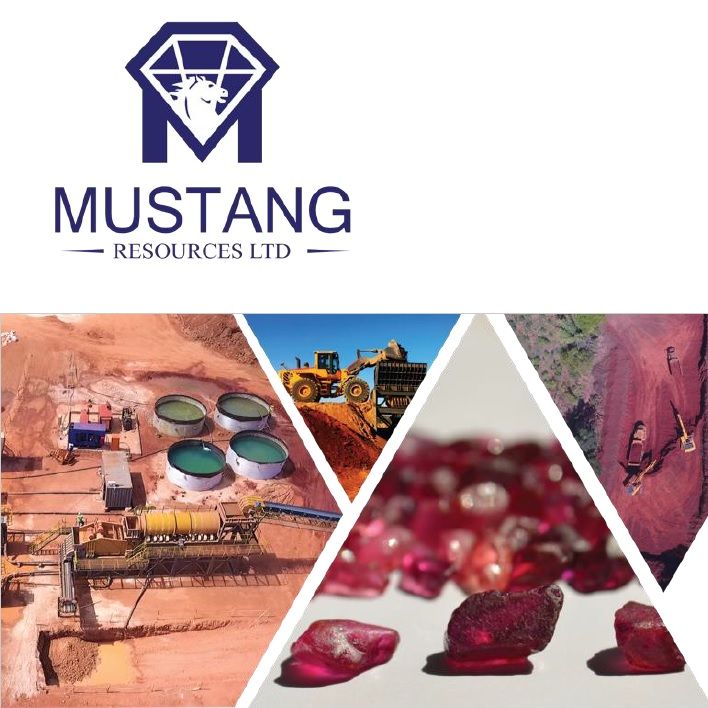 Quarterly Activities & Cashflow Report
Sydney, April 26, 2018 AEST (ABN Newswire) - Mustang Resources Ltd (

ASX:MUS
) (

OTCMKTS:MTTGF
) provides the Company's Quarterly Activities Report.
Highlights
Montepuez Ruby Project, Mozambique
- During the quarter Mustang made strong progress on the Montepuez Ruby Project located in the heart of this globally significant gem-field
- A total of 29,069.1 carats were recovered from the processing of 43,940m3 (~68,107 tonnes) of stockpiled material at Montepuez with:
o An average grade of 0.42 carats/tonne achieved for the quarter, 13.5% higher than Q4 2017; and
o A total of 329,309 carats of rubies in the Company's available-for-sale inventory as at 10 April 2018
- New ruby-bearing gravels discovered during the quarter, located 3.5km directly south-west of Mustang's 200tph processing plant
- New sales and marketing office established in Chanthaburi:
o Maiden sales of A$230,953 achieved by 10 April 2018
o 18,288 carats of mostly lower and medium quality rubies sold at an average price of A$12.67 per carat
- Total sales of ~A$1.23M achieved since September 2017 through the sale of 100,184 carats at an average price of A$12.29 per carat recovered from exploration activities
- Significant interest received from well-known international jewellery brands and buyers who seek sustainable and responsibly produced rubies with full supply chain assurance
Caula Graphite & Vanadium Project, Mozambique
- Associated vanadium present at Caula project with MOD014 intersecting 125m of vanadium at an average of 0.42% V2O5 (incl. multiple intersections from 0.7% to 1.02% V2O5)
- Assays show grades of up to 24.2% Total Graphitic Carbon (TGC) and 1.02% Vanadium (V2O5) including:
o 125m (from 17m downhole) at 14.1% TGC average (incl. multiple intersections from 23 to 24% TGC); including
-- 96 m downhole at 24.2% TGC
-- 52 m downhole at 23.9% TGC
o 125m (from 17m downhole) at 0.42% V2O5 average (incl. multiple intersections from 0.7% to 1.02% V2O5); including
-- 74m downhole at 1.02% V2O5
-- 71m and 75m downhole at 0.98% V2O5
- Caula emerging as one of the world's higher-grade graphite and vanadium projects
- Graphite and vanadium strategy announced in March 2018 with focus on fast-tracking a dual graphite and vanadium development plan to deliver first cashflow in H1 2019
- Further higher-grade results (up to 0.68% V2O5) over extensive widths from diamond drilling on Licence 5873L, 7.5km south of previous drilling on Mustang's Caula Graphite & Vanadium Project in Mozambique
Corporate
- In January 2018 Arena Investors LP, a major US institutional investor with more than US$750 million in assets under management, committed to invest a net A$19.95 million in Mustang under a multi-tranche convertible note facility
- First tranche of A$1.9 million received on signing of agreement with follow-on tranche of A$3.8 million approved by shareholders in February 2018 and available for drawdown by the Company in May 2018
- Non-renounceable 1 for 4 pro rata rights issue at an issue price of $0.023 per New Share closed on Thursday, 22 March 2018 at 5.00pm WST
- Total subscription amount received from the Entitlement Offer (before costs) was $2,454,485 made up of $1,696,675 of entitlements plus $757,810 of shortfall taken up by eligible shareholders
- Appointment of experienced resources executive Dr. Evan Kirby as a Non-Executive Director. He is a metallurgist with more than 40 years' experience
- Mustang had A$2.137 million cash on hand as at 31 March 2018
To view the full report, please visit:
http://abnnewswire.net/lnk/DI704UUL
About Mustang Resources Ltd

Listed on the Australian Securities Exchange, Mustang Resources Limited (ASX:MUS) (FRA:GGY) is an emerging gemstone developer and producer focused on the near-term development of the highly prospective Montepuez Ruby Project in northern Mozambique.
The Montepuez Ruby Project consists of three licences and now one mining concession covering 19,300 hectares directly adjacent to the world's largest ruby deposit discovered by Gemfields PLC in 2012. Since supply of rubies from sources outside Mozambique has become fractured and unreliable, Mustang stands to capitalise on the current high demand around the world for ethically produced rubies by becoming a reliable, consistent supplier of high-quality rubies.
The Company is currently fast-tracking its work program on the Montepuez Ruby Project with extensive secondary deposits discovered and low-cost bulk sampling well underway. First rough ruby sales are scheduled for 27 to 30 October 2017 in Port Louis, Republic of Mauritius under a closed bid tender of more than 350,000 cts gem quality rubies.
Visit the Mustang website at http://www.mustangresources.com.au for more information.
Managing Director:
Bernard Olivier
E: bernard@mustangresources.com.au
M: +61-4-08948-182
T: +27-66-4702-979

Media & Investor Relations:
Paul Armstrong
E: paul@readcorporate.com.au
T: +61-8-9388-147
Related CompaniesMustang Resources Ltd