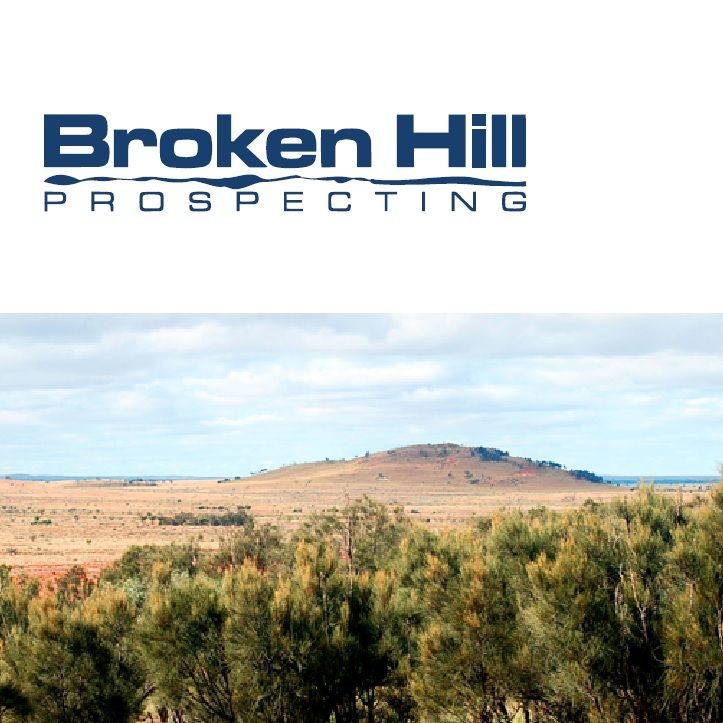 Holds Largest Mineral Sands Position in Murray Basin
Sydney, May 8, 2018 AEST (ABN Newswire) - Broken Hill Prospecting Ltd (

ASX:BPL
) (

OTCMKTS:BPLNF
) announces the Company now holds the largest Mineral Sands tenement position in World-Class Murray Basin.
Four new exploration licenses (EL006583; EL006584; EL006585; EL006614) with a combined area of 4163km2 granted in the Murray Basin, Victoria
- One exploration license (EL6139) granted in South Australia, along strike from Tararra (EL8558) in NSW
- BPL (through subsidiary Murray Basin Minerals Pty Ltd) is firmly established as the largest mineral sands tenement holder in the Murray Basin, with holdings of approximately 7300km2
- Exploration activities have identified multiple high-grade low-tonnage heavy mineral sands strandline deposits to support BPL's mobile mining business model
- In depth technical data compilation, validation and infill drill program design has commenced on the new tenement areas
BPL's Managing Director, Trangie Johnston commented:
"Mineral sands commodity prices continue to perform well, and we are seeing improved financial performance from existing mineral sands producers. The granting of four new exploration tenements with walk up resource targets places the Company in a strong position. We now have the critical mass to accelerate these projects at a time of strong underlying market conditions."
NEW TENEMENTS GRANTED IN VICTORIA AND SOUTH AUSTRALIA
The granting of four new exploration licenses (EL006583; EL006584; EL006585; EL006614) in Victoria marks the expansion of BPL's interest across the broader Murray Basin heavy mineral sands (HMS) province. Each new tenement areas hosts multiple parallel mineralised strandlines which in some instances persist over several kilometres of strike. The tenement areas are favourably located near key infrastructure and are characterised by strandline-type mineralisation encountered in reconnaissance drill traverses. Mineralisation persists up to 15km in strike in some areas with overburden varying between 5-20m in thickness.
The new tenements complement recently acquired holdings (EL8649; EL8650) in the Euston area of NSW. The next stage of BPL's exploration workplan will see the newly-acquired areas undergo historical data validation and geological modelling as applied to the Jaws and Gilligans deposits in NSW. This work led to the estimation of Inferred resources of 113 Mt at 1.8% heavy minerals (MH) (10th August 2017).
An additional tenement (EL6139) has been granted in South Australia. EL6139 contains the Oakbank, Boxwood Dam and Johnsons Dam strandline HMS deposits where preliminary (informal) resource estimates have been undertaken by previous explorers. These potential resource areas are located along strike from mineralisation in the company's NSW tenements including the Tararra strandlines (EL8558).
BPL'S HEAVY MINERAL SANDS BUSINESS MODEL
BPL's exploration and development program in the Murray Basin HMS province commenced in late 2014when extensive technical studies were completed confirming the viability of a low-capex/ low-opex modular mobile mining concept.
The mobile mining process would employ a conventional technique of wet gravity separation followed by dry electrostatic mineral separation. It would use a highly mobile Mining Field Unit (MFU; see Figure 2 in link below) to follow the mining face, and a semi-mobile Primary Concentrator Plant (PCP) (see Figure 3 in link below) to facilitate periodic relocation and minimise the pumping distance from the MFU.
EXPANDING EXPLORATION FOOTPRINT
To support the mobile mining concept, BPL is aiming to establish a sustainable pipeline of high grade, relatively lowtonnage HMS deposits amendable to processing through mobile plant equipment. To this end, BPL has expanded its HMS tenement portfolio to approximately 7,300km2, securing its position as the largest tenement holder in the world-class Murray Basin province.
This ongoing strategic growth is the result of extensive historical data compilation and prospectivity analysis that has equipped the company with a unique proprietary database comprising approximately 60,000 drill holes and 2 million metres of drilling. The database has a replacement value of approximately $100 million in today's terms (drilling and assay only).
The newly-granted tenements include:
 
------------------------------------------------------------------
State             Title            Name               Area (km2) 
------------------------------------------------------------------
Victoria          EL006583         Hopetoun Birchip   1438 
Victoria          EL006584         Hopetoun  
                                   Warracknabeal      1059 
Victoria          EL006585         Ouyen              1021 
Victoria          EL006614         Tyrell Ridge       645 
South Australia   EL6139           Danggali North     998 
------------------------------------------------------------------

To view tables and figures, please visit:
http://abnnewswire.net/lnk/1JKW110N
About Broken Hill Prospecting Ltd

Broken Hill Prospecting Ltd (ASX:BPL) is an Australian exploration company focussed on the discovery and development of strategic mineral resources across two primary geographical areas; the Murray Basin Region (Heavy Mineral Sands) and the Broken Hill Region (industrial, base and precious metals, including the Thackaringa Cobalt & Base/Precious Metal Project).
Broken Hill Prospecting Ltd
T: +61-2-9238-1170
E: info@bhpl.net.au
WWW: www.bhpl.biz
Related CompaniesBroken Hill Prospecting Ltd