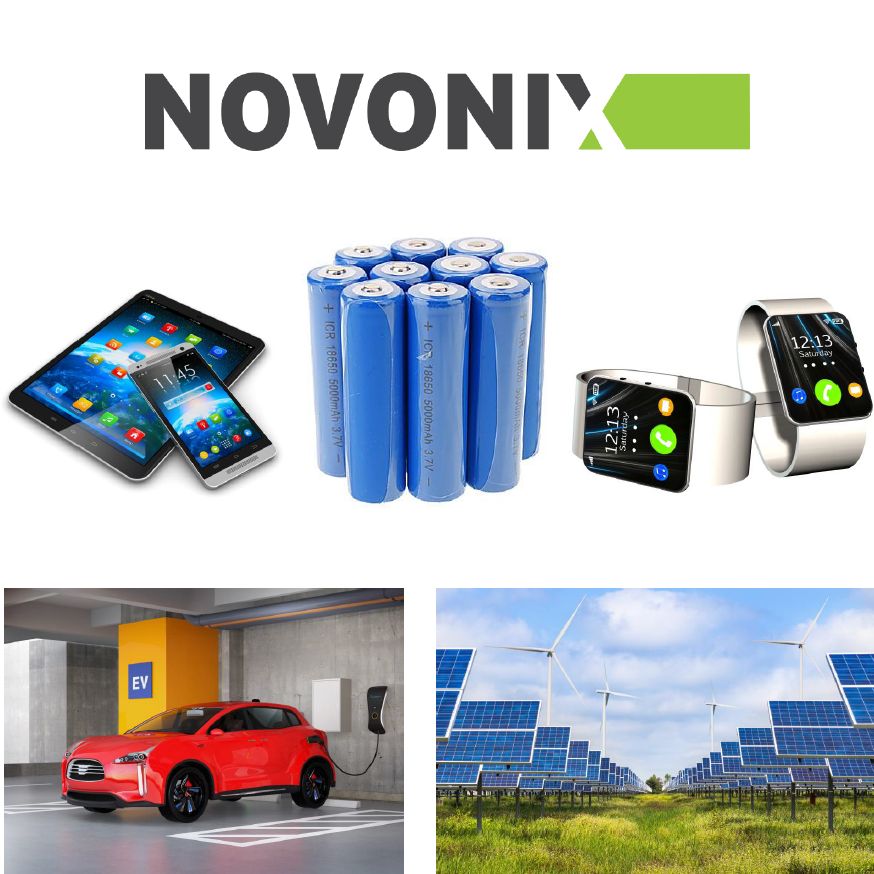 Partner Selected for US DOE Funding for LIB Programs
Brisbane, May 15, 2018 AEST (ABN Newswire) - NOVONIX Limited (

ASX:NVX
) is pleased to advise that the US Department of Energy (DOE) has announced that Coulometrics, LLC, 50% owner of the PUREgraphite Joint Venture with NOVONIX Limited (50%), has been selected for two highly competitive US$1,000,0000 DOE grants in the area of lithium-on battery (LIB) research.
HIGHLIGHTS
- NOVONIX partner, Coulometrics, LLC, has been awarded two US Department of Energy grants for lithium-ion battery (LIB) research - each for USD$1,000,000.
- The research grants cover the development of Extreme Fast Charge (XFC) Batteries, which includes the testing of PUREgraphite anode materials, and further research into high-quality natural graphite.
The DOE has provided a US$1,000,000 grant for the development Extreme Fast Charge (XFC) Batteries (DOE Reference: DE-FOA-0001646). Coulometrics advises that it will use this funding to develop a number of new battery technologies to enable XFC batteries and will include the testing of new graphite materials provided by PUREgraphite.
The DOE announcement is available at:
http://www.abnnewswire.net/lnk/8406963Y
Following completion of a 2016 Phase I grant from DOE, Coulometrics has also been awarded earlier this year a Phase II grant of USD$1,000,000 by the DOE for research on high quality natural graphite for use in LIBs (DOE Reference: DE-FOA-0001808).
ABOUT PUREgraphite
PUREgraphite is a recently-established 50:50 joint venture between NOVONIX and Coulometrics established to develop and commercialise ultra-high purity, high-performance graphite anode material for the lithium-ion battery market focused on the electric vehicle, energy storage and specialist markets and applications.
PUREgraphite became operational on 1 April 2017 and is a US-based and registered company that has commenced operations from within the Coulometrics Battery Materials Development Facility in Chattanooga, Tennessee, USA. The combined facilities include materials processing, battery making and battery testing which enables PUREgraphite to rapidly advance its materials development and to benchmark and demonstrate performance of our materials in commercial batteries. The CEO of PUREgraphite is Dr Edward Buiel who is also the founder and owner of Coulometrics.
NOVONIX contributed funding to PUREgraphite for it to exclusively acquire the graphite-related intellectual property from Coulometrics and ongoing exclusivity in the future for development of graphite anode materials. The Coulometrics graphite IP includes innovative high-performance graphite anode materials (demonstrated to outperform leading materials currently in the market) and production methods expected to deliver production costs significantly lower than existing producers. NOVONIX also contributed additional to PUREgraphite to meet anticipated capital and operating costs for the first two years of operation.
About NOVONIX Ltd

NOVONIX Ltd (ASX:NVX) (FRA:GC3) is an integrated developer and supplier of high performance materials, equipment and services for the global lithium-ion battery industry with operations in the USA and Canada and sales in 14 countries.
NOVONIX is majority-owner of the PUREgraphite battery anode material Joint Venture, headquartered in Chattanooga, Tennessee, USA.
NOVONIX's mission is to accelerate the adoption of batteries for a cleaner energy future.

Greg Baynton
Executive Director
Phone: +61-414-970-566
Email: greg@novonixgroup.com

Philip St Baker
Managing Director
Phone: +61-438-173-330
Email: phil@novonixgroup.com
Website: www.novonixgroup.com
Related CompaniesNOVONIX Ltd