Carnival Horizon sets sail on its first US journey with the most impressive Wi-Fi solution in the cruise industry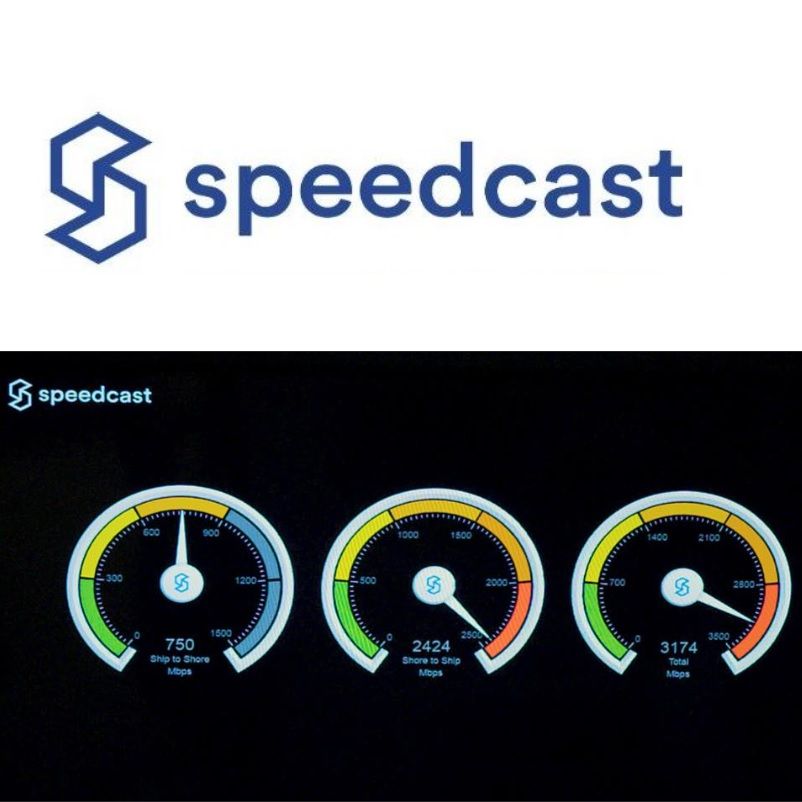 Delivers New Standard of Internet Guest Experience with Unparalleled Bandwidth to Carnival Horizon Cruise Ship
New York, May 25, 2018 AEST (ABN Newswire) - Speedcast International Limited (

ASX:SDA
), the world's most trusted provider of remote communication and IT solutions, today announced that the company successfully delivered 3.174 Gbps of satellite bandwidth onboard the Carnival Horizon, Carnival's newest mega cruise ship. This transformative Internet experience follows on the successes first enabled onboard the Carnival Vista, which has been hosting the frictionless high-bandwidth Internet solution for over six months.
The unparalleled data rate was initially achieved at the Carnival Horizon naming ceremony on May 23, 2018 in the New York harbor, and sets the guest satisfaction standard that Speedcast will enable onboard the Carnival Horizon to guests and crew. The solution uses "best of breed" bandwidth from multiple satellite operators, in this case leveraging both Intelsat and Telesat. This approach consists of selecting the best satellites in terms of power, look angle and coverage, including the latest high-throughput satellites with beams specifically designed for maritime applications, in order to deliver a land-like connectivity experience. Intelsat and Telesat were key players in the achievement of this exceptional connectivity experience, securing the necessary capacity and working in close partnership with the Speedcast team for engineering.
"Carnival Cruise Line is proud to introduce Carnival Horizon, the company's newest and second of the Vista-class ships," says Reza Rasoulian, VP of Global Connectivity for Carnival. "The Horizon was delivered with our new industry-leading next generation connectivity solution leveraging an innovative satellite bandwidth and technology approach which we have developed over the past several years enabling our guests to enjoy fast, reliable, land-like connectivity to share their amazing vacation experiences on social media, keep up with news, and interact with friends and family even while at Sea."
"The Carnival Horizon is outfitted with best-in-class technology for both guest enjoyment and operations, and Speedcast is thankful for the opportunity to continue this partnership with Carnival as its trusted provider for communications," says PJ Beylier, Speedcast CEO. "The delivery of this record-breaking solution leverages the latest innovations in end-to-end networking, high throughput satellites, next-generation modems and optimization technology in order to reach a new standard in guest experience; one which allows them to enjoy an internet experience similar to what they have at home. We look forward to working hand-in-hand with Carnival to push the envelope of innovation, not just in terms of the largest amount of satellite bandwidth provided, but also utilizing IT solutions that will help them to achieve top-notch guest satisfaction on all of their ships, from connectivity to data management, entertainment content and more."
Carnival and Speedcast have collaborated to create the industry's first ever fully-integrated solution that is unique to Carnival, combining blockage-free connectivity using the newest and most powerful Intellian antennas on the market today, leveraging frequency spectrums across C-, Ku- and Ka-Band. Utilizing multiple bands and frequencies based on ship location, weather conditions, bandwidth availability and satellite coverage provides enhanced resilience and optimization, and allows all guest, crew, voice and corporate traffic to have simultaneous access to all available links at all times. The traffic is then routed accordingly via Speedcast's global MPLS network, reaching its final destination with minimal latency to provide an industry-leading connectivity experience never achieved before.
The entire network is monitored by Speedcast 24/7 Network Operations Centers, which support connectivity to approximately 70% of all cruise passengers around the world.
Carnival Cruise Line is working on plans for further rollout of the next generation connectivity solution throughout the entire fleet.
About Speedcast International Ltd

Speedcast International Ltd (ASX:SDA) is the world's largest remote communications and IT services provider. The company delivers critical communications solutions through its multi-access technology, multi-band and multi-orbit network of 80+ satellites and an interconnecting global terrestrial network, bolstered by extensive local support from 40+ countries. Speedcast is uniquely positioned as a strategic partner, tailoring communications, IT and digital solutions to meet customer needs and enable business transformation. The company provides managed information services with differentiated technology offerings, including cybersecurity, crew welfare, content solutions, data and voice applications, IoT solutions and network systems integration services. With a passionate customer focus and a strong safety culture, Speedcast serves more than 3,200 customers in over 140 countries in sectors such as Maritime, Energy, Mining, Enterprise, Media, Cruise, Humanitarian and Government. Learn more at Speedcast.
Toni Lee Rudnicki
Vice President, Global Marketing
Speedcast International Ltd
E: tonilee.rudnicki@speedcast.com
T: +1-832-668-2634
Related CompaniesSpeedcast International Ltd