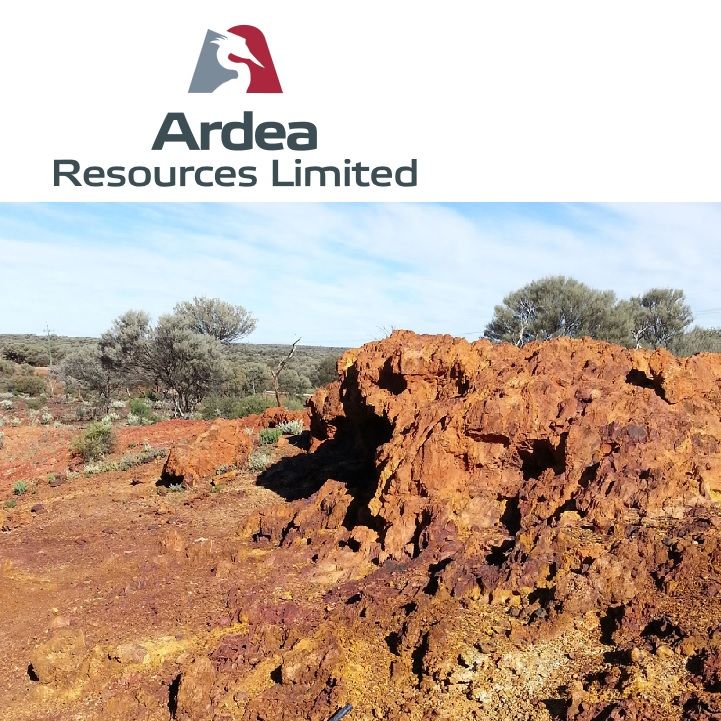 KPMG Appointed as Corporate Advisor for Strategic Partner Process
Perth, June 15, 2018 AEST (ABN Newswire) - Ardea Resources Limited (

ASX:ARL
) (

OTCMKTS:ARRRF
) ("Ardea" or the "Company") is pleased to announce the appointment of leading advisory firm KMPG as a Strategic Corporate Advisor to the Company.
KPMG Australia Corporate Finance's Metals and Mining team ("KPMG") will run a competitive process to identify and attract one or more strategic financing partners ("Strategic Partner") to support the development of the flagship Goongarrie Nickel-Cobalt Project ("Goongarrie", or the "Project")
Ardea has received a number of in-bound approaches from potential Strategic Partners interested in financing the development of Goongarrie following the successful Pre-Feasibility Study ("PFS") released in March 2018.
- PFS highlighted a strong base case for initial mining at Goongarrie. The PFS reviewed a base case of 1.0 Mtpa and a 1.5 Mtpa option.
 
---------------------------------------------------------------------
Case       Pre-tax NPV8      Post-tax NPV8     IRR     Payback 
1.0 Mtpa   A$1.43 billion    A$1.04 billion    25 %    5.3 years 
1.5 Mtpa   A$1.93 billion    A$1.40 billion    25 %    5.6 years  
--------------------------------------------------------------------- 

- A 2.25 Mtpa scoping study is underway to expand on the 1.0 and 1.5 Mtpa PFS options with increased scale expected to significantly enhance project economics and shareholder returns.
The key interest from potential Strategic Partners is to secure a long term, reliable and ethical supply of key battery minerals including nickel and cobalt from Goongarrie through offtake and direct investment in the Project, which hosts the largest cobalt resource in the developed world.
KPMG and Ardea will undertake a global competitive process and expects interest from industrial conglomerates, battery manufacturers, automakers, device manufacturers and other parties with requisite balance sheet support. This will allow the Company to fast-track the development of the Project.
KPMG was the leading mid-market M&A advisor in 2017 in Australia and globally. It has a worldwide reach with offices in over 80 countries and extensive cross-border abilities.
Managing Director Brett Clark said:
"We are delighted to have a firm of the calibre of KMPG to assist Ardea. They have a dedicated professional team with a global reach and will be focussed on the best outcome for Ardea as it continues its transition towards becoming a developer of its substantial Goongarrie Nickel-Cobalt Project".
About Ardea Resources Ltd

Ardea Resources Ltd (ASX:ARL) (OTCMKTS:ARRRF) (FRA:A91) is an Australian resources company which owns 100% of the Kalgoorlie Nickel Project (KNP), a globally significant series of nickel-cobalt laterite deposits which host the largest cobalt resource in the developed world. Ardea is focused on the development of the Goongarrie Nickel Cobalt Project (GNCP) within the KNP, 80km north of Kalgoorlie WA. Ardea has completed a Prefeasibility Study for a 1Mpta and 1.5Mtpa case on the GNCP and also a scoping study for a 2.25Mtpa case. Ardea is currently working with KPMG Australia Corporate Finance to secure a Strategic Partner to jointly develop the GNCP. Ardea also owns an extensive portfolio of projects in Western Australia and New South Wales which are highly prospective for gold, nickel sulphide and zinc.
Mr. Brett Clark
Managing Director
Ardea Resources Limited
Tel: +61-8-6244-5136

KPMG Corporate FInance
Mr Greg Evans
Partner - KPMG
Tel: +61-8-9263-7129

Media or Investor Inquiries:
Michael Weir, Citadel Magnus
Tel: +61-8-6160-4900
Related CompaniesArdea Resources Ltd