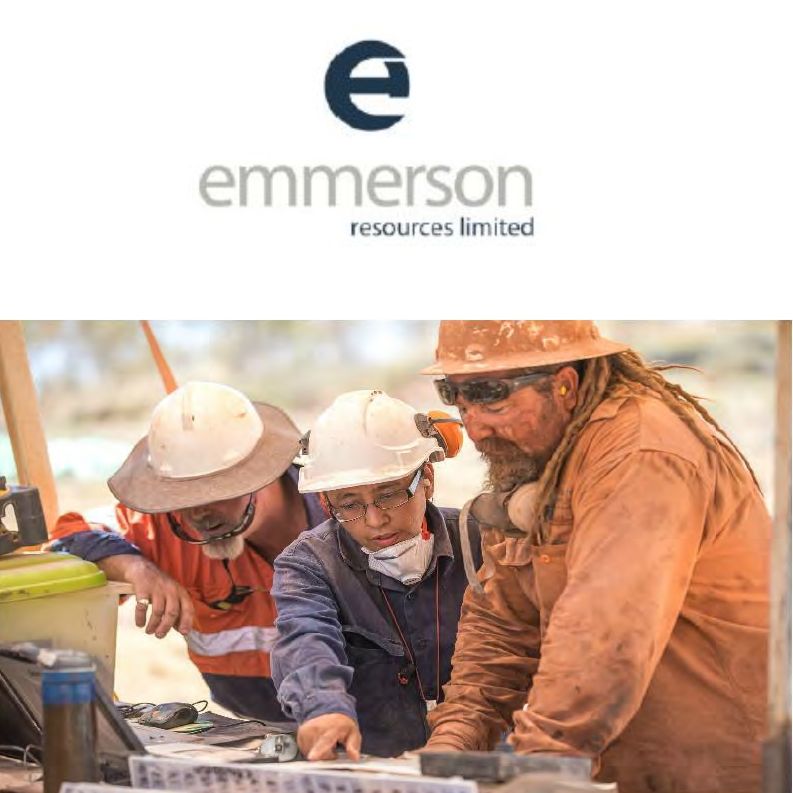 High-Grade Gold Intersected at Tennant Creek
Perth, June 21, 2018 AEST (ABN Newswire) - Emmerson (

ASX:ERM
) (

OTCMKTS:EMMRF
) is pleased to announce highly encouraging, drill results from Mauretania which provide additional geological and grade related information aimed at adding this project to our small to medium-sized mine portfolio (see Figure 1 in link below). This portfolio is now the subject of detailed studies by Emmerson's Tennant Creek strategic alliance partner, Territory Resources. This study includes the mining-related parameters of metallurgy, extraction and dilution, before negotiation of a "profit share" style agreement between both parties.
Highlights
- RC drilling at the Mauretania discovery has intersected thick, high-grade gold, silver and copper with elevated bismuth and cobalt.
- Drill hole MTRC023 intersected three distinct zones of mineralisation:
o 26m at 8.9g/t gold, 85g/t silver, 0.49% copper and 0.13% bismuth from 53m including a higher grade zone of 8m at 23g/t gold, 219g/t silver, 0.72% copper and 0.26% bismuth
o 12m at 2.1g/t gold, 11.8g/t silver, 0.24% copper from 97m including 3m at 6.6g/t gold, 11.9g/t silver, 0.28% copper and 414ppm cobalt
o 10m at 7.6g/t gold, 2.4g/t silver, 0.19% copper and 0.14% bismuth from 171m including 5m at 13.4g/t gold, 2.8g/t silver, 0.22% copper and 0.21% bismuth
- Drill hole MTRC027 intersected 12m at 10.4g/t gold and 0.27% bismuth from 48m including 6m at 18.9g/t gold and 0.46% bismuth.
- Drill hole MTRC025 intersected 19m at 1.85g/t gold, 28.7g/t silver, 1.25% copper and 734ppm cobalt from 101m including 9m at 2.6g/t gold, 22.8g/t silver, 2.3% copper and 0.12% cobalt.
- A single RC pre-development hole drilled at West Gibbet intersected 7m at 7g/t gold from 66m including 1m at 16.6g/t gold and 2m at 12.4g/t gold.
- Metallurgical test work to be completed on samples from both holes in support of the small and medium mine strategy.
- Drilling of new high-value copper, gold and cobalt targets within the Northern Corridor at Tennant Creek to begin next quarter following interpretation of recently completed airborne geophysical survey.
Emmerson's Managing Director; Mr Rob Bills commented: "The success of this first round of drilling at Mauretania has confirmed the potential for high grades and expanding both the shallow and deeper mineralisation. Our aim is to include the project in our small to medium mines portfolio in support of the recent strategic alliance with Territory Resources. This portfolio of small mines can be monetised via processing at the refurbished Warrego Mill on a profit share basis and provide funding to continue our exploration program targeting larger mines at Tennant Creek and in NSW.
"Encouragingly, much of the higher grade material at Mauretania is within the upper 100m and thus amenable to possible open pit mining. Further, the highly encouraging grades for both gold and copper once again highlight the potential for this style of hematite hosted mineralisation - a style that has been largely overlooked by previous explorers in Tennant Creek. Emmerson has now made four such discoveries, all with exceptional metal grades of either gold, copper, bismuth, silver and more recently, at Jasper Hills and at depth at Mauretania, high-grade cobalt.
"Emmerson's exploration programs are designed to discover more of these high-value deposits and we await with anticipation, the results of the now completed airborne EM geophysical survey over the Northern Corridor at Tennant Creek. This survey is aimed at detecting the signatures of these systems through either directly detecting copper sulphides or the associated clay alteration at the base of oxidation. Thus our next drill program will be particularly exciting as it will be focussed on new hematite hosted, high grade, multi-metal (gold, copper, cobalt, bismuth, silver) targets generated from this geophysical survey."
Mauretania
The twofold aim of the drilling at Mauretania was to provide a more refined structural understanding and test for extensions to the mineralisation. Pleasingly both were successfully achieved as now the continuity of the ironstone has been demonstrated, plus a new zone consisting of: 10m at 7.6g/t gold, 2.4g/t silver, 0.19% copper and 0.14% bismuth has been discovered in the footwall of the hematite ironstone.
Drill hole MTRC023, a vertical hole through the alteration and ironstone provides an insight into the metal and alteration zonation plus highlights mineralisation both on the footwall and hangingwall of the ironstone - excitingly opening up the untested potential for additional mineralisation at depth (see Figure 2 in link below).
Whilst the highest gold grades occur above the base of oxidation, this new deeper gold, copper and bismuth mineralisation indicates further drilling will be required before mining studies are finalised. The intersection of 9m at 2.56g/t gold, 22.8g/t silver, 2.3% copper and 0.12% cobalt (drill hole MTRC025) highlight the likely true width of the mineralisation and potential for copper and cobalt credits.
This latest drilling together with the geochemical footprint, now suggests great potential for down dip and strike extensions to the mineralisation (see Figure 3 in link below). Metallurgical test work will be completed on samples from the recent drill program in support of future development.
West Gibbet
West Gibbet is an undercover target that is associated with a discrete magnetic anomaly coincident with an underlying, magnetite ironstone. It occurs along a highly mineralised, eastwest trending structural corridor referred to as the "wine line". This corridor hosts the Chariot, Malbec and TC8 mines - with all associated gold and copper mineralisation hosted in magnetite and/or transitional magnetite-hematite ironstone.
Previous drill results at West Gibbet intersected extremely high grades of 9m at 95.5g/t gold within the oxide zone, some 74m from surface (ASX- 26/05/2008). This recent hole drilled (WGRC052) was aimed at confirming the tenor of the historical drill hole and to provide a bulk metallurgical sample, ahead of converting this target to a small mine.
Drill hole WGRC052 intersected lower tenor mineralisation of 7m at 7g/t gold from 66m compared to Emmerson's previous drilling, indicating the mineralisation was likely associated with coarse gold. However, it did confirm the continuity and potential for a shallow underground mine. Interestingly the nearby Analytic target contains a historic intercept of 24m at 6.3g/t gold from 246m (including 3m at 48.3g/t gold) (ASX- 15/12/2008) - suggesting the possibility for deeper, high-grade gold at West Gibbet beneath the existing ironstone (see Figure 4 in link below). As similar to Edna Beryl, this potential is likely best realised once the underground development is established.
To view tables and figures, please visit:
http://abnnewswire.net/lnk/64D285W9
About Emmerson Resources Limited

Emmerson Resources Limited (ASX:ERM) (FRA:42E) recently commenced exploration on new gold-copper projects in NSW, identified (with our strategic alliance partner Kenex Limited) from the application of 2D and 3D predictive targeting models – aimed at increasing the probability of discovery. The highly prospective Macquarie Arc in NSW hosts >80Mozs gold and >13Mt copper with these resources heavily weighted to areas of outcrop or limited cover. Emmerson's five exploration projects contain many attributes of the known deposits within the Macquarie Arc but remain under explored due to historical impediments, including an overlying cover (plus farmlands) and a lack of exploration focus. Kadungle is a JV with Aurelia Metals covering 43km2 adjacent to Emmerson's Fifield project.
In addition, Emmerson is exploring the Tennant Creek Mineral Field (TCMF), one of Australia's highest-grade gold and copper fields producing over 5.5 Mozs of gold and 470,000 tonnes of copper from deposits including Warrego, White Devil, Orlando, Gecko, Chariot and Golden Forty. These high-grade deposits are highly valuable exploration targets, and to date discoveries include high-grade gold at Edna Beryl and Mauretania, plus copper-gold at Goanna and Monitor. These are the first discoveries in the TCMF for over a decade.
For further information, please contact:

Rob Bills
Managing Director and CEO
E: rbills@emmersonresources.com.au
T: +61-8-9381-7838
www.emmersonresources.com.au

Media enquiries

Michael Vaughan, Fivemark Partners
E: michael.vaughan@fivemark.com.au
T: +61-422-602-720
Related CompaniesEmmerson Resources Limited