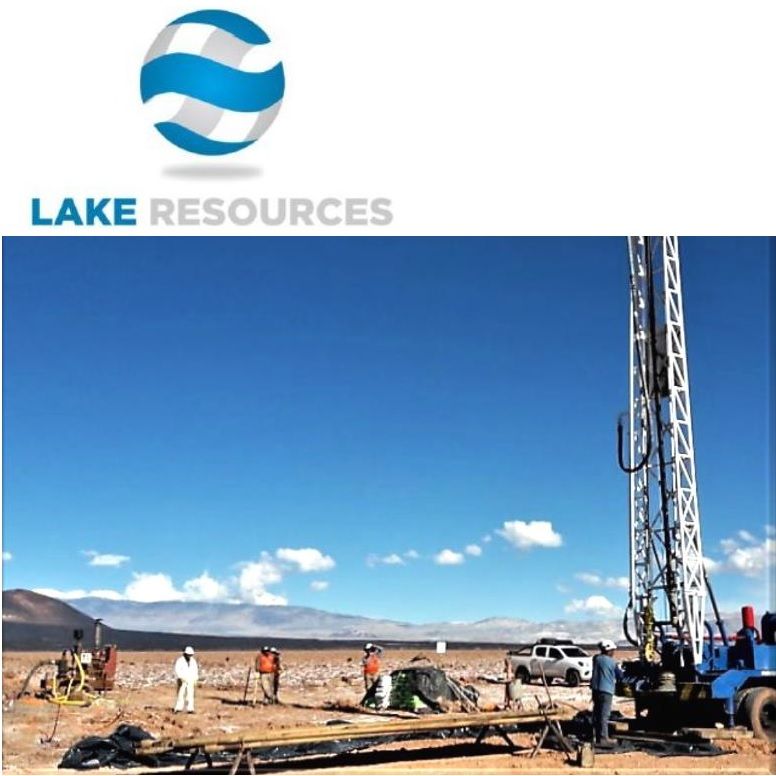 Kachi Drilling Advances with Consistent Results
Brisbane, Aug 9, 2018 AEST (ABN Newswire) - Argentine-focused lithium exploration and project development company Lake Resources NL (

ASX:LKE
) has extended drilling activities with results reinforcing the large scale and quality of its 100%- owned Kachi Lithium Brine Project in Catamarca Province.
- Drilling continues to confirm the large scale and quality of the Kachi Lithium Brine Project - a major discovery of a similar size to globally significant lithium producers.
- Drilling advances with consistent results at Kachi supporting the preparation of a maiden resource statement, anticipated in October, over a partially covered salt lake 22 x 8 kilometres with potential to increase further.
- Results show brines returning 250-276 mg/L lithium over 42 metres (358 - 400m) in drillhole K03R12 with best results from K03R03 averaging 306mg/L lithium
- Brines extend from near surface to at least 400 metres depth consistently, with low impurities and low average Mg/Li ratio of 4.3, a ratio similar to large Argentine projects of Galaxy and Neo Lithium.
- Drilling continues in the western sector of the project area with a diamond drillhole at Platform K02 and a rotary drillhole K08.
Lithium brine is present in sandy sediments from near surface to over 400m depth in more than 14 rotary and diamond drill holes spaced over 15km across the project. Drilling and seismic geophysical surveying also confirms Kachi is a large-scale partially covered salt lake over an area of at least 22 x 8 kilometres.
Recent drill results returned 250-276 mg/L lithium over 42 metres in drillhole K03R12. Best results to date are 306 mg/L lithium over 239 metres (3 - 242m) from hole K03R03 indicating consistent brine chemistry throughout the stratigraphic profile. To date the lithium brines analysed show positive chemistry with low combined impurities (boron, sulphate, calcium, magnesium, iron). Sediments indicate high porosities and permeabilities, with confirmation anticipated soon from core used for porosity assessment.
The drilling advances towards an initial resource estimate, anticipated in October, with a further hole planned prior to final estimation. The western area of the basin is being targeted at present for this estimation. A number of sample results are pending from recent drilling, and regular updates will be provided as drilling progresses.
Resource Drilling - Kachi Lithium Brine Project
Lake Resources' 100%-owned Kachi Lithium Brine Project in Catamarca province, Argentina covers over 50,000 hectares of mining leases owned 100% by Lake's Argentine subsidiary, Morena del Valle Minerals SA. These are held over the centre of the known Kachi salt lake in the deepest part of the basin. Surface sampling revealed positive lithium results in brines, supported by positive results in drilling from surface to depth and through geophysics programs.
Drilling is currently underway at two new locations (platform K02 and 08). Table 1 (see link below) provides drill hole location details and lithium results which are averaged where multiple samples have been taken at a single interval.
Recent drilling intersected different interlayered lithologies which are dominated by sandy sediments. Samples have been collected for porosity tests in a laboratory in the USA with extensive experience in analysing salt lake sediments for their porosity characteristics, in particular the specific yield (also known as drainable porosity). The company intends to conduct a resource estimate for the project in accordance with the JORC reporting code as soon as practical, anticipated to be in October. This will include the porosity data and systematic brine analyses from the drilling samples.
Analytical results for lithium to date have been highest in drill-hole K03R03 (northern area). Brine samples in this hole display encouraging densities with a favourable Mg/Li ratio of 4.3. This area is a key target for ongoing investigation. Figure 2 (see link below) shows an extensive area with potentially very deep lake sediments in the vicinity of K03 that is yet to be investigated.
Diamond drilling intersected thick intervals of intercalated sands, gravels and sandy clays with some clay horizons. The predominant litho-type of lake sediments is sand-dominant, and poorly consolidated, with relatively low core recoveries in sandy material. Initial indications from field hydraulic testing indicate high permeabilities for the sandy material, which will be further tested with the installation of large diameter production test bores.
The deepest drilling to date at 405m has been undertaken in the south of the project area in diamond drill hole K06D08 (see Figure 1 in link below).
To view tables and figures, please visit:
http://abnnewswire.net/lnk/HD4US4O1
About Lake Resources NL

Lake Resources NL (ASX:LKE) is a lithium exploration and development company focused on developing its three lithium brine projects and hard rock project in Argentina, all owned 100%. The leases are in a prime location among the lithium sector's largest players within the Lithium Triangle, where half of the world's lithium is produced. Lake holds one of the largest lithium tenement packages in Argentina (~200,000Ha) secured in 2016 prior to a significant 'rush' by major companies. The large holdings provide the potential to provide consistent security of supply demanded by battery makers and electric vehicle manufacturers.
The Kachi project covers 69,000 ha over a salt lake south of FMC's lithium operation and near Albemarle's Antofalla project in Catamarca Province. Drilling at Kachi has confirmed a large lithium brine bearing basin over 20km long, 15km wide and 400m to 800m deep. Drilling over Kachi (currently 16 drill holes, 3100m) has produced a maiden indicated and inferred resource of 4.4 Mt LCE (Indicated 1.0Mt and Inferred 3.4Mt) within a 8-17 Mt LCE exploration target (refer ASX announcement 27 November 2018).
A direct extraction technique is being tested in partnership with Lilac Solutions, which has shown 80-90% recoveries and lithium brine concentrations in excess of 3000 mg/L lithium and is planned to be trialled on site in tandem with conventional methods as part of a PFS to follow the resource statement. Scope exists to unlock considerable value through partnerships and corporate deals in the near term.
The Olaroz-Cauchari and Paso brine projects are located adjacent to major world class brine projects either in production or being developed in the highly prospective Jujuy Province. The Olaroz-Cauchari project is located in the same basin as Orocobre's Olaroz lithium production and adjoins Ganfeng Lithium/Lithium Americas Cauchari project, with high grade lithium (600 mg/L) with high flow rates drilled immediately across the lease boundary.
Two drill rigs are currently drilling at Cauchari with results anticipated to extend the proven resources in adjoining properties into LKE's area with results anticipated from November into December 2018. This will be followed by drilling extensions to the Olaroz area in LKE's 100% owned Olaroz leases.
Significant corporate transactions continue in adjacent leases with development of Ganfeng Lithium/Lithium Americas Cauchari project with Ganfeng announcing a US$237 million for 37% of the Cauchari project previously held by SQM. Nearby projects of Lithium X were acquired via a takeover offer of C$265 million completed March 2018. The northern half of Galaxy's Sal de Vida resource was purchased for US$280 million by POSCO in June 2018. These transactions imply an acquisition cost of US$55-110 million per 1 million tonnes of lithium carbonate equivalent (LCE) in resources.
The demand for lithium continues to be strong for lithium ion batteries in electric vehicles, according to recent data from the leading independent battery minerals consultant, Benchmark Mineral Intelligence. Supply continues to be constrained suggesting good opportunities for upstream lithium companies.
Steve Promnitz
Managing Director
Lake Resources N.L.
T: +61-2-9188-7864
E: steve@lakeresources.com.au
Related CompaniesLake Resources NL



View in Other Languages (4514)