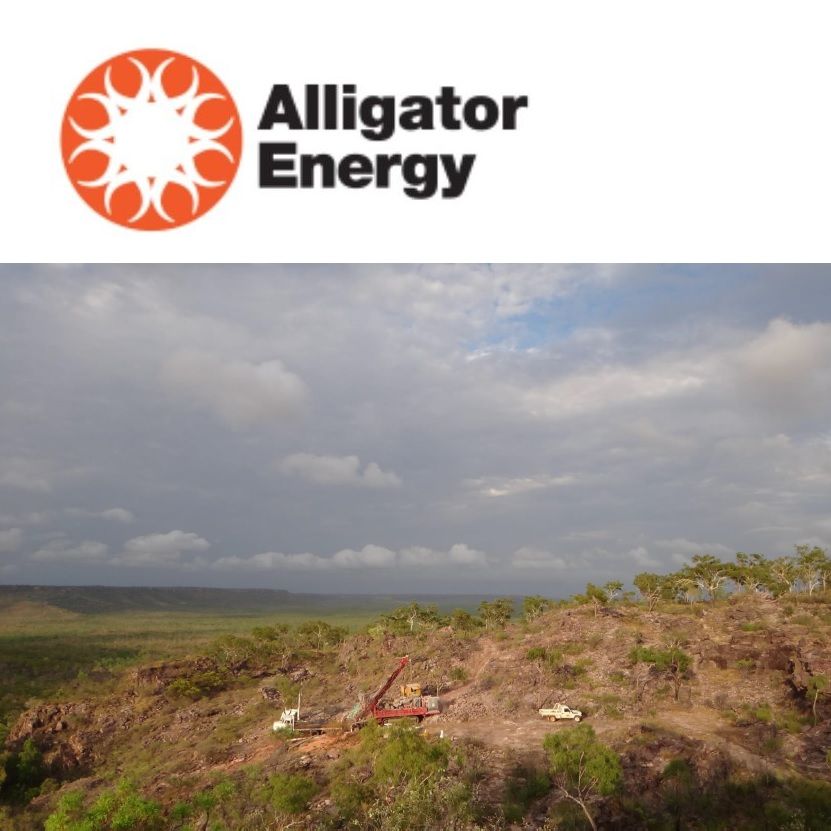 2018 Annual Report
Brisbane, Oct 15, 2018 AEST (ABN Newswire) - Alligator Energy Ltd (

ASX:AGE
) provides the Company's 2018 Annual Report.
Highlights 2017/18
Tin Camp Creek Project
- TCC4 confirmed as a standout drill target with coincident high levels of Uranium geochemical pathfinder elements, S.A.M. conductors, preferred Cahill basement host rocks and large fault structures.
- Access re-opened to Myra Camp and pre-work undertaken in preparation for future drilling.
- Subsequent to end of year, funds raised and drilling program undertaken on TCC4 Project, confirming presence of Cahill formation beneath unconformity and extensive alteration, with detailed geology and stratigraphy to feed into future model updates and programs.
Beatrice JV Project
- Alligator acquired remaining 41.65% interest in the Beatrice Project from Cameco Australia taking AGE ownership to 100%.
- BT 12 remains a stand-out drill target characterised by a very large and very strong uranium geochemical pathfinder anomaly and preferred Cahill formation basement host rocks under Kombolgie sandstone.
Other Projects
- Exploration applications (Nabarlek North Applications Package) lodged over an area of interest 5km north of the historic Nabarlek Uranium Mine site continues through application and NLC review process. This has a similar stratigraphic and structural setting to the historic Nabarlek mine, and has an existing nearby high grade uranium intersection.
Energy Minerals - Piedmont Ni-Co Project, northern Italy
- Alligator expanded its exploration and development strategy to include nickel-cobalt projects.
- A binding Heads of Agreement executed with Chris Reindler and Partners to earn up to 70% interest in the Piedmont nickel-cobalt project in northern Italy.
- On-ground geological and structural mapping and extensive geological sampling was undertaken. Post year end initial sample assay results released confirming high grade nickel ranging up to 2.5% and cobalt ranging up to 0.17%, plus evidence of copper and gold.
- Planning underway for a targeted drill program at Piedmont during 2019.
Corporate
- Greg Hall, a Director of Alligator, agrees to a 12 month contract as CEO effective April 2018.
- A successful share placement of $ 693,000 completed in March 2018 in support of the enhanced nickel-cobalt strategy.
- Continued R&D on innovative exploration techniques.
- Exploration incentive credits totaling $ 150,707 distributed to Shareholders.
- Rights Issue raising $1.146 m before costs to advance the Piedmont project work and maintain access and applications for ARUP uranium projects.
- Post year end Alligator agreed a placement with BW Equities to raise $1.75 m before costs to undertake a drilling program on the TCC4 prospect in ARUP.
- The 50:50 Joint Venture with Torch Energy, forming a pre-eminent uranium industry team to focus on acquiring advanced stage uranium projects in Australia and globally.
To view the full report, please visit:
http://abnnewswire.net/lnk/W7NNT17O
About Alligator Energy Ltd

Alligator Energy Ltd (ASX:AGE) is an Australian, ASX-listed, exploration company focused on uranium and energy related minerals, principally cobalt-nickel.
Alligator's Directors have significant experience in the exploration, development and operations of both uranium and nickel projects (both laterites and sulphides).

Mr Greg Hall
Executive Director and CEO
Alligator Energy Ltd
Email: gh@alligatorenergy.com.au

Mr Mike Meintjes
Company Secretary
Alligator Energy Ltd
Email: mm@alligatorenergy.com.au
Related CompaniesAlligator Energy Ltd