Full Year Statutory Accounts
Adelaide, Sep 24, 2012 AEST (ABN Newswire) - Minotaur Exploration Limited (

ASX:MEP
) present their report on the consolidated group for the financial year ended 30 June 2012.
Review of Operations
Minotaur maintained a strong exploration focus during the financial year and despite trying financial conditions, ended the year in significantly better financial shape reporting a consolidated profit after income tax of $3,863,912.
At the Border Joint Venture with Sumitomo Metal Mining Oceana Pty Ltd (Sumitomo 59.1%), resource definition drilling was completed at the Muster Dam Magnetite prospect culminating in a significant maiden Inferred Resource estimate (Table 1, see link below) and an updated regional Exploration Target(1) (Table 2). Exhaustive metallurgical testwork is contributing to a detailed Scoping Study based on the Muster Dam JORC resource.
Elsewhere on the Border Joint Venture tenements, base metal target generation is proceeding with a range of new drill targets expected to be drill tested in the next year.
Elsewhere in South Australia, preparations for innovative 3D electrical geophysical work on the Aphrodite target were put on hold when the Company received a significant offer to purchase the Roxby area tenements. The Company subsequently agreed to sell the tenements to a subsidiary of BHP Billiton for net $9.5 million cash.
During the year partial divestment occurred in a number of Southern Gawler Ranges tenements through the successful listing of Spencer Resources on the ASX. In addition, an offer to purchase the Company's 55% interest in the Tunkillia Gold Project was accepted with Minotaur receiving a mix of cash and shares in Mungana Goldmine Ltd (

ASX:MUX
).
At the Poochera Kaolin Project, processing of kaolin samples at the Company's on-site laboratory confirmed the exceptional brightness and whiteness of both hydrous and calcined products. Infill drilling and processing allowed most of the Carey Well "bright white" kaolin resource to be upgraded from Inferred to Measured status. In addition, a globally-significant Exploration Target(2) of 570-810 million tonnes of white kaolinised granite with yield of 50% kaolin, was determined across several deposits within the project area.
The Purdilla Gypsum Project adjoins the Poochera Kaolin deposits and may provide a range of synergies for future development. An Exploration Target(3) of 50-60 million tonnes at a purity of 85-90% gypsum is estimated. With the divestment of a number of South Australian properties, exploration priorities shifted to the Cloncurry district of northwest Queensland where a large number of tenement applications are being progressively granted.
One cluster of 14 Cloncurry tenements is under Joint Venture with JOGMEC, who are earning a 51% interest through expenditure of $4 million. Drilling on the JOGMEC JV tenements took place in July-August (3 holes) and October-November (6 holes). Iron oxide copper gold (IOCG) style mineralisation was intersected at Cormorant, Woolshed Waterhole and Clonagh with seven of the nine holes intersecting multiple bodies of sulphides, predominantly pyrrhotite but with variable amounts of chalcopyrite, resulting in broad intervals of low level (0.2 to 0.4%) copper mineralisation.
Following extensive land access formalities, the Cotswold IOCG target, a large coincident magnetic-gravity anomaly similar in amphitude to that occurring at the Cu-Au-magnetite Ernest Henry Mine 25 kilometres to the southeast, was tested with 2 holes. Subsequent to the end of the financial year, the Company reported a significant magnetite-breccia system had been intersected.
In New South Wales, Joint Venture negotiations were completed with Mitsubishi Materials Corporation and Mitsubishi Corporation (

TYO:8058
) for the Arthurville Base Metals Project. An airborne EM survey was completed over 77km2 of the tenement and geophysical targets generated are now being validated through field inspections.
In Victoria, a limited program of roadside aircore drilling was completed to test single-line airborne EM anomalies for possible base metal mineralisation. The drilling confirmed interesting volcanic sequences, but no results of economic significance. Further ground applications were made in western Victoria considered prospective for volcanic-associated base metal mineralisation and historic data are being collated ahead of field inspection in the next year.
Other tenements and projects relinquished because of poor prospectivity or access difficulties during the year included the Cowra, Boorowa, Yorke Peninsula and Louth Projects.
The Company chose to selectively return to Nova Scotia, Canada, during the year. Having relinquished its extensive tenement holdings there last year, the Company is returning under a new option agreement to drill test the Copper Lake gravity target.
(1) Refer Advisory Statement (i) on page 6 of this report.
(2) Refer Advisory Statement (i) Refer Advisory Statement (i) on page 6 of this report.
(3) Refer Advisory Statement (i) Refer Advisory Statement (i) on page 6 of this report.
View the complete Minotaur Exploration Full Year Statutory Accounts including all data, at the link below:
http://media.abnnewswire.net/media/en/docs/ASX-MEP-696247.pdf
About Minotaur Exploration Ltd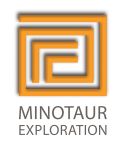 Minotaur Exploration Ltd (ASX:MEP) is a public company listed on the Australian Securities Exchange (ASX) under the market code MEP. MEP commenced trading on ASX on 25 February 2005. Minotaur has extensive minerals exploration tenements in South Australia, New South Wales, Victoria, Queensland and Western Australia.
The Company is governed by a Board of Directors according to Australian Corporate law and the Listing Rules of the ASX. Minotaur specialises in application of innovative geophysical techniques to locate virgin mineralisation deep below the surface. Often, economic mineral deposits are contained within basement rocks, buried below several hundred metres of transported cover (overburden) and cannot be located through conventional surface exploration methods such as soil sampling, geochemical assays and drilling. Minotaur's remote sensing and interpretative approach has proven very successful, time and time again.
The directors and management of Minotaur each have over 30 years of exploration, mining and mineral resource experience and are eminently qualified in their respective fields of expertise. Under their direction, Minotaur has earned a strong reputation for technical excellence and a high profile within the Australian resources sector. Minotaur's share register comprises 3500 shareholders.
Minotaur is actively exploring IOCG style targets in Australia, where geophysics have identified numerous sub-surface anomalies prospective for copper-gold mineralisation and other targets prospective for base metals such as zinc, lead, copper.
Minotaur Exploration Limited
T: +61-8-8366-6000
F: +61-8-8366-6001
E: admin@minotaurexploration.com.au
WWW: www.minotaurexploration.com.au

Related CompaniesMungana Goldmines Limited



Mitsubishi Corporation








Minotaur Exploration Ltd