Andromeda Metals Ltd
ASX:ADN ISIN:AU000000ADN0

Andromeda Metals Ltd (ASX:ADN) is an Australian Securities Exchange listed company focusing on mineral exploration for gold, copper and lithium deposits. The company has built a highly prospective exploration portfolio of projects covering 7,969 sq kms within 21 exploration licences located in South Australia, Queensland, Western Australia and the Northern Territory. Andromeda Metals was incorporated on 23 December 1993 and subsequently listed on the ASX on 11 September 1996. The company's head office is in Adelaide, South Australia.
Andromeda Metals' vision is to be a sustainable minerals exploration company providing shareholders with risk managed discovery, development and mining opportunities.

Latest Headlines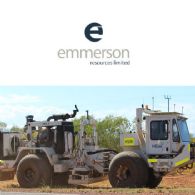 Emmerson Resources Limited (ASX:ERM) (OTCMKTS:EMMRF) provides the Company's Quarterly Activities Report for the period ending 30 June, 2017.
News
###
75,083 COMPANY PROFILE VIEWS
Company Data
Headquarters
69 King William Road
UNLEY South Australia 5061
Telephone
+61-8-8271-0600
Fax
+61-8-8271-0033
Principal Sector
Materials
Principal Industry
Materials&nbsp
Listed
1996/09/17
Homepage
adres@adelaideresources.com.au