Flexiroam Ltd
ASX:FRX ISIN:AU000000FRX8

FLEXIROAM Limited (ASX:FRX) is a new breed telecommunications company that enables travellers to bypass roaming charges around the world. The Company unveiled its flagship data roaming product, FLEXIROAM X which allows users to earn up to 100GB data to be used in over 100 countries with plans which last up to 1 year.
FLEXIROAM is a telecommunication company that does not own physical infrastructure but connects its users to 580 network operations around the globe making its services available in over 100 countries and territories. The Company was listed on the Australian Securities Exchange ("ASX") in June 2015 under the code FRX, and is today one of the fastest growing global virtual mobile operator in Asia Pacific.

Latest Headlines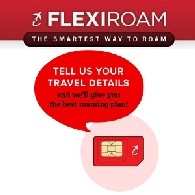 Flexiroam Ltd (ASX:FRX) is pleased to provide the Company's Quarterly Activities Report and Appendix 4C.
News
###
16,749 COMPANY PROFILE VIEWS
Company Data
Headquarters
79 Broadway, Nedlands,
Western Australia, 6009
PO BOX 3438
Australia
Telephone
+61-2-81034843
Fax
+61-8-6389-2588
Principal Sector
Communications
Principal Industry
Wireless Communications&nbsp
Homepage
biz@flexiroam.com