NOVONIX Ltd
ASX:NVX ISIN:AU000000NVX4

NOVONIX Ltd (ASX:NVX) (FRA:GC3) is an integrated developer and supplier of high performance materials, equipment and services for the global lithium-ion battery industry with operations in the USA and Canada and sales in fourteen countries. NOVONIX is co-owner of the PUREgraphite anode material Joint Venture, headquartered in Chattanooga, Tennessee, USA. The Company also owns a world-class, large and high-grade natural graphite deposit in Australia.
NOVONIX's mission is to accelerate the adoption of batteries for a cleaner energy future.

Latest Headlines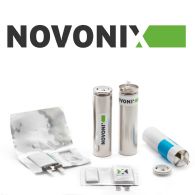 NOVONIX Ltd (ASX:NVX) provides the Company's latest presentation at Australian Microcaps Conference 2018.
News
###
20,607 COMPANY PROFILE VIEWS
Company Data
Headquarters
33 Lynell Street
Hamilton, QLD 4007
Ausralia
Telephone
+61-438-173-330
Principal Sector
Materials
Principal Industry
Mining & Metals&nbsp
Homepage
contact@novonixgroup.com