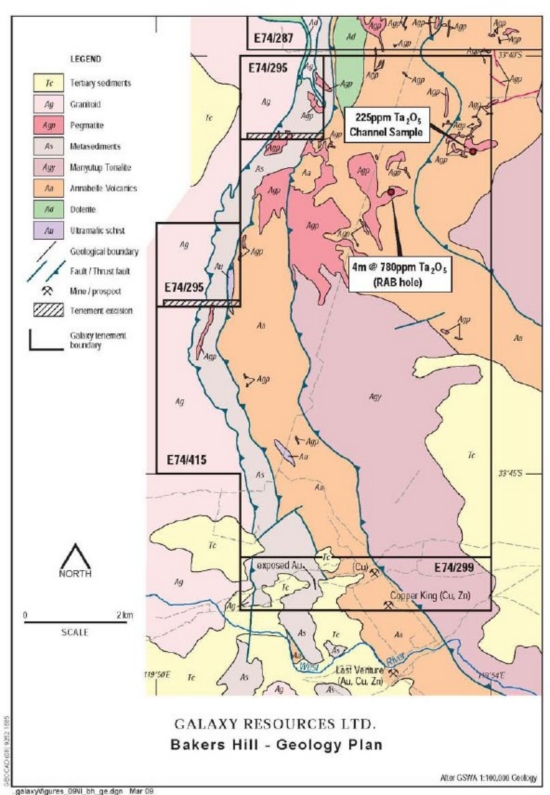 Bakers Hill Tenement E74/415
Perth, Mar 31, 2009 AEST (ABN Newswire) - Galaxy Resources Limited (ASX:GXY) today announced three developments to significantly consolidate the Company's tenement holding in Western Australia.
Mt Cattlin Project
Galaxy has secured 100% ownership and control of mining lease applications M74/158 and M74/159 in the Mt Cattlin area, previously part of the Ravensthorpe Joint Venture (JV) with Pioneer Nickel (ASX:PIO).
Pioneer had earned a 75% interest (excluding lithium-tantalum minerals) in these tenement applications.
The tenements are contiguous with Galaxy's granted mining leases and tenement applications surrounding the Mt Cattlin lithium-tantalum project and considered highly prospective for further lithium-tantalum bearing pegmatites.
Galaxy is currently progressing the grant of these tenements.
Two other small tenement applications within the region, M74/136 and P74/334, which cover historic copper-gold workings were also returned to Galaxy from the Ravensthorpe JV. P74/334 lies close to Galaxy's McMahons pyrite project.
Aerodrome Project
In addition to the Mt Cattlin tenements, Galaxy has secured 100% ownership of two Aerodrome tenements, E74/334 and E74/398, which were previously held within a JV with Pioneer Nickel (ASX: PIO).
Pioneer was focused on the nickel potential of the tenement package, with results not providing sufficient encouragement for to continue expenditure. As a result, Pioneer has elected to forgo its opportunity to earn a 75% interest in the JV.
The Aerodrome tenements lie around 10km west of Galaxy's Mt Cattlin lithium-tantalum project (see Figure 2). Previous mapping at Aerodrome has indicated the presence of pegmatites and Galaxy plans to follow up the lithium-tantalum potential of these pegmatites which lie on a trend to the north east of significant pegmatite outcrops on Galaxy's Bakers Hill project. The Bakers Hill tenement package is contiguous with the Aerodrome project.
Pioneer's work at Aerodrome also indicated some low level gold anomalies. Galaxy plans to review past work on the project prior to planning follow up work on the lithium-tantalum and possibly gold potential of the area.
Bakers Hill Project
Galaxy is also pleased to announce that its tenement application E74/415, which covers a large area (around 3km x 3km) of subcropping pegmatite in the Bakers Hill area has been approved by the Department of Mines and Petroleum.
The Bakers Hill project is 20km south east of Mt Cattlin. Part of this area was previously held by Galaxy, and work a number of years ago included channel sampling which returned values up to 10m @ 225ppm Ta2O5, with follow up RAB drilling returning a best intercept of 4m @ 780ppm Ta2O5 (lithium assays were not carried out).
Previous work suggests that the pegmatites are zoned and contain lithium alteration and tantalum mineralisation. Individual pegmatite outcrops extend over 1km in strike length and 500m in width, with thicknesses varying from 10 to 20m.
Previous lithium-tantalum exploration in the area has been superficial and concentrated on the tantalum potential, with very limited lithium analysis completed. The pegmatites are considered to be closely related to those at Mt Cattlin, and potential exists for a large-scale lithium-tantalum resource. The area also contains historic copper-gold workings, which will be followed up by Galaxy if warranted.
Galaxy Managing Director Iggy Tan said the recent developments had consolidated Galaxy's holding in the Ravensthorpe region.
"While our focus in the short term is the development of the Mt Cattlin project, we see great benefit in strengthening our tenement portfolio in the Ravensthorpe region," said Mr Tan.
"In particular, we're very happy to have obtained full ownership of the mining lease applications M74/158 and M74/159 surrounding Mt Cattlin and look forward to obtaining the grant of these tenement applications.
"With the tenement application E74/415 now approved by the Department of Mines and Petroleum, we are able to follow up previous work completed in the area. We believe Bakers Hill has the potential to hold a large-scale lithium-tantalum resource similar to that at Mt Cattlin," he said.
About Galaxy Resources Limited

Galaxy Resources Limited (ASX:GXY) (OTCMKTS:GALXF) is an international S&P / ASX 200 Index company with lithium production facilities, hard rock mines and brine assets in Australia, Canada and Argentina. It wholly owns and operates the Mt Cattlin mine in Ravensthorpe Western Australia, which is currently producing spodumene and tantalum concentrate, and the James Bay lithium pegmatite project in Quebec, Canada.
Galaxy is advancing plans to develop the Sal de Vida lithium and potash brine project in Argentina situated in the lithium triangle (where Chile, Argentina and Bolivia meet), which is currently the source of 60% of global lithium production. Sal de Vida has excellent potential as a low cost brine-based lithium carbonate production facility.
Lithium compounds are used in the manufacture of ceramics, glass, and consumer electronics and are an essential cathode material for long life lithium-ion batteries used in hybrid and electric vehicles, as well as mass energy storage systems. Galaxy is bullish about the global lithium demand outlook and is aiming to become a major producer of lithium products.
Iggy Tan
Managing Director
TEL: +61-8-9215-1700
MOB: +61-419-046-397
Related CompaniesPioneer Resources Ltd
Galaxy Resources Limited