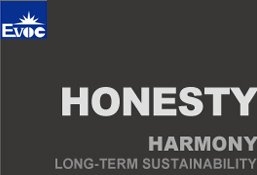 Evoc (HKG:8285) Secures 3g Telecommunications Contracts Seizing Opportunities In A Rmb400 Billion China 3g Market
Hong Kong, June 15, 2009 AEST (ABN Newswire) - China's leading manufacturer of advanced process automation ("APA") products, EVOC Intelligent Technology Company Limited ("EVOC" or the "Group")(HKG:8285)(PINK:SZVCF), has secured a number of telecommunications related contracts, including 3G network component contracts.
Mr. Chen Zhi Lie, Chairman of EVOC, said, "I am delighted that EVOC landed numerous 3G related contracts, which is a proof of industry recognition of EVOC's capabilities. To boost domestic demand, the PRC government will invest RMB400 billion in 3G infrastructure construction, which is in turn expected to drive peripheral related investment of between RMB1,800 billion to RMB2,000 billion during the next three years. Driven by these developments, we expect to see increasingly more tenders for 3G related contracts in the second half of this year, and we have full confidence in capturing this demand through our market leadership, strong R&D capabilities and quality products. We stand very well to benefit substantially from the abundant opportunities emerging from the 3G market in China."
Being the leader in the Chinese APA industry, EVOC's major products hold notable market share in China. EVOC is an upstream telecommunications equipment company with extensive experience in undertaking research, outsourcing and APA product manufacturing. The new 3G business, which leverages on its existing 2G and conventional telecommunications businesses, is expected to become a major income driver for the Group.
The Group has obtained the approval of its shareholders at the general meeting held on 29 May 2009 for its application to transfer its listing onto the Main Board of The Stock Exchange of Hong Kong within a year.
About EVOC Intelligent Technology Company Limited
EVOC Intelligent Technology Company Limited is an advanced automation product manufacturer boasting its own proprietary R&D capabilities, patents and brand. EVOC ranks No.1 among domestic brands in the Chinese industry and is the fifth largest in the world. It is the only manufacturer from China among INTEL ICA members and enjoys a long-standing strategic cooperative relationship with INTEL. EVOC's products are widely used in aiding automation in many different sectors spanning from finance, transportation, telecom, manufacturing, medical to energy and military and more. Recently, 3G telecommunications, rail transit, coal mine safety and environmental protection sectors also have enormous demand for EVOC's products.
For more details about EVOC, please visit http://www.evoc.com.cn.

Strategic Financial Relations (China) Limited
Esther Lau
Tel: (852) 2864 4845
esther.lau@sprg.com.hk

Winnie Lau
Tel: (852) 2864 4876
winnie.lau@sprg.com.hk

Cherry Qiu
Tel: (852) 2114 4960
cherry.qiu@sprg.com.hk

Walter Chan
Tel: (852) 2114 4954
walter.chan@sprg.com.hk
Related CompaniesStrategic Public Relations Group Limited



EVOC Intelligent Technology Company Limited