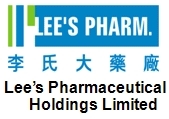 Lee's Pharmaceutical (HKG:8221) 2009 Interim Net Profit Soared 62.5% Proprietary Products and Production Efficiency Performance Remained Strong
Hong Kong, Aug 14, 2009 AEST (ABN Newswire) - Lee's Pharmaceutical Holdings Limited ("Lee's Pharmaceutical" or the "Group", HKG:8221), an integrated research-driven and market-oriented pharmaceutical group in China, today announced its interim results for the six months ended 30 June 2009 (the "period under review").
Revenue and profit attributable to equity holders for the six months ended 30 June 2009 were approximately HK$76,613,000 and HK$20,086,000 respectively, representing increase of approximately 39.8% and 62.5% respectively from those of the same period last year. Basic earnings per share were 4.84 HK cents. (2008 same period: 2.98 HK cents)
Increase of the Group's revenue and profit attribute to equity holders were mainly due to the strong performance of proprietary products and improvement in production efficiency contributed to the improvement in gross profit margin. As a result, the Group's overall gross profit margin increased from 71.2% of the same period last year to 72.4% for the period under review.
During the first half of the year, the significant increase in turnover was propelled by across the broad increase in sales of the Group's existing products, namely Yallaferon(R), Livaracine(R), Slounase(R), Carnitene(R) and Iron Protein Oral Solution.
The second year product Iron Protein Oral Solution maintained the growth momentum with sales growth of 152% for the first half of 2009 compared with same period last year. Meanwhile, Slounase(R) continued its strong headway in market penetration, keeping up with the pace of the first quarter with an increase of 76% for the first six months of 2009 over same period last year.

--------------------------------------------
Financial Highlight 
(For the six months ended 30 June)
                 2009       2008
               (HK$'000) (HK$'000) Change
                                    (%)
--------------------------------------------
Turnover            76,613  54,783  +39.8%
--------------------------------------------
Gross Profit        55,445  39,026  +42.1%
--------------------------------------------
Gross Profit Margin  72.4%   71.2%   +1.2%pt
--------------------------------------------
Profit Attributable 
to Shareholders     20,086  12,364  +62.5%
--------------------------------------------
Earnings per Share 
(Basic)            HK4.84c HK2.98c  +62.4%
--------------------------------------------

The first half of 2009 also marked the establishment of the Group's second research and development centre in Hong Kong Science Park, asserting the Group's commitment to being a research driven specialty pharmaceutical company. The laboratory is fully outfitted with state of art peptide synthesis equipment and is devoted to peptide drug development. To this end, the Group has received the generous support of Hong Kong government for developing its first peptide drug in this centre for the alleviation of hair loss induced by chemotherapy. The funding support demonstrates HKSAR government's commitment to innovation and will facilitate the development of new drug by the Group.
In the corporate development front, the Group continues to strive ahead with its strategy of "growth through partnership". During the period under review, the Group successfully entered into a new partnership with Nippon Shinyaku, a reputable mid size research based pharmaceutical company in Japan. In addition, the Group expanded its cooperation with prestigious Swiss company Hesinn, securing a second product for exclusive sales and marketing in China. Several discussions of partnership are currently underway and some are expected to come to fruition in the second half of 2009.
Commenting on the Group's performance, Dr, Benjamin Li, CEO of the Group said," Market competition in finished drugs is expected to remain fierce. The Group will continue to improve the performance of this business by introducing new products and strengthening its sales force. Sales of the existing five products are expected to continue their strong performance in the market place as we intensifies its effort in product brand management and product life cycle management."
The Group has started marketing its new product Eyprotor(R) and response from market is encouraging. Three other products of the Group are now under final review by China SFDA for marketing authorization. The anticipated launch of new product will further broaden the revenue base of the Group and could become new profit driver of the Group in the future
Dr Li continued, "We are presently contemplating the switch of listing of our shares to the Main Board of Hong Kong Stock Exchange from current GEM Board once fulfills the financial requirements under listing rules after the end of financial year 2009. We believe that ensuing switch will enhance the profile of the Group in the investor community and provide better return for shareholders."
Issued by Porda International (Finance) PR Company Limited for and on behalf of Lee's Pharmaceutical Holdings Limited.
About Lee's Pharmaceutical Holdings Limited
Lee's Pharmaceutical Holdings Limited (8221.HK) is a public biopharmaceutical company with over 14 years operation in China's pharmaceutical industry. It is fully integrated with solid infrastructures in drug development, clinical development, regulatory, manufacturing, sales and marketing in China with global perspectives and currently markets six products. Lee's Pharm focuses on several different areas such as cardiovascular and infectious diseases, dermatology, oncology, gynecology and others. It has more than 20 products under different development stages stemming from both internal R&D as well as from the recent acquisition of licensing and distribution rights from various US and European companies. The mission of Lee's Pharm is to become a successful biopharmaceutical group in Asia providing innovative products to fight diseases and improve health and quality of life.

Porda International (Finance) P.R. Company Limited

Keely Chan
Tel: +852-3150-6760/ +852-9770-2950
keely.chan@pordafinance.com.hk

Alman Loong
Tel: +852-3150-6731/ +852-9107-8225
alman.loong@pordafinance.com.hk

Liz Yip
Tel: +852-3150-6739/ +852-9497-1685
liz.yip@pordafinance.com.hk
Fax: +852-3150-6728
Related CompaniesPorda International (Finance) PR Group



Lee's Pharmaceutical Holdings Limited