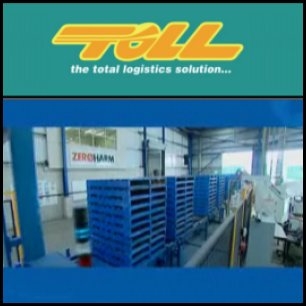 Sydney, Sep 15, 2009 AEST (ABN Newswire) - Wall Street closed higher overnight on investors' buying in industrial and materials stocks. Meanwhile, the fears of trade dispute between the US and China was offset by the news that a Chinese wealth fund is in talks to take over a minority stake in the US power plant AES.
The Australian share market was weaker amid profit taking after rallies. The benchmark S&P/ASX200 index fell 65 points, or 1.41 per cent, to 4531.1, while the broader All Ordinaries index lost 60.2 points, or 1.31 per cent, to 4536.1.
Key Economic Facts and Figures
The Australian Bureau of Statistics data showed that total personal finance commitments fell 0.8 per cent in July, seasonally adjusted, to A$6.849 billion, from $6.903 billion in June. Total commercial finance fell 1.0 per cent, seasonally adjusted, to A$25.857 billion, from A$26.114 billion in June. Treasurer Wayne Swan tipped that interest rates will rise from the current 49-year low, and stimulus spending would be wound back as private spending revives.
Today the Reserve Bank of Australia releases minutes from its September 1 board meeting. The Australian Bureau of Statistics publishes dwelling unit commencements for June.
M&A News
Rio Tinto (ASX:RIO) confirmed it has sold a 56% stake in one of its Alcan Engineered Products divisions to a US-based Platinum Equity, a specialist in mergers, acquisitions and the operation of companies. Alcan Engineered Products is made up of seven businesses, and its cable operations manufacture aluminium energy cable products in the north American market and China. Financial terms of the deal were not disclosed.
Eircom Holdings (ASX:ERC), formerly Babcock & Brown Capital Limited, has agreed to a A$224 million takeover deal from a subsidiary of Singapore's giant investment group Temasek. The offer was equivalent to A$1.335 per eircom share, representing a 20.2 percent premium to the closing price on 24 June 2009.
Toll Holdings (ASX:TOL) chief executive Paul Little said Toll was interested in doing a deal with global pallet business Brambles (ASX:BXB) to grow the company from being an Australian-focused business into a pan-Asian concern. Mr Little said Toll was "quite ambitious" in its search for acquisitions opportunities.
Important Corporate News
Bendigo and Adelaide Bank (ASX:BEN) it had received strong demand from eligible shareholders for the fully underwritten retail component and raised A$121 million from small investors as part of an oversubscribed capital raising. This was in addition to A$177m of equity secured from institutional investors on August 12.
Leighton Holdings (ASX:LEI) has been selected by the Victorian Government to construct the A$200 million Western Freeway route between Melton and Bacchus Marsh, west of Melbourne.
The Australian government has announced a package of reforms to telecommunications regulations. The government wants Telstra (ASX:TLS) to structurally separate on a voluntary and cooperative basis as Canberra prepares to roll out a new A$43 billion high speed national broadband network, which will likely leave large parts of Telstra's fixed-line network redundant.
BHP Billiton (ASX:BHP) expects more predictable demand for resources in the year ahead, as the major economies are starting to rebuild their inventories in sequence, led by an early recovery in China. In its annual report filed in the US, the company also said chief executive Marius Kloppers received a 51 per cent increase in his total remuneration in 2008/09.
Michelle Liang
Asia Business News Asia Bureau
Tel: +61-2-9247-4344
Email: michelle.liang@abnnewswire.net
Related CompaniesToll Holdings Limited







Telstra Corporation Limited.








Rio Tinto Limited









Eircom Holdings Limited








Cimic Group Ltd









Brambles Limited








BHP Billiton Limited









Bendigo and Adelaide Bank Limited