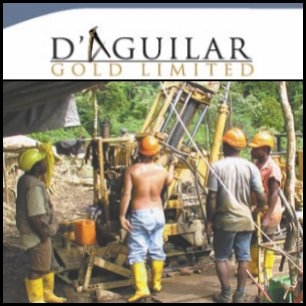 D'Aguilar Gold Limited (ASX:DGR) A$4 Million Underwriting Secured for AusNiCo IPO
Perth, Aug 6, 2010 AEST (ABN Newswire) - Further to previous market updates, the Directors of D'Aguilar Gold Limited (

ASX:DGR
) are pleased to advise of the finalisation and lodgement of the Prospectus for the IPO of AusNiCo Limited (AusNiCo).
The IPO of AusNiCo will open on Monday 9 August 2010, and will raise A$4,000,000 through the issue of 20 million new shares at A$0.20 each. Every new AusNiCo share subscribed will come with a free attaching option (unlisted) exercisable at A$0.20 through to 31 July 2012. D'Aguilar shareholders holding shares at the close of business on 5 August 2010 (Record Date) will be entitled to participate in a Priority Offer of A$600,000 worth of new AusNiCo shares (for a total of 3,000,000 new shares at A$0.20 each). D'Aguilar shareholders on the register at the Record Date will receive a personalised letter with instructions on how to access the relevant link on the AusNiCo website to the Priority Offer On-line Application Form.
The Directors are also pleased to advise that Bizzell Capital Partners Pty Ltd (Bizzell Capital) has been appointed as lead manager and underwriter to the IPO. The fully underwritten IPO ensures funding certainty for AusNiCo's planned exploration work program.
Bizzell Capital Partners is a boutique corporate advisory house focused on transactions for small and medium size enterprises, specialising in the provision of capital for expansion and development of projects and companies in the energy, mining, technology and finance sectors.
AusNiCo offers investors the opportunity for exposure to:
- multiple commodities, including nickel, gold, silver, copper, cobalt and platinum group metals;
- an extensive package of tenements with encouraging mineralisation in an area of continuing industrial growth and established infrastructure;
- advanced targets with the prospect of immediate drilling results; and
- Accomplished management and Board of Directors with substantial experience in the fields of large project exploration and development and Nickel project development.
Following the IPO, Mr John Downie will commence as AusNiCo CEO (refer ASX release of 16 June 2010) and will drive the continued exploration and development of AusNiCo's nickel sulphide discovery at Pembroke and Mt Cobalt, which has already returned an exploration drilling result of 50m @ 0.34% Nickel, including 4m @ 1.1% Nickel. The style of mineralisation is based on the Avebury deposit in Tasmania, owned by Allegiance Mining prior to its A$840m take-over by Zinifex in 2008. At Avebury 172,000 tonnes of contained nickel was defined (refer footnote) and later developed at grades of approximately 1% nickel, and concentrates containing more than 20% nickel were produced.
Footnote: Reference 22 October 2008, Oz Minerals Ltd. Presentation to the Australian Nickel Conference. Resources for the Avebury project were stated at Inferred Resources 9.6mt @ 0.88% Ni, Indicated Resource 6.05mt @ 1.01% Ni and measured Resource 2.37mt @ 1.03% Ni, giving a combined total of 18.18mt @ 0.95% Ni.
About DGR Global Limited
DGR Global (formerly D'Aguilar Gold Limited) (ASX:DGR) is focused on generating exploration and development companies in a wide array of minerals.
Projects are conceived directly through the skills and experience of D'Aguilar's accomplished team of exploration geoscientists (with an enviable track record), not by the costly purchase of properties. Each project or exploration strategy is held in a separate subsidiary.
Focused and specialist management is then engaged in the subsidiary, with project specific finance raised in the subsidiary – faster and less dilutive to D'Aguilar. As the subsidiary project develops and starts to derisk the subsidiary is separately capitalised (seed raisings followed by an IPO).
Investors can choose to invest specifically in a particular project/commodity, or by investing in D'Aguilar, invest in the resource company generating business which retains a significant carried interest in each project.
D'Aguilar projects tend to be very large, targeting new provinces with the potential to make world-class discoveries. The exploration concepts are often novel. While increased metal prices and advances in technology can turn former sub-economic deposits into viable projects, D'Aguilar subsidiary projects frequently emerge from detailed reassessment and reinterpretation of large databases – looking at things from a new angle and with a different focus using state of the art techniques. The D'Aguilar Directors and Managers have in the past applied new exploration models to extensive tenement areas which have led to identification of new mineral provinces and the discovery of nationally significant resources. Similar efforts are now being dedicated to D'Aguilar.

Mr Nicholas Mather
Managing Director
D'Aguilar Gold Ltd
Tel: +61-7-3303-0680

KM Schlobohm
Company Secretary
D'Aguilar Gold Limited
Tel: +61-7-3303-0680
Email: info@daguilar.com.au
www.daguilar.com.au
Related CompaniesDGR Global Limited