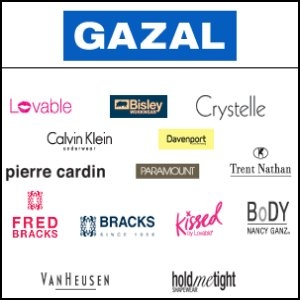 Australian Apparel Company Gazal Corporation (ASX:GZL) Announces A 25% Increase in Half Year Profit
Sydney, Feb 23, 2011 AEST (ABN Newswire) - (Global Fashion Wire) - Gazal Corporation Limited (

ASX:GZL
) today announced an after-tax profit for the half year ended 31st December, 2010 of A$6.5 million, an increase of 25% compared to the previous corresponding period. Pre-tax profit for the half year was A$9.5 million, an increase of 26% exceeding the guidance provided to the market in late October 2010 for pre-tax profit to be approximately between 10 to 20% above the corresponding period for the previous year.
Group sales revenue for the half year increased by 13% to A$146.5 million, a pleasing result in a period marked by increased interest rates, unseasonal cool weather and consumer caution which resulted in a very competitive retail environment, particularly in the December quarter.
The wholesale business recorded solid sales growth primarily driven by Bisley's strong in-stock position and its new protective fabrics programs in the workwear category, as well as sales growth in Van Heusen suits and dress shirts in the businesswear category. Profit margins in the wholesale business improved as a result of both improved gross margin management and ongoing overhead savings, particularly in warehousing and distribution costs.
Sales growth in the direct-to-consumer businesses was driven by additional investment in new outlets, a strategic initiative. The tough retail conditions which lead to a high discounting environment in the period under review impacted results in this segment, with profit margins declining. Higher than normal mark-downs were taken in the period to clear slow moving seasonal inventory. We are continuing to work on our merchandise selection skills in this area.
The focus on improving working capital management with better inventory forecasting and planning is a continuing priority for the Group. With the increased sales momentum in the business, higher inventory levels were required in the period and we ended the half year at A$47.7 million compared to A$42.7 million at 30th June, 2010. Cash flows from operating activities were still a healthy A$6 million for six months ended December 2010. This compares to A$15.8 million for the same period last year when inventories were cleared in a period of flat sales in the December 2009 half year compared to the half year ended December 2008.
In line with the Company's capital management initiatives, the on market share buy-back program continued and a further 1,228,724 shares were acquired and canceled for a total outlay of A$2,484,697 in the six months ended 31st December, 2010. Net debt ended the period at A$32.7 million. This compares to A$33 million as at 31st December, 2009.
The directors declared an interim dividend of 6 cents per share fully franked compared to the 2009 financial year interim dividend of 4 cents per share fully franked. The record date for determining shareholder's entitlements for the interim dividend is 15th March, 2011 and the interim dividend is payable on 1st April, 2011. The Dividend Reinvestment Plan will not apply to the interim dividend.
Outlook
We expect that consumers will remain cautious and the very competitive retail landscape will continue. Margins in the wholesale business are likely to be impacted in the second half by increases in cost prices from suppliers due to record high levels of cotton and yarn prices and increasing Chinese labour costs. In relation to full year earnings for financial year 2011, considering the above at this stage it is difficult to project a stronger performance this year than the previous year.
Gazal Corporation is one of the largest publicly listed branded apparel companies in Australia, with a variety of brands under its portfolio such as; Lovable, Bisley, Crystelle, Calvin Klein, Davenport, Fred Bracks, Kissed by Lovable, Pierre Cardin, Trent Nathan, Paramount, Van Heusen, Hold Me Tight, Midford and Trade Secret.
for more information on Gazal and brands, please visit:
http://www.gazal.com.au
About Gazal Corporation Limited
Gazal Corporation Limited (ASX:GZL) is one of the largest publicly listed branded apparel companies in Australia.
Based in Sydney and listed on the Australian Securities Exchange, the company specialises in developing and building national and international brands in the apparel and fashion accessories industry.
Gazal is a leading apparel supplier of casualwear, men's business shirts, intimate apparel and schoolwear sold under such brand names as Trent Nathan,
Van Heusen, Calvin Klein, Lovable, Crystelle, Body Nancy Ganz, Bisley, Midford, Davenport, and Bracks.

For further information please contact:

Peter Wood
Company Secretary
Gazal Corporation
Tel: +61-2-9316-2801
http://www.gazal.com.au
Related CompaniesGazal Corporation Limited