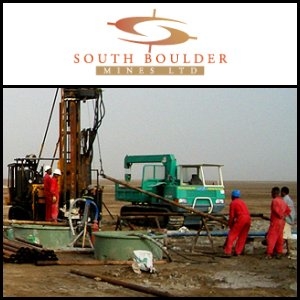 South Boulder Mines Limited (ASX:STB) Announce Significant Increase in Colluli Potash Resource
Perth, Oct 4, 2011 AEST (ABN Newswire) - South Boulder Mines Limited (

ASX:STB
) is very pleased to report a 130% increase to the Measured and Indicated resource at the Colluli Potash Project. Within 100m of the surface, the total JORC Compliant Mineral Resource Estimate has increased to 564.40Mt @ 18.60% KCl for 104.96Mt of contained potash. This increase in resource confidence will underpin the definitive feasibility study and potential ore reserve calculations.
Importantly the upper portion of the deposit and shallowest resource unit contains high grade sylvinite (KCl) of 130.39Mt @ 27.02% KCl for 35.23Mt of contained potash (Measured, Indicated and Inferred resource at Area A and Inferred resource at Area B). Approximately 95% of global potash production is extracted from mining sylvinite. This resource is the basis of the current engineering scoping study into low cost production of 1-2Mt p.a. potash from open pit mining by 2016 or sooner.
Further near term resource expansion is expected upon compilation of outstanding drilling results completed from within the current resource areas. The resource is open in many directions and drilling will continue in adjacent areas to test for additional potash and resource interpretations. The current results continue to support the JORC Exploration Target of #1.25 - 1.75 billion tonnes @ 18-20% KCl.
A number of structures have been interpreted to constrain the shallow resource and these have been derived from gravimetric, surface mapping and drilling results. Further drilling is required on either side of these structures to determine if mineralisation continues beyond the structures.
High priority targets include zones to the immediate west of Area B and zones between Area A and B.
Exploration and development activity is currently focused on, metallurgical sampling and testwork, mining engineering design, hydrogeological and environmental assessment and project approvals to support the definitive feasibility study. Further exploration results and details on further feasibility study activity will be released as they come to hand.
Investor Coverage
Recent investor relations, corporate videos and broker/media coverage on The Company's projects can be viewed on the website in the "Media Centre" and "Investor Centre" sections by following the links www.southbouldermines.com.au and www.abid.co.
About the Nickel Joint Venture
The Duketon Nickel JV has had recent success at The Rosie and C2 Nickel sulphide prospects where drilling has defined intercepts of 5.20m @ 9.13% Ni, 1.09% Cu, 0.21% Co and 7.09g/t PGE's at Rosie and 50m @ 0.92% Ni including 37m @ 1.05% Ni at C2.
The deposits are located approximately 120km NNW of Laverton, W.A in the Duketon Greenstone Belt. The deposits are approximately 2km apart and the mineralisation at both prospects is considered open in most directions. A Mining Lease was granted over the Rosie and C2 deposits on the 19th of November. A resource definition and exploration drilling program and scoping study into an open pit mine at C2 and an underground mine at Rosie is underway.
About South Boulder Mines Limited

CMSC owns exploration tenements spanning over 400km2 within the Danakil Depression in South East Eritrea.
Since 2010, 97 holes have been drilled identifying a resource containing more than one billion tonnes of potassium bearing salts suitable for the production of potash fertilisers.
South Boulder Mines Ltd is currently working on the Feasibility Study to support the development of the project.

Lorry Hughes
CEO/Managing Director
South Boulder Mines Limited

Kerry Rudd
Share Holder Enquiries
South Boulder Mines Limited

Liam Cornelius
Executive Director
South Boulder Mines Limited

Terry Grammer
Chairman
South Boulder Mines Limited

Tel: +61-8-6315-1444
http://www.southbouldermines.com.au
Related CompaniesSouth Boulder Mines Limited